Gamification
39 New Digital Media Resources You May Have Missed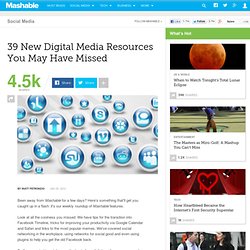 Been away from Mashable for a few days? Here's something that'll get you caught up in a flash: it's our weekly roundup of Mashable features. Look at all the coolness you missed: We have tips for the transition into Facebook Timeline, tricks for improving your productivity via Google Calendar and Safari and links to the most popular memes. We've covered social networking in the workplace, using networks for social good and even using plugins to help you get the old Facebook back.
by David Kirkpatrick, Reporter Undertaking a new marketing effort can be both exhilarating and maybe a little bit frightening. Executing an entirely new strategy in a channel that has no precedent in your industry is an entirely different ballgame. Sharedserviceslink.com, a UK-based online community for finance shared services professionals, launched a new version of its website last year. Shared service centers are "companies within companies" that perform a centralized business function. Sharedsherviceslink.com helps large corporations create shared service centers based on the finance function within the organization.Ricardo Molina, Marketing Director, sharedserviceslink.com, said, "More than just a facelift, we refreshed our visual identity, radically improved how we share information and interact with members and visitors, and differentiated ourselves from other (competing) company websites, positioning sharedserviceslink.com as an information provider."
B2B Gamification: Bold strategy in conservative industry increased website visits 108.5%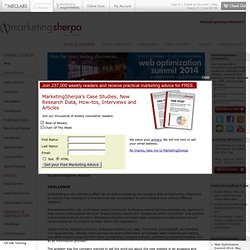 Gamification Gamification is the application of game mechanics and game design techniques to make products, services, or anything more fun and engaging! Learn more Platform Gamify has developed the first ever Gamification Platform designed primarily for the Casino Gaming Industry. Gamify your casino or casino games today!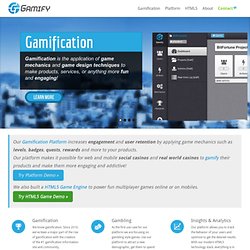 www.bunchball.com/gamification/gamification101.pdf
Game-Based Marketing: Inspire Customer Loyalty Through Rewards, Challenges, and Contests (9780470562239): Gabe Zichermann, Joselin Linder
Amazon.com Review Advertising is dead. You may not realize it, but you and everyone you know engages, possibly unsuspectingly, in some form of a game multitasking as an ingenious marketing device.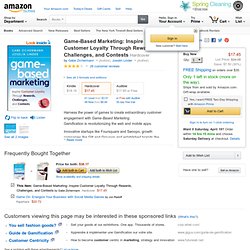 Gamification - Nitro is the Participation Engine - Bunchball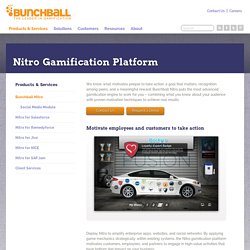 We know what motivates people to take action: a goal that matters, recognition among peers, and a meaningful reward. Bunchball Nitro puts the most advanced gamification engine to work for you – combining what you know about your audience with proven motivation techniques to achieve real results. Contact Us Request a Demo