Animation
iPi Soft
Image Metrics : Facial Animation Software: Performance Driven Animation Technology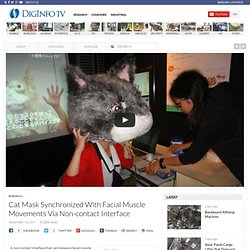 Cat Mask Synchronized With Facial Muscle Movements Via Non-contact Interface
A non-contact interface that can measure facial muscle movement has been developed by a research group at Toyko University.
Download Faceware 3.0 : Image Metric
LIFESTUDIO:LIPSYNC is a new product that is an automatic lip-synching tool and can be used within the Maya package to save time for animating speaking characters. The pipeline is very straightforward: the plug-in prepares lip-synch data according to a record of speech.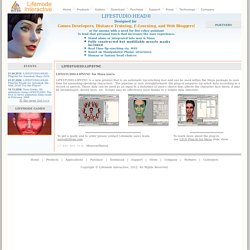 LIFESTUDIO:LIPSYNC
FaceFX is OC3 Entertainment's cutting edge solution for creating realistic facial animation from audio files. FaceFX is the culmination of years of experience working with lip-synchronization, 3D graphics, and facial animation. The product makes it easy to batch process thousands of audio files for your game, add expressions to a single animation without ruining the lip-synchronization, tweak an animation to perfection, or integrate the entire solution into your art pipeline.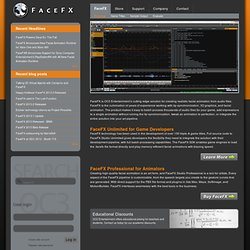 OC3 Entertainment
Optical Motion Capture and Tracking :: OptiTrack :: Optical Motion Capture Solutions :: Capture Your Vision
FaceFX | OC3 Entertainment
Morpheme 3
Euphoria represents a step change towards creating truly believable characters, worlds and games. Instead of playing back canned animation, Euphoria uses the CPU to generate motion on the fly by simulating a character's motor nervous system, body and muscles. With Euphoria, games are truly live. Anything can happen.
Euphoria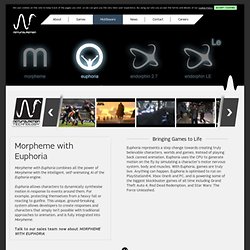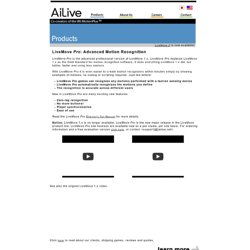 LiveMove Pro
LiveMove Pro: Advanced Motion Recognition LiveMove Pro is the advanced professional version of LiveMove 1.x. LiveMove Pro replaces LiveMove 1.x as the Gold Standard for motion recognition software, it does everything LiveMove 1.x did, but better, faster and using less memory.
Mystic Game Development
Boston Dynamics: Dedicated to the Science and Art of How Things Move.
** Click on our logo to visit the DI-Guy Website **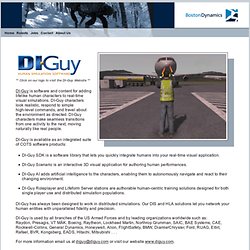 Autodesk HumanIK
Visit the AppStore to download this free, highly addictive tower defense game published using the Scaleform Mobile SDK. Click here to learn how one of the largest mobile game developers leveraged the power of the Scaleform SDK to create Tiny Thief. Our low priced licenses now include FMOD for audio support and render to texture capabilities for Unity developers.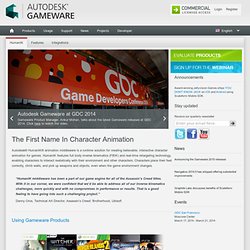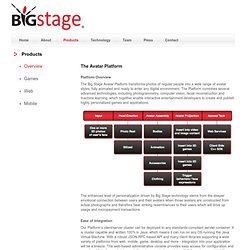 The Avatar Platform Platform Overview The Big Stage Avatar Platform transforms photos of regular people into a wide range of avatar styles, fully animated and ready to enter any digital environment.
Products
Annosoft Lipsync Tools