Frequencies \ Codes \ Links
Software
QRZ.COM Callsign Database. Tulsa area service freqs and Amatuer repeaters. GMRS & FRS Frequency Table. Tulsa, Oklahoma Scanner Frequencies. EASTERN OKLAHOMA WESTERN ARKANSAS RADIO SCANNER FREQUENCIES. RADIO CODES & SIGNALS - OKLAHOMA. Email us your Radio Codes & Signals or Fleet code / Talk Group Updates Scanner Frequencies & Codes Subscribe to National Communications Magazine America's #1 Scanning/CB/Two-Way Magazine Instructions: You have reached one of the most scanner friendly sites on line.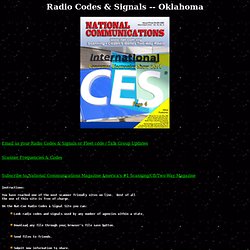 Best of all the use of this site is free of charge. On the Nat-Com Radio Codes & Signal Site you can: Tulsa Scanner « My Radio. Police scanner codes eBook Downloads. Tulsa Area Frequencies. The Only Frequency Homepage for the Tulsa Metro Area.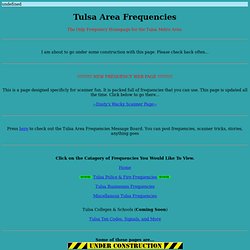 I am about to go under some construction with this page. Please check back often... This is a page designed specificly for scanner fun. It is packed full of frequencies that you can use. This page is updated all the time. Tulsa Area Frequencies. Tulsa Area Police & Fire Frequencies The following are frequencies for the Tulsa Oklahoma Metro area.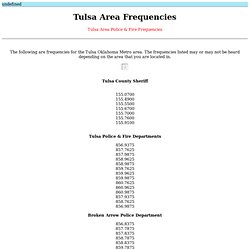 The frequencies listed may or may not be heard depending on the area that you are located in. Tulsa County Sheriff. Okmulgee Area. RadioReference.com - Scanner Frequencies and Radio Frequency Ref. Scanner Freqencies.
---