International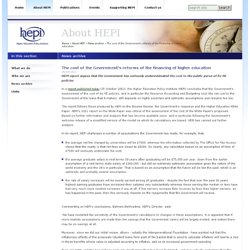 The cost of the Government's reforms of the financing of higher education - HEPI
HEPI report argues that the Government has seriously underestimated the cost to the public purse of its HE policies
United Kingdom as analogue ?
Occupy High School / Colleges Universities
What's going on in Venezuela in a nutshell (English version)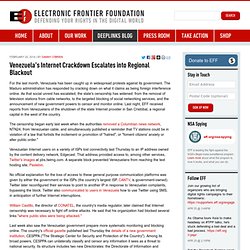 For the last month, Venezuela has been caught up in widespread protests against its government. The Maduro administration has responded by cracking down on what it claims as being foreign interference online. As that social unrest has escalated, the state's censorship has widened: from the removal of television stations from cable networks, to the targeted blocking of social networking services, and the announcement of new government powers to censor and monitor online.
Venezuela's Internet Crackdown Escalates into Regional Blackout
Mexican riot police end striking teachers' occupation of city square | World news
Thousands of riot police retook Mexico City's central Zócalo plaza and the surrounding area from striking teachers on Friday. There were violent clashes but not the full-scale confrontation that had appeared likely at first.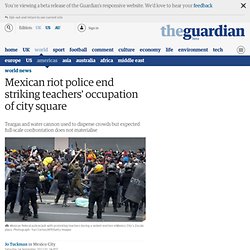 reform in Kolumbien zurückgezogen
University World News - IRAN: Students killed, arrested in Egypt-style protests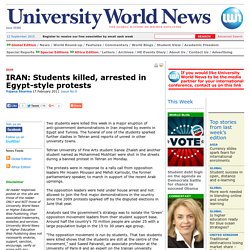 Two students were killed this week in a major eruption of anti-government demonstrations in Iran inspired by events in Egypt and Tunisia. The funeral of one of the students sparked further clashes in Tehran amid reports of unrest in other university towns.
Education International
Decolonising our universities: another world is desirable
Editors' n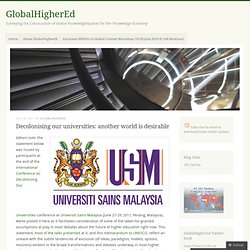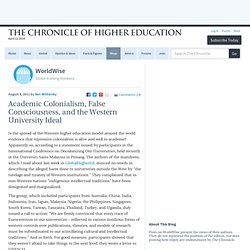 Is the spread of the Western higher education model around the world evidence that repressive colonialism is alive and well in academe? Apparently so, according to a statement issued by participants in the International Conference on Decolonizing Our Universities, held recently at the Universiti Sains Malaysia in Penang. The authors of the manifesto, which I read about last week in GlobalHigherEd, minced no words in describing the alleged harm done to universities outside the West by "the tutelage and tyranny of Western institutions."
WorldWise
Pearltrees interface Help & intro Videos