Honeybee: Bayer - Wageningen University - BBKA
Who Killed The Honey Bee? (BBC Documentary)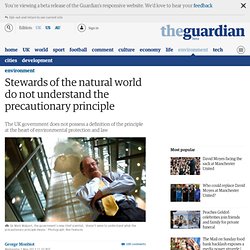 UK gov does not possess a def: of the pre cautionary principle George Monbiot
Here's something remarkable I stumbled across while researching my column on Monday, but did not have room to include. I hope you'll agree that it is worth sharing. I was trying to understand the context for the new chief scientist's cavalier treatment of scientific evidence, in an article he wrote opposing a European ban on neonicotinoid pesticides.
Zembla: De moord op de honingbij I)
ZEMBLA: moord op de honingbij
reaction of Wageningen Uni upon Zembla
Forum: ZEMBLA honeybee
Moord op de honingbij - 12 maart 2011
zembla: Vanavond 20.00 uur spoedde
Debat over bijensterfte
genomineerd voor De Loep
toch onderzoek invloed pesticiden
Partij voor de Dieren -
De Partij voor de Dieren wil per direct een verbod op bestrijdingsmiddelen die gevaarlijk zijn voor bijen. Afgelopen zaterdag besteedde Zembla aandacht aan de wereldwijde bijensterfte, die vooral in Nederland massale vormen aanneemt. Uit deze uitzending bleek opnieuw dat onafhankelijk wetenschappers nieuwe, supersterke pesticiden aanwijzen als belangrijke factor, en pleiten voor een verbod op het gebruik van dit landbouwgif.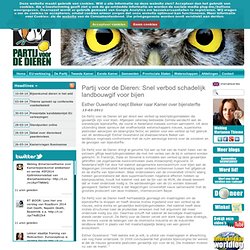 Partij voor de Dieren: Snel verbod schadelijk landbouwgif voor bijen
(pdf)Global_Bee_Colony_Disorder_and_Threats_insect_pollinators
Monitoring Honeybee Colony Losses - BeeMonitoring.org
Bijensterfte, oorzaken en gevolgen
De Bijenstichting behartigt de belangen van wilde bijen en honingbijen in ruime zin
British Beekeepers' Association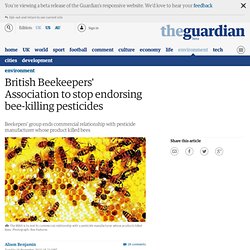 The British Beekeepers' Association hastoday announced plans to end its controversial practice of endorsing pesticides in return for cash from leading chemical manufacturers. The endorsement of four products as "bee-friendly" in return for £17,500 a year caused outrage among many beekeepers because one of the companies, Bayer Crop Science, makes pesticides that are widely implicated in the deaths of honeybees worldwide. But the BBKA denies that it has bowed to pressure from members who have been increasingly critical of the its stance.
British Beekeepers Association to stop endorsing bee-killing pesticides | Environment
NBV - De Nederlandse Bijenhouders Vereniging - Welkom op onze website.
'Onderzoeksjournalistiek in Nederland op hoog niveau' | De nieuwe reporter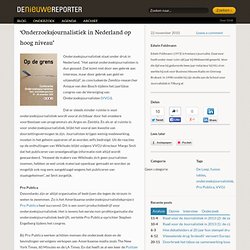 Onderzoeksjournalistiek staat onder druk in Nederland. "Het aantal onderzoeksjournalisten is dun gezaaid. Dat komt niet door een gebrek aan interesse, maar door gebrek aan geld en uitzendtijd", zo concludeerde Zembla-researcher Anique van den Bosch tijdens het jaarlijkse congres van de Vereniging van Onderzoeksjournalisten (VVOJ). Dat er steeds minder ruimte is voor onderzoeksjournalistiek wordt vooral zichtbaar door het onzekere voortbestaan van programma's als Argos en Zembla. En als er al ruimte is voor onderzoeksjournalistiek, blijkt het vooral een kwestie van doorzettingsvermogen te zijn.
De Raad - Raad voor de Journalistiek
Department of Science Technology and Society, Utrecht University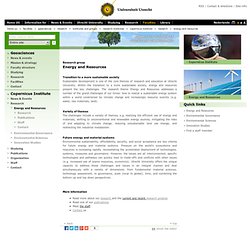 Research group Transition to a more sustainable society Sustainable development is one of the core themes of research and education at Utrecht University. Within the transition to a more sustainable society, energy and resources present the key challenges. The research theme Energy and Resources addresses a number of the grand challenges of our times: how to realize a sustainable energy system within a world constrained by climate change and increasingly resource scarcity (e.g. water, raw materials, land). Variety of themes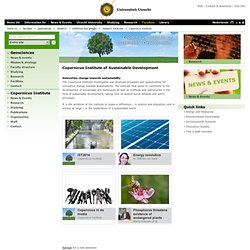 Uni Utrecht: Copernicus Institute of Sustainable Development - Faculty of Geosciences
The Copernicus Institute investigates and develops processes and opportunities for innovative change towards sustainability. The institute thus seeks to contribute to the development of knowledge and techniques as well as methods and instruments in the field of sustainable development, taking note of related social debates and policy processes. It is the ambition of the institute to make a difference – in science and education, and in society at large – in the exploration of a sustainable world. Refresh for a new selection
Personal Page: Jeroen van der Sluijs
Jeroen van der Sluijs | Casa Luna
Bijensterfte, oorzaken en gevolgen
@bijensterfte) sur Twitter
Centre de biophysique moléculaire - UPR 4301 - Exobiologie
Contribuer à comprendre l'origine de la vie terrestre L'exobiologie (aussi appelée astrobiologie par les anglo-saxons) est une science ayant pour objet l'étude des facteurs et processus, notamment géochimiques et biochimiques, pouvant mener à l'apparition de la vie et à son évolution. Ceci s'applique aussi bien à l'émergence de la vie sur terre, il y a plus de 4 milliards d'années, qu'à la possibilité d'une vie ailleurs dans le système solaire. Elle s'attache à rechercher d'éventuels processus présidant à l'évolution de la matière organique simple (biomolécules) vers des structures plus complexes (premières cellules, premiers systèmes génétiques…) et à étudier les premières traces de vie terrestre et leur évolution ainsi que d'éventuelles traces de vie sur d'autres objets célestes. Les travaux de l'équipe d'exobiologie portent sur les thèmes suivants :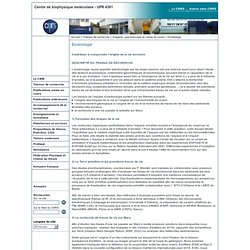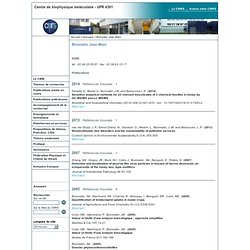 Publications 2013 Références trouvées : 1 van der Sluijs, J.
Bonmatin Jean-Marc
Homepage - Bayer
Wageningen UR - Wageningen University
peterverhaar: #zembla ik hoor Bleker hier
peterverhaar: En even voor de duidelijkh
dr. T Blacquiere , Tjeerd
Neonicotinen en bijensterfte, oorzaak en gevolg? (not peer reviewed?)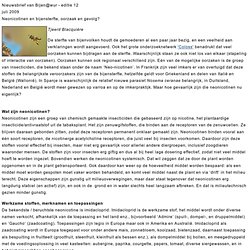 Tjeerd Blacquière De sterfte van bijenvolken houdt de gemoederen al een paar jaar bezig, en een veelheid aan verklaringen wordt aangevoerd. Ook het grote onderzoeknetwerk 'Coloss' benadrukt dat veel oorzaken kunnen bijdragen aan de sterfte.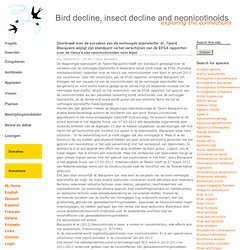 De Wageningse bijenexpert dr. Tjeerd Blacquière heeft zijn standpunt gewijzigd over de oorzaken van de verhoogde bijensterfte in Nederland vanaf 2006 nadat de EFSA (Europese voedselautoriteit) rapporten over de risico's van neonicotinoiden voor bijen in januari 2013 zijn verschenen. Vòòr het verschijnen van de EFSA rapporten ontkende Blacquière ten stelligste dat een causale rol van de neonicotinoiden bij de verhoogde bijensterfte was aangetoond en werd sterke nadruk gelegd op de Varroa mijt als bepalende oorzaak van de verhoogde bijensterfte, terwijl na het verschijnen van de EFSA rapporten het gebruik van de neonicotinoiden als een plausibele verklaring wordt omschreven voor de verhoogde bijensterfte, en de Varroa mijt enkel wordt gezien als een biotische factor die tot de verhoogde bijensterfte mede bijdraagt. Precies een jaar geleden hebben de Wageningse bijendeskundige dr.
Tennekes: Bird decline, insect decline and neonicotinoids
Onze expertisegebieden Mogelijkheden voor bedrijven De medewerkers van Unifarm kunnen op verschillende gebieden ondersteuning bieden bij de uitvoering van experimenten. Lees meer Voorbeelden experimenten
Wageningen UR - Unifarm
WageningenUR PRI: Plant Research Intern:
PRI ~ Bayer BioScience
NYTimes: Honeybee Killer Found by Army and Entomologists
BASF Global - BASF - The Chemical Company - Corporate Website
Trouw: 'Wageningen' geeft onafhank elijkheid weg aan industrie - Nederland
Imidacloprid
Imidacloprid is currently the most widely used insecticide in the world.[3] Although it is now off patent, the primary manufacturer of this chemical is Bayer CropScience (part of Bayer AG). It is sold under many names for many uses; it can be applied by soil injection, tree injection, application to the skin of the plant, broadcast foliar, ground application as a granular or liquid formulation, or as a pesticide-coated seed treatment.[4][5] Imidacloprid is widely used for pest control in agriculture. Other uses include application to foundations to prevent termite damage, pest control for gardens and turf, treatment of domestic pets to control fleas,[2] protection of trees from boring insects,[6] and in preservative treatment of some types of lumber products (e.g., Ecolife brand).[7]
Our global presence and cultural diversity are key conditions for our success as a world market leader in our industry. As a result, we know the needs of our customers in both small, specific segments and the major global markets. Our organization bases its decisions closely on the market and features a customer-oriented alignment. Bayer CropScience also maintains a global network of research & development and production sites.
CropScience - Main Locations
Monheim am Rhein , bayer cropscience
Screen reader users: click here for plain HTML MoreEven more from Google Sign in
Bayer CropScience - NL - Home
Jerry Bromenshenk, bee investigatorBy Katherine Eban, contributorOctober 8, 2010: 1:42 PM ET FORTUNE -- Few ecological disasters have been as confounding as the massive and devastating die-off of the world's honeybees. The phenomenon of Colony Collapse Disorder (CCD) -- in which disoriented honeybees die far from their hives -- has kept scientists, beekeepers, and regulators desperately seeking the cause. After all, the honeybee, nature's ultimate utility player, pollinates a third of all the food we eat and contributes an estimated $15 billion in annual agriculture revenue to the U.S. economy. The long list of possible suspects has included pests, viruses, fungi, and also pesticides, particularly so-called neonicotinoids, a class of neurotoxins that kills insects by attacking their nervous systems.
CNNMoney: What a scientist didn't tell the NY Times on honeybee deaths - Oct. 8, 2010
Honeybee researcher who blames virus for CCD has financial ties to pesticide manufacturer
Bee Care | Home
Bayer (BayerBeeCare) sur Twitter
Bee Care | A new way of protecting bees against varroa mites
Bayer - Bee Care Tour
FreezePage
Collaboration: The Best Approach to Bee Health
Bayer CropScience Bee Care Tour Stops in Illinois
RTP | Research Triangle Park, NC
Nefyto - Nederlandse Stichting voor Fytofarmacie - Home
Nefi Lopez (Nefyto) sur Twitter
Hermanvb_GP : Welkom nieuwe volger @Nefyto,
Rabobank Groep
The plight of the honey bee
(pdf)The_Plight_of_the_Honey_Bee Verwijs_Jan-2011
Bees - Colony Collapse Disorder
Rabobank Groep - Food & agri
Drik Duijzer appointed director food and agri netherlands
NOS: Rabobank: Bijentekort kan voedselproductie in gevaar brengen
NOS: The Plight of the Honey Bee
pearl crashed hence to be reorderd container
Bijensterfte een samenzwering
Resource: Bijeen om de bijen
4-lunchbijeenkomst-bijen- Arena Impuls
Honey Bee Colony Collapse Disorder
Trouw: Bayer wil via rechter publicatie studies bijengif tegenhouden - Wetenschap
resource: Nieuw bewijs voor schadelijkheid varroa
Journal of Insect Physiology - Interactive effect of reduced pollen availability and Varroa destructor infestation limits growth and protein content of young honey bees
Coby van Dooremalen Ph.D Wageningen
Bullshit-detector voor wetenschappelijk onderzoek
Soaring Bee Deaths in 2012 Sound Alarm on Malady
RTL:greenpeace doet onderzoek naar bijensterfte [video]
the systemic insecticides - A disaster in the making
What in the world are they spraying(chemtrails) Full Documentary-YOU are being sprayed!
i had 34,582 childre pesticides killed my family
I had 34.582 children . . pesticides killed my family on Twitpic
More than Honey
MORE THAN HONEY [Teaser]
@MoreThanHoneyNL sur Twitter
More than Honey - Food Film Festival
I love Beeing: Without Bees no Being.
Tomvandebeek (tomvandebeek) sur Twitter
beyond honeybee's - dragonflies etc:
Over bijen, gif, lobby, falende beoordeling en de oplossingen. Tien vragen aan Dr. Jeroen van der Sluijs