Corporation
Unequal Protection
@Thom_Hartmann
Language: English Bahasa Indonesia Bahasa Melayu Dansk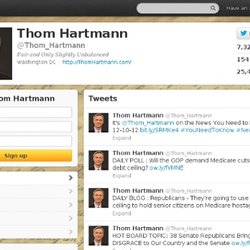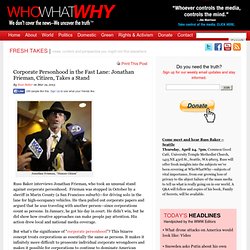 By Russ Baker on Mar 19, 2013 Jonathan Frieman, "Human Citizen" Russ Baker interviews Jonathan Frieman, who took an unusual stand against corporate personhood. Frieman was stopped in October by a sheriff in Marin County (a San Francisco suburb)—for driving solo in the lane for high-occupancy vehicles. He then pulled out corporate papers and argued that he was traveling with another person—since corporations count as persons. In January, he got his day in court.
Corporate Personhood in the Fast Lane: Jonathan Frieman, Citizen, Takes a Stand
"If you wonder why the corporate world constantly lurches from malaise to oppression to governmental corruption and back, Unequal Protection reveals the untold story. Beneath the success and rise of American enterprise is an untold history that is antithetical to every value Americans hold dear. This is a seminal work, a godsend really, a clear message to every citizen about the need to reform our country, laws, and companies."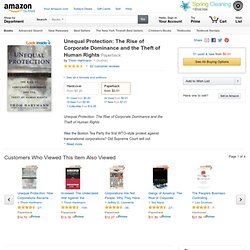 Unequal Protection: The Rise of Corporate Dominance and the Theft of Human Rights
Atlas Shrugged
Atlas Shrugged iPad App Released Penguin Group has released a new app that brings Atlas Shrugged to the iPad. The app includes the classic, unabridged text of the novel, as well as video, audio, and other archival materials that add a new dimension to the reader's experience of the work, the author's life, and her philosophy. Download the Atlas Shrugged iPad app from the iTunes Store. Ayn Rand & the Prophecy of "Atlas Shrugged"
Atlas Shrugged Movie (_AtlasShrugged) sur Twitter
Atlas Shrugged Trailer
Dagny Taggart Confronts the Union
Atlas Shrugged Movie - The Official Atlas Shrugged Movie Web Site
Atlas Shrugged: Who is Kris Polaha? NEW! 20th Century Motor Corp T-Shirt Atlas Shrugged: Now, non-fiction 20th Century Motor Corporation Hat ATLAS SHRUGGED MOVIE: Latest News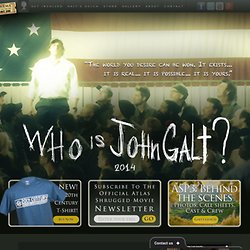 December 6, 2011 | Like this article? Join our email list: Stay up to date with the latest headlines via email. The following is an excerpt of Jeffrey Clement's Corporations Are Not People: Why They Have More Rights Than You Do and What You Can Do About It.)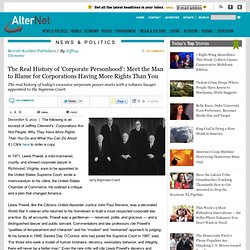 The Real History of 'Corporate Personhood': Meet the Man to Blame for Corporations Having More Rights Than You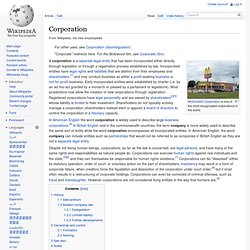 In American English the word corporation is widely used to describe large business corporations.[4] In British English and in the commonwealth countries, the term company is more widely used to describe the same sort of entity while the word corporation encompasses all incorporated entities. In American English, the word company can include entities such as partnerships that would not be referred to as companies in British English as they are not a separate legal entity. Despite not being human beings, corporations, as far as the law is concerned, are legal persons, and have many of the same rights and responsibilities as natural people do. Corporations can exercise human rights against real individuals and the state,[5][6] and they can themselves be responsible for human rights violations.[7] Corporations can be "dissolved" either by statutory operation, order of court, or voluntary action on the part of shareholders.
Corporation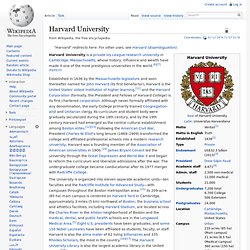 Harvard University is a private Ivy League research university in Cambridge, Massachusetts. The University is organized into eleven separate academic units—ten faculties and the Radcliffe Institute for Advanced Study—with campuses throughout the Boston metropolitan area:[10] its 209-acre (85 ha) main campus is centered on Harvard Yard in Cambridge, approximately 3 miles (4.8 km) northwest of Boston; the business school and athletics facilities, including Harvard Stadium, are located across the Charles River in the Allston neighborhood of Boston and the medical, dental, and public health schools are in the Longwood Medical Area.[5] Eight U.S. presidents have been graduates, and some 150 Nobel Laureates have been affiliated as students, faculty, or staff. Harvard is also the alma mater of 62 living billionaires and 335 Rhodes Scholars, the most in the country.[11][12] The Harvard University Library is also the largest academic library in the United States.[13]
Harvard University first chartered corporation
Charter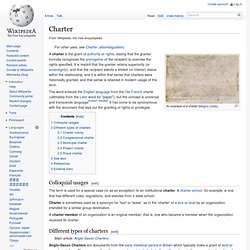 A charter is the grant of authority or rights, stating that the granter formally recognizes the prerogative of the recipient to exercise the rights specified. It is implicit that the granter retains superiority (or sovereignty), and that the recipient admits a limited (or inferior) status within the relationship, and it is within that sense that charters were historically granted, and that sense is retained in modern usage of the term. The word entered the English language from the Old French charte (ultimately from the Latin word for "paper"), but the concept is universal and transcends language[citation needed]. It has come to be synonymous with the document that lays out the granting of rights or privileges.
by Sandy Haksi, December 04, 2013 As we near the 10 year anniversary of the blockbuster hit film, the issues surrounding corporate power loom even larger. The Corporation Special Edition 2 Disc DVD set is still a top seller on our store and features an additional 8 hours of interviews with Naomi Klein, Noam Chomsky, Howard Zinn and many, many others.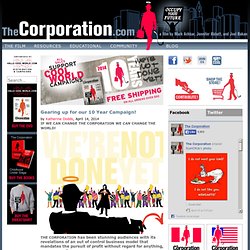 The Corporation Film: Welcome
THE CORPORATION [1/23] What is a Corporation? metaphors
Broadcast Yourself.
Welcome to YouTube! The location filter shows you popular videos from the selected country or region on lists like Most Viewed and in search results.To change your location filter, please use the links in the footer at the bottom of the page. Click "OK" to accept this setting, or click "Cancel" to set your location filter to "Worldwide".
[2/23] Birth
Howard Zinn
Life and career[edit] Early life[edit] Zinn was born to a Jewish immigrant family in Brooklyn. His father, Eddie Zinn, born in Austria-Hungary, emigrated to the U.S. with his brother Samuel before the outbreak of World War I.
[3/23] A Legal "Person"
[4/23] Externalities
[10/23] Boundary Issues
[14/23] branding is not advertising it's production
[20/23] Hostile Takeover general butler
Smedley Butler
By the end of his career, Butler had received 16 medals, five for heroism. He is one of 19 men to twice receive the Medal of Honor, one of three to be awarded both the Marine Corps Brevet Medal and the Medal of Honor, and the only Marine to be awarded the Brevet Medal and two Medals of Honor, all for separate actions. In 1933, he became involved in a controversy known as the Business Plot, when he told a congressional committee that a group of wealthy industrialists were planning a military coup to overthrow Franklin D. Roosevelt, with Butler selected to lead a march of veterans to become dictator, similar to other Fascist regimes at that time. The individuals involved all denied the existence of a plot and the media ridiculed the allegations. A final report by a special House of Representatives Committee confirmed some of Butler's testimony.
At the time of the incidents, news media dismissed the plot, with a New York Times editorial characterizing it as a "gigantic hoax".[3] While historians have questioned whether or not a coup was actually close to execution, most agree that some sort of "wild scheme" was contemplated and discussed.[2][4][5][6][7] Background[edit] Butler and the veterans[edit] On July 17, 1932, thousands of World War I veterans converged on Washington, D.C., set up tent camps, and demanded immediate payment of bonuses due to them according to the World War Adjusted Compensation Act of 1924 (the original act made the bonuses initially due no earlier than 1925 and no later than 1945). Walter W.
Business Plot
Biography[edit] Achbar moved into independent media, working in many capacities on films, videos, and books on issues ranging from nuclear lunacy, poverty, and East Timor, to the media, U.S. hegemony, and corporate power. Achbar collaborated with editor Jennifer Abbott to create Two Brides and a Scalpel: Diary of a Lesbian Marriage, a low-budget video diary by the couple known as Canada's first legally married lesbians.
Mark Achbar
Jennifer Abbott
Joel Bakan
The Century Of The Self
The One Percent 1/8
POCLAD - Program on Corporations, Law and Democracy
Richard Grossman
Douglas Rushkoff » Life Inc
Life Inc. The Movie on Vimeo
Life Inc. Dispatch 01: Crisis as Opportunity on Vimeo
how the rules we live by came to be
Life Inc. Dispatch 02: Insulation Equation on Vimeo
Life Inc. Dispatch 03: Money as Debt on Vimeo
Life Inc. Dispatch 04: It's Just Little Brown People Over There, Somewhere on Vimeo
Life Inc. Dispatch 05: Markets Love Selfish People on Vimeo
Life Inc. Dispatch 06: Why Corporations Hate the Free Market on Vimeo
Life Inc. Dispatch 07: Less is More on Vimeo
Life Inc. Dispatch 08: Capitalism, for Dummies on Vimeo
Douglas Rushkoff - The Colbert Report - 7/15/09
Life, Incorporated Pt. 1
Life, Incorporated Pt. 2
STATE BY STATE CORP TAKE OVER
Lobbying in the United States
Lobbying
Corporate Greed vs Public Interest
Cenk Uygur Announces Wolf-PAC.com at Occupy Wall Street
Wolf PAC
What happened? - Wolf PAC
Thom Hartmann: Why Fox News has the Right to Lie to Us
Category:Anti-corporate activists
List of corporate scandals
Category:Anti-corporate activism
Psywar - Full Documentary
Ivy Lee
quartz person of the year 2012
Tim Carney: How corporate tax credits got in the 'cliff' deal | WashingtonExaminer.com
Fight corporate personhood