Corporation
Unequal Protection. @Thom_Hartmann. Corporate Personhood in the Fast Lane: Jonathan Frieman, Citizen, Takes a Stand. By Russ Baker on Mar 19, 2013 Jonathan Frieman, "Human Citizen" Russ Baker interviews Jonathan Frieman, who took an unusual stand against corporate personhood.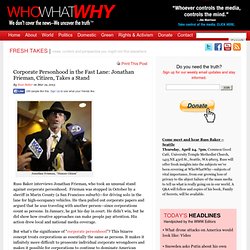 Frieman was stopped in October by a sheriff in Marin County (a San Francisco suburb)—for driving solo in the lane for high-occupancy vehicles. He then pulled out corporate papers and argued that he was traveling with another person—since corporations count as persons. In January, he got his day in court. Unequal Protection: The Rise of Corporate Dominance and the Theft of Human Rights.
The Commons
Atlas Shrugged. Reason and freedom are corollaries, Ayn Rand holds, as are faith and force.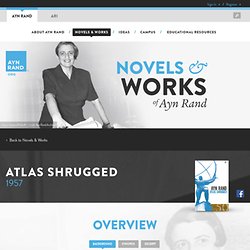 Atlas Shrugged showcases both relationships. The heroes are unwavering thinkers. Whether it is a destructive business scheme proclaimed as moral, the potential collapse of the economy, or a personal life filled with pain, the heroes seek to face the facts and understand. Atlas Shrugged Movie (_AtlasShrugged) sur Twitter. Atlas Shrugged Trailer. Dagny Taggart Confronts the Union. Atlas Shrugged Movie - The Official Atlas Shrugged Movie Web Site.
The Real History of 'Corporate Personhood': Meet the Man to Blame for Corporations Having More Rights Than You. December 6, 2011 | Like this article?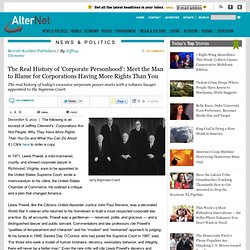 Join our email list: Stay up to date with the latest headlines via email. The following is an excerpt of Jeffrey Clement's Corporations Are Not People: Why They Have More Rights Than You Do and What You Can Do About It.) Corporation. In American English the word corporation is widely used to describe large business corporations.[4] In British English and in the commonwealth countries, the term company is more widely used to describe the same sort of entity while the word corporation encompasses all incorporated entities.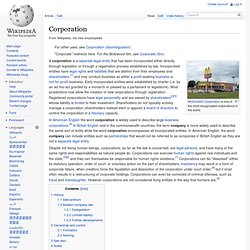 In American English, the word company can include entities such as partnerships that would not be referred to as companies in British English as they are not a separate legal entity. Despite not being human beings, corporations, as far as the law is concerned, are legal persons, and have many of the same rights and responsibilities as natural people do. Corporations can exercise human rights against real individuals and the state,[5][6] and they can themselves be responsible for human rights violations.[7] Corporations can be "dissolved" either by statutory operation, order of court, or voluntary action on the part of shareholders. Harvard University first chartered corporation. Harvard University is a private Ivy League research university in Cambridge, Massachusetts, whose history, influence and wealth have made it one of the most prestigious universities in the world.[6][7][8][9][10] The University is organized into eleven separate academic units—ten faculties and the Radcliffe Institute for Advanced Study—with campuses throughout the Boston metropolitan area:[15] its 209-acre (85 ha) main campus is centered on Harvard Yard in Cambridge, approximately 3 miles (5 km) northwest of Boston; the business school and athletics facilities, including Harvard Stadium, are located across the Charles River in the Allston neighborhood of Boston and the medical, dental, and public health schools are in the Longwood Medical Area.[5] Eight U.S. presidents have been graduates, and some 150 Nobel Laureates have been affiliated as students, faculty, or staff.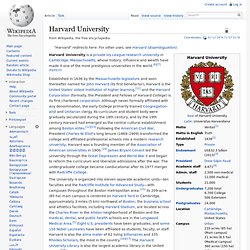 Charter. A charter is the grant of authority or rights, stating that the granter formally recognizes the prerogative of the recipient to exercise the rights specified.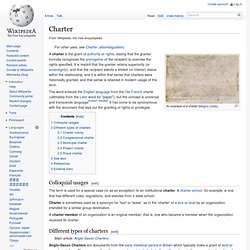 It is implicit that the granter retains superiority (or sovereignty), and that the recipient admits a limited (or inferior) status within the relationship, and it is within that sense that charters were historically granted, and that sense is retained in modern usage of the term. The word entered the English language from the Old French charte (ultimately from the Latin word for "paper"), but the concept is universal and transcends language[citation needed]. It has come to be synonymous with the document that lays out the granting of rights or privileges. The Corporation Film: Welcome. THE CORPORATION [1/23] What is a Corporation? metaphors. Broadcast Yourself. Welcome to YouTube!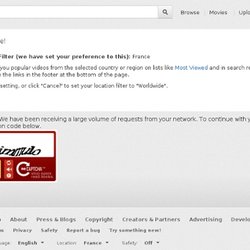 The location filter shows you popular videos from the selected country or region on lists like Most Viewed and in search results.To change your location filter, please use the links in the footer at the bottom of the page. Click "OK" to accept this setting, or click "Cancel" to set your location filter to "Worldwide". [2/23] Birth. Howard Zinn. Life and career[edit] Early life[edit] Zinn was born to a Jewish immigrant family in Brooklyn.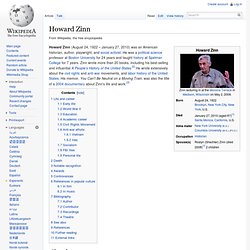 His father, Eddie Zinn, born in Austria-Hungary, emigrated to the U.S. with his brother Samuel before the outbreak of World War I. [3/23] A Legal "Person" [4/23] Externalities. [10/23] Boundary Issues. [14/23] branding is not advertising it's production. [20/23] Hostile Takeover general butler. Smedley Butler. By the end of his career, Butler had received 16 medals, five for heroism.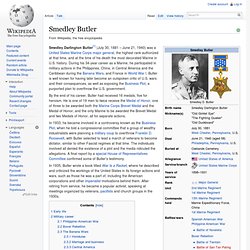 He is one of 19 men to twice receive the Medal of Honor, one of three to be awarded both the Marine Corps Brevet Medal and the Medal of Honor, and the only Marine to be awarded the Brevet Medal and two Medals of Honor, all for separate actions. In 1933, he became involved in a controversy known as the Business Plot, when he told a congressional committee that a group of wealthy industrialists were planning a military coup to overthrow Franklin D. Roosevelt, with Butler selected to lead a march of veterans to become dictator, similar to other Fascist regimes at that time. The individuals involved all denied the existence of a plot and the media ridiculed the allegations. A final report by a special House of Representatives Committee confirmed some of Butler's testimony. Business Plot. At the time of the incidents, news media dismissed the plot, with a New York Times editorial characterizing it as a "gigantic hoax".[3] While historians have questioned whether or not a coup was actually close to execution, most agree that some sort of "wild scheme" was contemplated and discussed.[2][4][5][6][7] Background[edit] Butler and the veterans[edit] On July 17, 1932, thousands of World War I veterans converged on Washington, D.C., set up tent camps, and demanded immediate payment of bonuses due to them according to the World War Adjusted Compensation Act of 1924 (the original act made the bonuses initially due no earlier than 1925 and no later than 1945).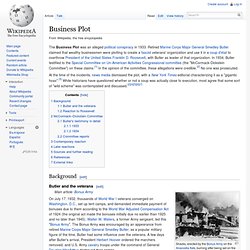 Walter W. Mark Achbar. Biography[edit] Achbar moved into independent media, working in many capacities on films, videos, and books on issues ranging from nuclear lunacy, poverty, and East Timor, to the media, U.S. hegemony, and corporate power. Achbar collaborated with editor Jennifer Abbott to create Two Brides and a Scalpel: Diary of a Lesbian Marriage, a low-budget video diary by the couple known as Canada's first legally married lesbians. Jennifer Abbott. Career[edit] Filmmaking[edit] Abbott's first film was A Cow at My Table (1998). The film addresses the ongoing battle between animal advocates and the meat industry in hopes to educate the Western consumer. Five years in production took Abbott across Canada, the United States, Australia, and New Zealand to meet with leading activists for the animal rights movement, as well as spokesmen from livestock industries.
In 2000, Abbott collaborated with director Mark Achbar to create Two Brides and a Scalpel: Diary of a Lesbian Marriage (2000). Joel Bakan. Joel Conrad Bakan (born 1959) is a Canadian writer, jazz musician,[1] filmmaker,[2] and professor at the University of British Columbia Faculty of Law.[3] Born in Lansing, Michigan and raised for most of his childhood in East Lansing, Michigan where his parents, Paul and Rita Bakan, were both long-time professors in psychology at Michigan State University. In 1971, he moved with his parents to Vancouver, British Columbia. He was educated at Simon Fraser University (BA, 1981), University of Oxford (BA in law, 1983), Dalhousie University (LLB, 1984) and Harvard University (LLM, 1986).
He served as a law clerk to Brian Dickson in 1985. The Century Of The Self. The One Percent 1/8. POCLAD - Program on Corporations, Law and Democracy. Richard Grossman. Richard Lee Grossman (August 10, 1943 – November 22, 2011) was the former co-director of the Program on Corporations, Law and Democracy (POCLAD). He was co-author of Taking Care of Business: Citizenship and the Charter of Incorporation. He lectured widely on issues of corporate power, law and democracy. He was also one of the teachers for the Daniel Pennock Democracy School, which tries to help people understand how and why corporations have more rights than human beings. Grossman attended Columbia University, graduating in 1965. He then served as a Peace Corps volunteer in the Philippines. Douglas Rushkoff » Life Inc. Books Life Inc. How Corporatism Conquered the World,and How We Can Take It Back This didn't just happen. In Life Inc., award-winning writer, documentary filmmaker, and scholar Douglas Rushkoff traces how corporations went from a convenient legal fiction to the dominant fact of contemporary life.
Indeed as Rushkoff shows, most Americans have so willingly adopted the values of corporations that they're no longer even aware of it. This fascinating journey reveals the roots of our debacle, from the late Middle Ages to today. Life Inc. The Movie. Life Inc. Dispatch 01: Crisis as Opportunity. How the rules we live by came to be. Life Inc. Dispatch 02: Insulation Equation. Life Inc. Dispatch 03: Money as Debt. Life Inc. Dispatch 04: It's Just Little Brown People Over There, Somewhere. Life Inc. Dispatch 05: Markets Love Selfish People. Life Inc. Dispatch 06: Why Corporations Hate the Free Market. Life Inc. Dispatch 07: Less is More. Life Inc. Dispatch 08: Capitalism, for Dummies. Douglas Rushkoff - The Colbert Report - 7/15/09. Life, Incorporated Pt. 1. Life, Incorporated Pt. 2. STATE BY STATE CORP TAKE OVER. THE PLUTOCRATS.
Corporations & Gov Watch. Lobbying in the United States. Lobbying. Corporate Governance. Corporate Greed vs Public Interest. Cenk Uygur Announces Wolf-PAC.com at Occupy Wall Street. Wolf PAC. What happened? - Wolf PAC. Thom Hartmann: Why Fox News has the Right to Lie to Us. Category:Anti-corporate activists. List of corporate scandals. Category:Anti-corporate activism. Psywar - Full Documentary. Ivy Lee. Quartz person of the year 2012. Tim Carney: How corporate tax credits got in the 'cliff' deal.
---