Free Software
Free Mac Software. Google SketchUp. What is Bryce. The First Name in 3D Landscapes Harness the power of creation through extensive tools that bring freedom to your designs Create breathtaking vistas and scenery with the world's most well-known 3D terrain generation software. 3D Authoring Suite For more than a decade, artists of all mediums have known Bryce as the affordable 3D software for achieving breathtaking realistic imagery.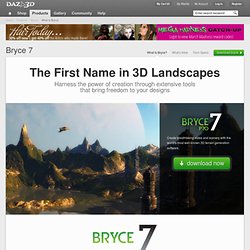 "Bryce 7.1 Now Available for Free Download, PC or Mac" by Syd Baker. I just discovered that Bryce 7.1 is available for free downloads, both for PC and for Mac.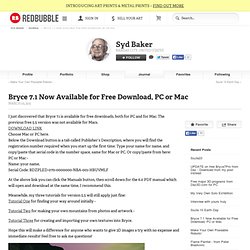 The previous free 5.5 version was not available for Macs.DOWNLOAD LINKChoose Mac or PC here.Below the Download button is a tab called Publisher's Description, where you will find the registration number required when you start up the first time. Type your name for name, and copy/paste that serial code in the number space, same for Mac or PC. Or copy/paste from here:PC or Mac -Name: your name, Serial Code: BDZPLED-070-0000000-NBA-001-HBUVMLF. Sculptris. Focus as an artist on pure creativity Enter Sculptris, a fun and engaging way to start off your digital sculpting journey!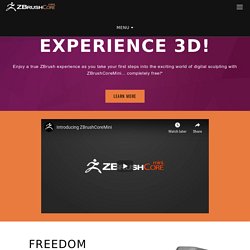 If you're new to the world of digital sculpting, Sculptris is the ideal ground on which to get started. If on the other hand you're experienced in CG, we offer you ZBrush. SyMMetry Mode for Sculptris Alpha6 Documentation. Sweet Home 3D. JellyCam - Stop Motion. Pivot Stickfigure Animator. The GNU Image Manipulation Program.
Tux Paint. Homepage | Livebrush & the Livebrush Project. Draw Freely. Format Factory - Free media file format converter. Adapter - Free Image and Video Converter for Mac and PC. Adapter adapts to the complexity that you need.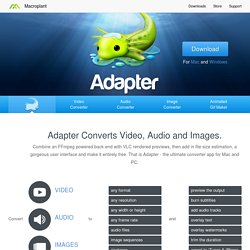 Most conversions can be preformed simply by dropping files into the queue and selecting the output mode from a pop-up button. If you need more control, advanced panels can be toggled. CamStudio - Free Screen Recording Software. Screen Capture and Print Screen software. Top Features. Photo Story 3 for Windows. Free Audio Editor and Recorder. Scratch | Home | imagine, program, share. Planet Kodu | Create Something Cool. Mama - an educational programming language for building 3D animations and games - Eytam Robotics. Documentation Click here for the complete Mama documentation.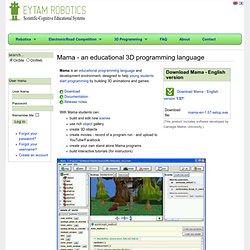 Mama IDE origin Mama IDE is an improvement of Carnegie Mellon's open source Alice development environment, supporting unicode, build and edit of 3D objects, uploading animations to YouTube, and much more. References Tucker, A., Deek, F., Jones, J., McCowan. Mama - getting started. Contents Introduction Mama is an educational programming language built on top of Carnegie Mellon's great Alice development environment.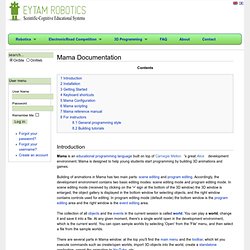 Mama is designed to help young students start programming by building 3D animations and games. Scratch Tutorials. Upload My blog Subscription preferences Loading...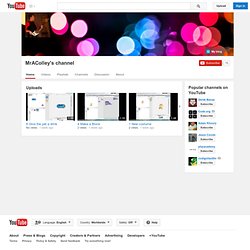 Working... MrAColley's channel. Home - GameSalad.
---