Free Software
Free Mac Software
What is Bryce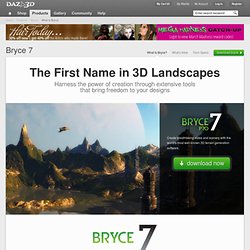 The First Name in 3D Landscapes Harness the power of creation through extensive tools that bring freedom to your designs Create breathtaking vistas and scenery with the world's most well-known 3D terrain generation software. 3D Authoring Suite For more than a decade, artists of all mediums have known Bryce as the affordable 3D software for achieving breathtaking realistic imagery.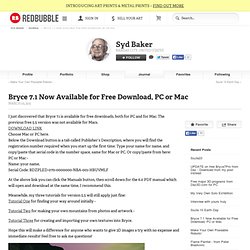 I just discovered that Bryce 7.1 is available for free downloads, both for PC and for Mac. The previous free 5.5 version was not available for Macs.DOWNLOAD LINKChoose Mac or PC here.Below the Download button is a tab called Publisher's Description, where you will find the registration number required when you start up the first time. Type your name for name, and copy/paste that serial code in the number space, same for Mac or PC. Or copy/paste from here:PC or Mac -Name: your name, Serial Code: BDZPLED-070-0000000-NBA-001-HBUVMLF
"Bryce 7.1 Now Available for Free Download, PC or Mac" by Syd Baker | Redbubble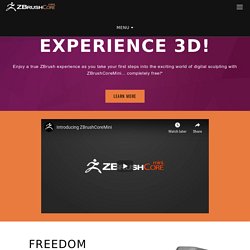 Focus as an artist on pure creativity Enter Sculptris, a fun and engaging way to start off your digital sculpting journey! If you're new to the world of digital sculpting, Sculptris is the ideal ground on which to get started. If on the other hand you're experienced in CG, we offer you ZBrush.
SyMMetry Mode for Sculptris Alpha6 Documentation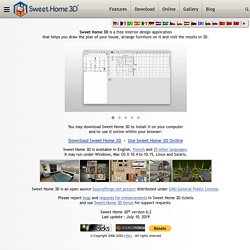 Sweet Home 3D is a free interior design application that helps you draw the plan of your house, arrange furniture on it and visit the results in 3D. (click on image to enlarge) You may download Sweet Home 3D to install it on your computer and/or use it online within your browser: Download Sweet Home 3D - Use Sweet Home 3D Online Sweet Home 3D is available in English, French, and 22 other languages. It may run under Windows, Mac OS X 10.4 to 10.9, Linux and Solaris.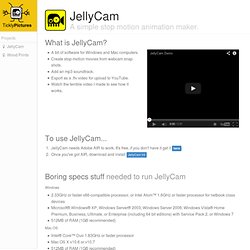 A bit of software for Windows and Mac computers. Create stop-motion movies from webcam snap shots. Add an mp3 soundtrack. Export as a .flv video for upload to YouTube. Watch the terrible video I made to see how it works. JellyCam needs Adobe AIR to work.
GIMP is the GNU Image Manipulation Program. It is a freely distributed piece of software for such tasks as photo retouching, image composition and image authoring. It works on many operating systems, in many languages.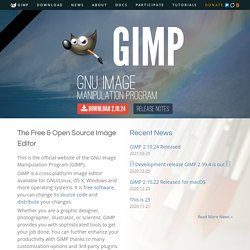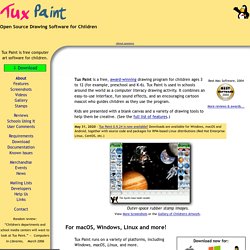 Tux Paint is a free, award-winning drawing program for children ages 3 to 12 (for example, preschool and K-6). Tux Paint is used in schools around the world as a computer literacy drawing activity. It combines an easy-to-use interface, fun sound effects, and an encouraging cartoon mascot who guides children as they use the program. Kids are presented with a blank canvas and a variety of drawing tools to help them be creative. (See the full list of features.)
What is Livebrush? Livebrush is a drawing application. It employs an easy-to-use brush tool that reacts to your gesture.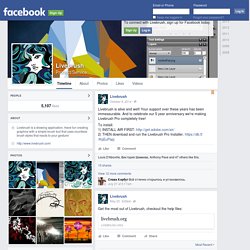 Draw Freely.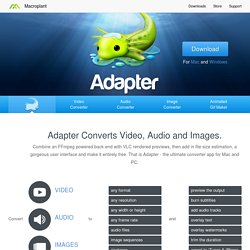 Adapter adapts to the complexity that you need. Most conversions can be preformed simply by dropping files into the queue and selecting the output mode from a pop-up button. If you need more control, advanced panels can be toggled.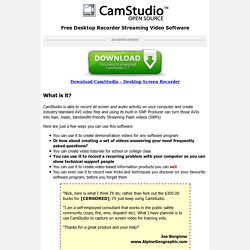 Free Streaming Video Software What is it? CamStudio is able to record all screen and audio activity on your computer and create industry-standard AVI video files and using its built-in SWF Producer can turn those AVIs into lean, mean, bandwidth-friendly Streaming Flash videos (SWFs) Here are just a few ways you can use this software: You can use it to create demonstration videos for any software programOr how about creating a set of videos answering your most frequently asked questions?
Screen Capture and Print Screen software
Top Features
Audacity is available for Windows®, Mac®, GNU/Linux® and other operating systems. Check our feature list, wiki, and forum for more information. October 21, 2013: Audacity 2.0.5 Released Audacity 2.0.5 replaces all previous versions. It fixes crashes or hangs that were reported in Audacity 2.0.4 on some machines, and contains many other bug fixes and stability improvements. (OS X) Crashes when importing audio files are fixed.
Planet Kodu | Create Something Cool
Mama - an educational programming language for building 3D animations and games - Eytam Robotics
Documentation Click here for the complete Mama documentation. Mama IDE origin Mama IDE is an improvement of Carnegie Mellon's open source Alice development environment, supporting unicode, build and edit of 3D objects, uploading animations to YouTube, and much more. References Tucker, A., Deek, F., Jones, J., McCowan.
Mama - getting started
Scratch Tutorials