Free Energy
Welcome welcome. Glad to have people help me with these Trees. If you haven't noticed, I'm working on quite a lot. I really appreciate the input! Feel free to say hello and talk to me about w/e :D rossbusby Apr 6
Get flash to fully experience Pearltrees
Denmark , the US , and Germany aren't the only countries breaking wind power records these days. Spain is also a notable leader seeing strong wind power growth. In fact, it just saw its wind farms produce more electricity than any other source for a 3-month time period, for the first time ever. "Since Nov. 1, wind has been the top technology in the electrical system," the Spanish Wind Energy Association (SWEA) was quoted as writing on its blog . Additionally, data from grid operator Red Electrica de Espana concluded that 6 terawatt-hours (TWh) of electricity had been generated from wind in January, another first for the country.
Native Clean Energy (NCE) has been investing money, energy and time into researching new energy technologies as it relates to increasing the efficiency of our planet's current Fossil Fuel based transportation and power production capacities. We are also delving deep into the research and development of what Nikola Tesla, Viktor Schauberger, John Keely, Gabriel Kron, Nathan Stubblefield, Ed Leedskalnin, Buckminster Fuller and many others were in search of, zero point energy, radiant energy, etheric energy, how to tap into the underlying unified field that holds everything together, the energy that spins our earth, the perpetual energy of the Moon pulling on our planets waters. There are many energies acting up on our Planet that we have yet to fully understand.
The Unification Coil was invented and created by Daniel & Erica Nunez now in partnership with NativeCleanEnergy.com. They combined the work of Marco Rodin's "Rodin Coil" and Randy Powell's "Abha Coil" to come up with the Unification Coil. Change is necessary in order for our planet to evolve and become truly sustainable. This can begin now, by introducing a new way of creating our electrical devices in a way which conserves energy. The Unification Coil utilizes Vortex Based Mathematics, Sacred Geometry, and Electromagnetism in order to create vortexes of self regulating electric energy. We exist in a pool of energy; which is why our planet thrives, now it's time to harness and give back to this pool.
This is Version 23.21 of a large eBook of some 2,450 pages, with a file size of about 37 Mb. which takes some minutes to download. The eBook has more than 400 Bookmarks so that you can access any topic easily. The most recent updates are listed here .
convenient, safe, efficient. eCoupled wireless freedom eCoupled™ technology is a breakthrough in the way we interact with electricity. It is capable of touching every facet of our lives.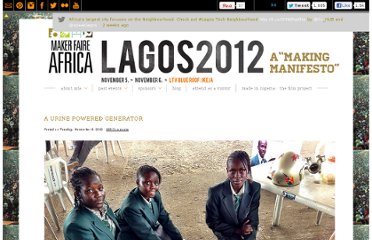 Posted on Tuesday, November 6, 2012 · 166 Comments Possibly one of the more unexpected products at Maker Faire Africa this year in Lagos is a urine powered generator, created by four girls. The girls are Duro-Aina Adebola (14), Akindele Abiola (14), Faleke Oluwatoyin (14) and Bello Eniola (15). 1 Liter of urine gives you 6 hours of electricity. The system works like this: Urine is put into an electrolytic cell, which separates out the hydrogen.
A quick video - not for the newbie!! Be prepared to write down information and take a screen shot or two. Although it us not real clear, if you look at the setup on his bench carefully, you will see the 2 12 volt batteries are in SERIS, NOT parallel....

I will be building this in the next 2 - 3 weeks, but for a 115V output and using two car batteries. I plan to running a mini-fridge. by nutsy Oct 28
Best Free Energy Videos (Shorts)
free energy for begginers
OK, first of all, this CO2-absorbing street lamp looks super cool! Secondly, it absorbs CO2! Thirdly, 150-200 times more than a tree!
Hotspot Wifi Reconnecteur Reconnexion automatique aux hotspots wifi publics Présentation | Installation | Téléchargement | Manuel d'utilisation / F.A.Q.