Flipped Classroom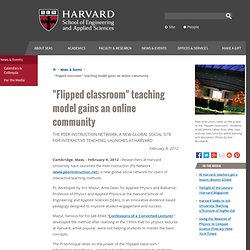 Cambridge, Mass. - February 8, 2012 - Researchers at Harvard University have launched the Peer Instruction (PI) Network (www.peerinstruction.net), a new global social network for users of interactive teaching methods.
Harvard-Launching Peer Instruction Network
Screencasting for Teachers
Students use StudentChomps
BROOKLANDVILLE, Md. - Flipped classroom open houses kick off today in two countries, 20 states and over 30 cities and towns today. ABC2's Sherrie Johnson visited Saint Paul's School for Girls in Brooklandville, where teachers are also opening their doors to allow educators and others to see how flipped learning works today. Saint Paul's School for Girls is hosting an open house for its Algebra I and II classes.
Saint Paul's School for Girls hosts flipped classroom open house
The Flipped Classroom: Answering Obama's Call For Creativity In Education
As a sophomore and junior at Clintondale High School in suburban Detroit, Dominique Moody was barely squeaking by, getting Ds in geometry and algebra. He was not alone: two years ago, the average failure rate was 61% at the financially disadvantaged school, where three quarters of its 570 students qualify for free lunches.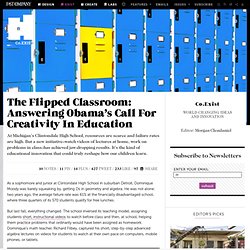 UNC's Mathematics and Science Teaching Institute is at the forefront of a growing trend in secondary education that's changing how many middle and high school students are learning. Three years ago, Jerry Overmyer, MAST's outreach coordinator, did a simple Google search for the latest ideas in education and technology.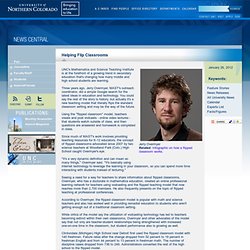 Uni of Norther Col Helping Flip
ISTE Book by Jon Bergmann
by Greg Green, Special to CNN Editor's note: Greg Green is the principal at Clintondale High School in Clinton Township, Michigan. I'm a principal at Clintondale High, a financially challenged school near Detroit.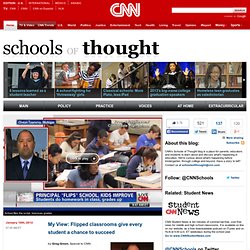 (1) ending required sameness (3) re-thinking rigor (4) its not about 1:1 (5) start to dream again (6) learning to be a society (again) (7) re-thinking what "literature" means (8) maths are creative, maths are not arithmetic (9) changing rooms (10) undoing academic time (11) social networks beyond Zuckerbergism (12) knowing less about students, seeing more (13) why we fight Maybe I'm highly sensitive to this.
rejecting the "flip"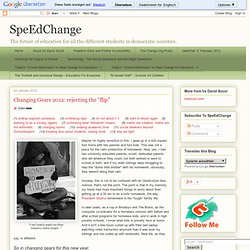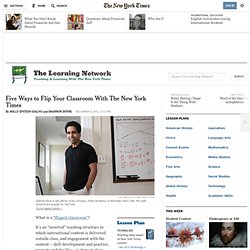 Jim Wilson/The New York TimesSalman Khan in the offices of his company, Khan Academy, in Mountain View, Calif. His math lessons are popular on YouTube.Go to related article »
Classroom time is then used for answering student questions, helping with homework, and other activities that help students apply what they've learned. While there are some obvious drawbacks to this method, more and more teachers are trying it out. Many have found it to be quite successful in improving student grades and comprehension, though many caution it's not right for every teacher or every classroom.
Stillwater
The Flipped Classroom
Daniel Pink's Think Tank: Flip-thinking – the new buzz word sweeping the US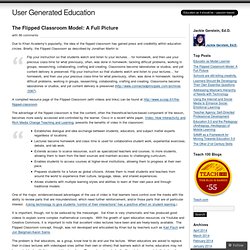 Due to Khan Academy's popularity, the idea of the flipped classroom has gained press and credibility within education circles.
Flipped classroom
Khan Academy Trains Teachers to Use Its Videos and Tools Khan Academy, best known for its free online library of math video tutorials, is using the summer months to offer in-person teacher trainings in places like Chicago, New Orleans and Redwood City, California. That might seem strange for an organization whose mission is to leverage the Internet to offer high quality learning to anyone, but Khan Academy has been piloting ways to integrate their videos into classrooms are ready to share what they've learned.
Matthew Carpenter, age 10, has completed 642 inverse trigonometry problems at KhanAcademy.org.Photo: Joe Pugliese "This," says Matthew Carpenter, "is my favorite exercise." I peer over his shoulder at his laptop screen to see the math problem the fifth grader is pondering.
Personal narrative plays an important role in Mike Garver's teaching style.
Marketing - Western Michigan