Far too entertaining games
Metro Last Light - Survival Chap 2 - Enemy Danger. Ten games that make you think about life. At the start of this year, we decided to come up with a list of Flash casual games with a philosophical bent.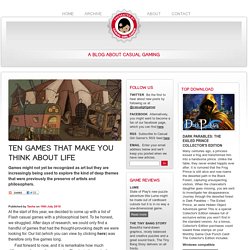 To be honest, we struggled. After days of research, we could only find a handful of games that had the thought-provoking depth we were looking for. Our list (which you can view by clicking here) was therefore only five games long. The Gwigle Game. Ten games that make you think about life. Five games that make you think about life. Do you ever get that feeling, when playing games, that you really should be doing something more edifying with your life.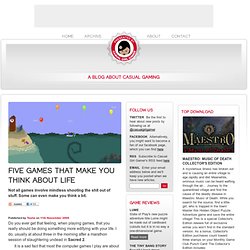 I do, usually at about three in the morning after a marathon session of slaughtering undead in Sacred 2. It is a sad fact that most the computer games I play are about as intellectually stimulating as a fart. But, thankfully, not all. Here, I present five games I've found that force you to think a little - in some cases even get a bit philosophical. Home Sheep Home. Bank of Imagination. Sketch Swap. Mushroom Life. QWOP. Slime Games. Factory Balls 2, a Bart Bonte game.
---