ExtraTerrestrial Links
Nasa and SETI Astronomers Detect Alien Signal From Jupiter's Moon Ganymede. Breaking News: NASA and SETI Astronomers detect an artificial alien radio signal originating from Ganymede, one of Jupiter's largest moons.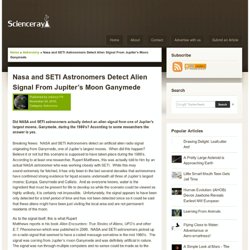 When did this happen? Believe it or not but this scenario is supposed to have taken place during the 1980's. According to at least one researcher, Rupert Matthews, this was actually told to him by an actual NASA astronomer who was working closely with SETI. Best Evidence for The Ancient Astronaut or Ancient Alien Theory. Do you believe in the Ancient Astronaut or sometimes called the Ancient Alien theory?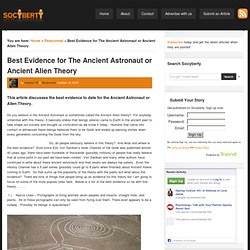 For anybody unfamiliar with this theory; it basically states that beings (aliens) came to Earth in the ancient past to help shape our society and brought us civilization as we know it today. Humans that came into contact or witnessed these beings believed them to be Gods and ended up passing stories down every generation concerning the Gods from the sky. So, do people seriously believe in this theory? And what and where is the best evidence? Ever since Eric Von Daniken's book Chariots of the Gods was published almost 40 years ago, there have been hundreds of thousands (possibly millions) of people that really believe that at some point in our past we have been visited.
Ancient Aliens: Binary Code Message Provides Ultimate Proof of Alien Life. Has a recent translation of a binary code message that was supposedly received during the famous Rendlesham Forest UFO incident in 1980 finally given us the ultimate proof of alien life?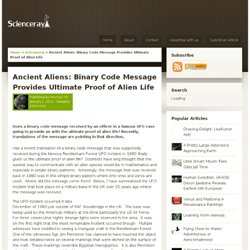 Scientists have long thought that the easiest way to communicate with an alien species would be in mathematics and especially in simple binary patterns. Amazingly, the message that was received back in 1980 was in this simple binary pattern where only ones and zeros are used. Where did this message come from? Scientists find Extraterrestrial genes in Human DNA. Scientists find Extraterrestrial genes in Human DNA by John Stokes Artistic representation from Eyewitness testimony of Asket, the extraterrestrial human woman, reference: www.gaiaguys.net A group of researchers working at the Human Genome Project indicate that they made an astonishing scientific discovery: They believe so-called 97% non-coding sequences in human DNA is no less than genetic code of extraterrestrial life forms.
The non-coding sequences are common to all living organisms on Earth, from moulds to fish to humans. In human DNA, they constitute larger part of the total genome, says Prof. EARTHLINGS - Make the Connection. | Nation Earth. UFO Part 1 of 16. The FBI's Reading Room contains many files of public interest and historical value.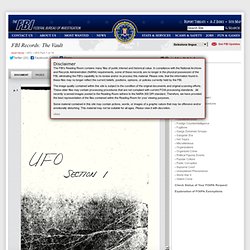 In compliance with the National Archives and Records Administration (NARA) requirements, some of these records are no longer in the physical possession of the FBI, eliminating the FBI's capability to re-review and/or re-process this material. Please note, that the information found in these files may no longer reflect the current beliefs, positions, opinions, or policies currently held by the FBI. The image quality contained within this site is subject to the condition of the original documents and original scanning efforts.
The memo that 'proves aliens landed at Roswell'... released online by the FBI. By Daily Mail Reporter Updated: 07:37 GMT, 11 April 2011 A bizarre memo that appears to prove that aliens did land in New Mexico prior to 1950 has been published by the FBI.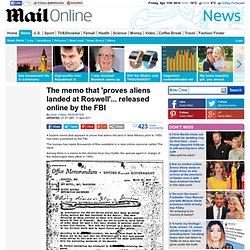 The bureau has made thousands of files available in a new online resource called The Vault. Among them is a memo to the director from Guy Hottel, the special agent in charge of the Washington field office in 1950. Proof of (alien) life? Alien. WHAT IS COMING TO EARTH? HAVE PORTALS BEGUN TO OPEN 2011? PART 1. Chinese National TV reporting impending UFO/ET disclosure by Obama government - Seattle exopolitics. Chinese National Television Xinhua news is now reporting an impending extraterrestrial disclosure by the Obama administration.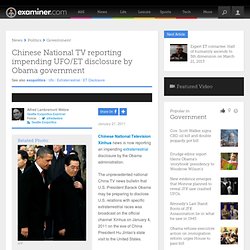 The unprecedented national China TV news bulletin that U.S. President Barack Obama may be preparing to disclose U.S. relations with specific extraterrestrial races was broadcast on the official channel Xinhua on January 4, 2011 on the eve of China President Hu Jintao's state visit to the United States. President Hu is presently visiting a Chinese language facility in Chicago, IL as of this writing on January 21, 2011. View China National TV reporting impending ET disclosure by Obama administration Examiner.com readers can view the China TV news broadcast above in this article on by clicking in the URL below:
Welcome to Project Camelot Portal. Global Illumination Council. Justbernard's Channel. Welcome to YouTube!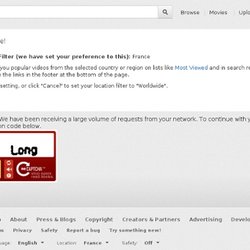 The location filter shows you popular videos from the selected country or region on lists like Most Viewed and in search results.To change your location filter, please use the links in the footer at the bottom of the page. Click "OK" to accept this setting, or click "Cancel" to set your location filter to "Worldwide". The location filter shows you popular videos from the selected country or region on lists like Most Viewed and in search results. To change your country filter, please use the links in the footer at the bottom of the page. Wake Up - The Film. UFOW 2004 - Mark Kimmel - Awakening to the Extraterrestrial Reality. Scientists say dolphins should be treated as 'non-human persons' // Current. To Our Faithful Current.com Users: Current's run has ended after eight exciting years on air and online.
The Current TV staff has appreciated your interest, support, participation and unflagging loyalty over the years. Your contributions helped make Current.com a vibrant place for discussing thousands of interesting stories, and your continued viewership motivated us to keep innovating and find new ways to reflect the voice of the people. We now welcome the on-air and digital presence of Al Jazeera America, a new news network committed to reporting on and investigating real stories affecting the lives of everyday Americans in every corner of the country. You can keep up with what's new on Al Jazeera America and see this new brand of journalism for yourself at. Extraterrestrials and UFOs. Abductions - Contact Experiences Alien Abduction Cattle Mutilations Contact Experience Family History: DNA Links Implants Physical Evidence Billy Meier UFO Contacts, Henoch Prophecy Removing Fetuses Screen Memories: Alien and Faery Abductions September 19 ...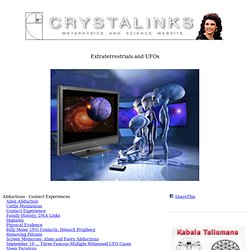 Three Famous Multiple Witnessed UFO Cases Sleep Paralysis Extraterrestrials Groups Greys Nordics Reptilians Annunaki Ultraterrestrials Famous Incidents Aurora Incident 1897 Derinkuyu - Ancient Underground City Maury Island Incident June 21, 1947 - Kenneth Arnold Rendlesham Forest Incident 1980 Roswell UFO Incident July 1947 Washington, DC Incidents July 1952. PROJECT CAMELOT: AN INTERVIEW WITH CARMEN BOULTER. I traveled with Dr. Carmen Boulter on her group tour of Egypt for the special meditation inside the Great Pyramid and at the foot of the Sphinx on 10-10-2010. This interview was done in view of the pyramids where at the end of the tour we had a chance to sit down and talk about Amarna, Nefertiti and Akhenaten and what really happened in those days.
Barack Obama not disclosing extraterrestrial presence is top ET/UFO story of 2009 - Seattle exopolitics. Barack Obama not disclosing an extraterrestrial presence during 2009 is the top extraterrestrial-related story of 2009. Obama ended 2009 with non-disclosure after numerous reports of 'imminent disclosure' of an extraterrestrial presence including prediction of a specific disclosure date, November 27, 2009. Independent sources have reportedly confirmed the U.S. military leaking its meetings in 2009 with Reptilian, Grey, and a silicon-based civilization named the "Conformers" in an effort to move Obama, the military's commander-in-chief, to disclosure.
Along with Barack Obama's refusal to disclose the reality of extraterrestrial civilizations whose presence his military is publicly leaking, we ranked the top 10 extraterrestrial-related stories of 2009. You can access the results below. Drunvalo Melchizedek on ETs, Historical Universal Evolution and 2012 (Part 1)
Videos | UFO Investigations | Breaking News Reports | UFO. Welcome To ECETI. »Home Date Last Updated - 12.05.2013 "Skeptics and Naysayers dismiss what they have not risen to the level to see. Armchair investigators cast opinions from afar, condemnation without investigaton is the height of ignorance. "Albert Einstein 2013 Transformation Celebration DVD's James Gilliland. David Wilcock on Norway Spiral, HAARP, 2012, UFO Disclosure, DNA ascension~.flv. Kevin Smith Show - UFO and Paranormal talk radio like nowhere else on Earth.
Open Minds | UFO Investigations, UFO News and a UFO Magazine. Seattle exopolitics Examiner - Government. NASA Discovers Alien Life? NASA scientist Richard B. Hoover claims he's found alien life. Within nine extremely rare meteorites called CI1 carbonaceous chondrites, he claims to have discovered the fossils of worm-like bacteria that is both similar to and nothing like what exists on our planet. The findings were published late Friday, March 4th in the Journal of Cosmology. Dr.
---