ExtraTerrestrial Links
Nasa and SETI Astronomers Detect Alien Signal From Jupiter's Moon Ganymede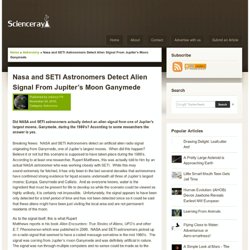 Breaking News: NASA and SETI Astronomers detect an artificial alien radio signal originating from Ganymede, one of Jupiter's largest moons.
Best Evidence for The Ancient Astronaut or Ancient Alien Theory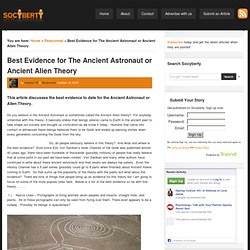 Do you believe in the Ancient Astronaut or sometimes called the Ancient Alien theory? For anybody unfamiliar with this theory; it basically states that beings (aliens) came to Earth in the ancient past to help shape our society and brought us civilization as we know it today.
Has a recent translation of a binary code message that was supposedly received during the famous Rendlesham Forest UFO incident in 1980 finally given us the ultimate proof of alien life?
Ancient Aliens: Binary Code Message Provides Ultimate Proof of Alien Life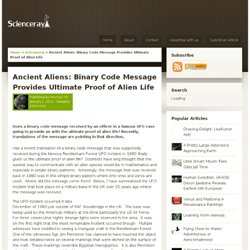 A New Scenario on The Alien Disclosure Announcement in 2011? Will the year 2012 finally give us the truth with an official alien disclosure announcement actually happening?
Scientists find Extraterrestrial genes in Human DNA by John Stokes
Scientists find Extraterrestrial genes in Human DNA
EARTHLINGS - Make the Connection. | Nation Earth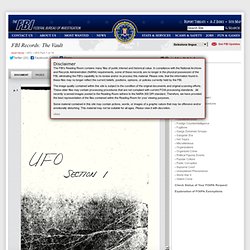 The FBI's Reading Room contains many files of public interest and historical value.
UFO Part 1 of 16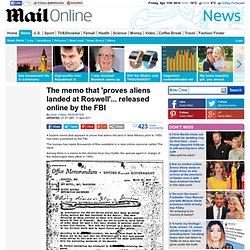 By Daily Mail Reporter UPDATED: 07:37 GMT, 11 April 2011
The memo that 'proves aliens landed at Roswell'... released online by the FBI
WHAT IS COMING TO EARTH? HAVE PORTALS BEGUN TO OPEN 2011? PART 1
Chinese National Television Xinhua news is now reporting an impending extraterrestrial disclosure by the Obama administration. The unprecedented national China TV news bulletin that U.S.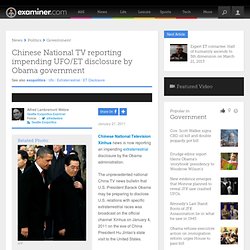 Chinese National TV reporting impending UFO/ET disclosure by Obama government - Seattle exopolitics
Welcome to Project Camelot Portal
Global Illumination Council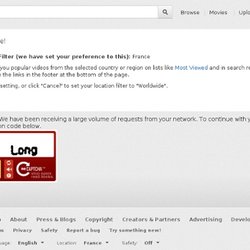 Welcome to YouTube!
justbernard's Channel
Wake Up - The Film
UFOW 2004 - Mark Kimmel - Awakening to the Extraterrestrial Reality
To Our Faithful Current.com Users: Current's run has ended after eight exciting years on air and online. The Current TV staff has appreciated your interest, support, participation and unflagging loyalty over the years. Your contributions helped make Current.com a vibrant place for discussing thousands of interesting stories, and your continued viewership motivated us to keep innovating and find new ways to reflect the voice of the people. We now welcome the on-air and digital presence of Al Jazeera America, a new news network committed to reporting on and investigating real stories affecting the lives of everyday Americans in every corner of the country. You can keep up with what's new on Al Jazeera America and see this new brand of journalism for yourself at http://www.aljazeera.com/america.
Scientists say dolphins should be treated as 'non-human persons' // Current
Abductions - Contact Experiences Alien Abduction Cattle Mutilations Contact Experience Family History: DNA Links Implants Physical Evidence Billy Meier UFO Contacts, Henoch Prophecy Removing Fetuses Screen Memories: Alien and Faery Abductions September 19 ...
Extraterrestrials and UFOs
I traveled with Dr. Carmen Boulter on her group tour of Egypt for the special meditation inside the Great Pyramid and at the foot of the Sphinx on 10-10-2010. This interview was done in view of the pyramids where at the end of the tour we had a chance to sit down and talk about Amarna, Nefertiti and Akhenaten and what really happened in those days.
PROJECT CAMELOT: AN INTERVIEW WITH CARMEN BOULTER
Barack Obama not disclosing an extraterrestrial presence during 2009 is the top extraterrestrial-related story of 2009. Obama ended 2009 with non-disclosure after numerous reports of 'imminent disclosure' of an extraterrestrial presence including prediction of a specific disclosure date, November 27, 2009. Independent sources have reportedly confirmed the U.S. military leaking its meetings in 2009 with Reptilian, Grey, and a silicon-based civilization named the "Conformers" in an effort to move Obama, the military's commander-in-chief, to disclosure. Along with Barack Obama's refusal to disclose the reality of extraterrestrial civilizations whose presence his military is publicly leaking, we ranked the top 10 extraterrestrial-related stories of 2009. You can access the results below.
Barack Obama not disclosing extraterrestrial presence is top ET/UFO story of 2009 - Seattle exopolitics
Drunvalo Melchizedek on ETs, Historical Universal Evolution and 2012 (Part 1)
Videos | UFO Investigations | Breaking News Reports | UFO
»Home Date Last Updated - 12.05.2013 "Skeptics and Naysayers dismiss what they have not risen to the level to see.
Welcome To ECETI
David Wilcock on Norway Spiral, HAARP, 2012, UFO Disclosure, DNA ascension~.flv
Kevin Smith Show - UFO and Paranormal talk radio like nowhere else on Earth
Open Minds | UFO Investigations, UFO News and a UFO Magazine
Seattle exopolitics Examiner - Government
NASA Discovers Alien Life?
NASA scientist Richard B. Hoover claims he's found alien life. Within nine extremely rare meteorites called CI1 carbonaceous chondrites, he claims to have discovered the fossils of worm-like bacteria that is both similar to and nothing like what exists on our planet. The findings were published late Friday, March 4th in the Journal of Cosmology. Dr.