Permaculture
4. Poo - The Chicken Keeper's Guide - The Poultry Pages - Allotment and Vegetable Gardening. Below are pictures of Chicken Droppings kindly donated by our members (the pictures not the poo).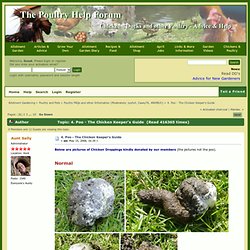 Normal Picture taken by Catsmuvva These last three pictures have shed intestinal lining in them - quite normal, not a cause for concern. Coral coloured Urates. Out to Pasture: The Future of Farming? Farmers markets move online. It isn't always easy finding fresh, high-quality food in this country.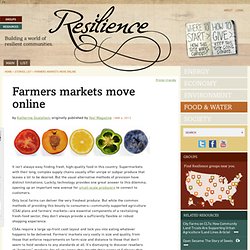 Supermarkets with their long, complex supply chains usually offer unripe or subpar produce that leaves a lot to be desired. But the usual alternative methods of provision have distinct limitations. Luckily, technology provides one great answer to this dilemma, opening up an important new avenue for small-scale producers to connect to customers. Only local farms can deliver the very freshest produce. USDA. Welcome to the Biosecurity For Birds website.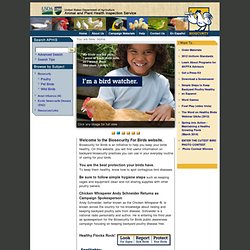 Biosecurity for Birds is an initiative to help you keep your birds healthy. On this website, you will find useful information on backyard biosecurity practices you can use in your everyday routine of caring for your birds. Raising BackYard Chickens, Build a Chicken Coop, Pictures of Breeds. Introduction to weed photo gallery - UC Statewide IPM Program. Hunter Angler Gardener Cook. Hugelkultur Can Create Irrigation-Free Garden Beds. Welcome to Back to Eden Film! Plant Hardiness Zone Map. USDA Plant Hardiness Zone Map The 2012 USDA Plant Hardiness Zone Map is the standard by which gardeners and growers can determine which plants are most likely to thrive at a location.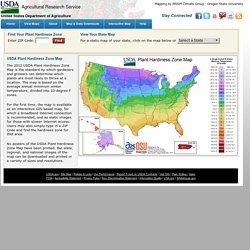 The map is based on the average annual minimum winter temperature, divided into 10-degree F zones. For the first time, the map is available as an interactive GIS-based map, for which a broadband Internet connection is recommended, and as static images for those with slower Internet access. Users may also simply type in a ZIP Code and find the hardiness zone for that area. Permaculture Media Blog. Raising Chickens 2.0: No More Coop and Run! After years and years of scraping/shoveling/scrubbing chicken poop I now have a system where I don't scrape/shovel/scrub any chicken poop.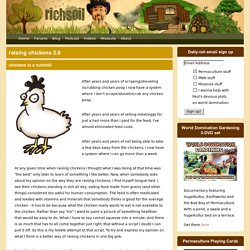 After years and years of selling meat/eggs for just a hair more than I paid for the feed, I've almost eliminated feed costs. After years and years of not being able to take a few days away from the chickens, I now have a system where I can go more than a week. Permaculture blogs, podcasts and videos by paul wheaton. Podcast: Download (Duration: 53:15 — 12.3MB) Lunch time at Base camp is the setting for this podcast with Paul and the group (PB, Emily, Oliver and Sam) discussing life and projects going on at the wheaton laboratories.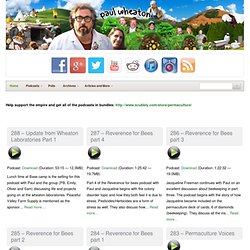 Peaceful Valley Farm Supply is mentioned as the sponsor… Read more… Podcast: Download (Duration: 1:25:42 — 19.7MB) AboutHarvest.com A for profit social enterprise, all about food. Permaculture. What to Plant Now: North Central And Rockies Gardening Region. Good Reading About Your Region Best Tomatoes for North Central and Rockies Region, January 2010 High and Dry Oregon Gardening, December 2001.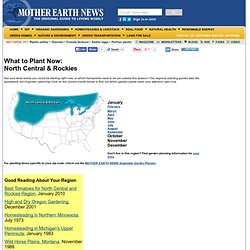 Permies: goofballs that are nuts about permaculture. Soil and Health Library.
---