Permaculture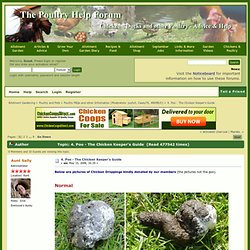 Below are pictures of Chicken Droppings kindly donated by our members (the pictures not the poo). Normal Picture taken by Catsmuvva These last three pictures have shed intestinal lining in them - quite normal, not a cause for concern. Coral coloured Urates These are frequently deposited overnight and are quite normal
4. Poo - The Chicken Keeper's Guide - The Poultry Pages - Allotment and Vegetable Gardening
Out to Pasture: The Future of Farming?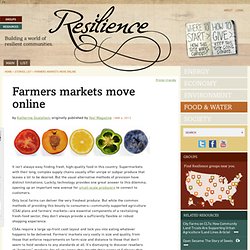 It isn't always easy finding fresh, high-quality food in this country. Supermarkets with their long, complex supply chains usually offer unripe or subpar produce that leaves a lot to be desired. But the usual alternative methods of provision have distinct limitations. Luckily, technology provides one great answer to this dilemma, opening up an important new avenue for small-scale producers to connect to customers. Only local farms can deliver the very freshest produce.
Farmers markets move online
USDA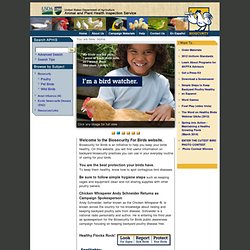 Welcome to the Biosecurity For Birds website. Biosecurity for Birds is an initiative to help you keep your birds healthy. On this website, you will find useful information on backyard biosecurity practices you can use in your everyday routine of caring for your birds.
Raising BackYard Chickens, Build a Chicken Coop, Pictures of Breeds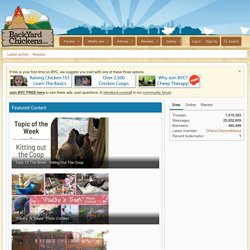 Who's Online 2012 Users (387 Members, 1625 Guests) Alice28 aveschicks BCollie ch1ckenrun charlie0026 Cheyen chickengirl1193 chickenlady099 chickenmama22 Chicklov4ever ChristineR Cindy A Crsd311 drewswiss Dreyadin ducksinarow Euarto Gullible FeatherBird FeyRaine fiddlechicken happy feet HappyHen2010 Jdragr katchina Leavingegypt nicalandia nmacdougall NWSumatras pawtraitart PekinBantam preciouskitty PSJ Purplesussex ready2run reveriereptile Rissa12xoxo rnt2005 Ron Skekel SarahChap sdm111 Sjisty SkilletLicker smproud SNIPERSCOTTIE Spangled Spinpuff StruckBy Stumpy Triple Willow wirey view all › BackYard Chickens Stats:
Introduction to weed photo gallery - UC Statewide IPM Program
Pig Hunting on Karma Ranch By Hank Shaw on April 8, 2014 For the second time, I journeyed 300 miles south to hunt wild pigs. And for the second time, good karma lead to a good hunt.
Hunter Angler Gardener Cook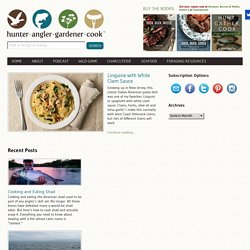 Hugelkultur Can Create Irrigation-Free Garden Beds
Welcome to Back to Eden Film!
Plant Hardiness Zone Map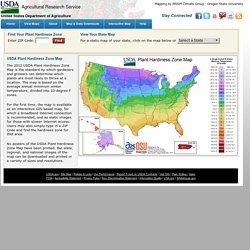 USDA Plant Hardiness Zone Map The 2012 USDA Plant Hardiness Zone Map is the standard by which gardeners and growers can determine which plants are most likely to thrive at a location. The map is based on the average annual minimum winter temperature, divided into 10-degree F zones. For the first time, the map is available as an interactive GIS-based map, for which a broadband Internet connection is recommended, and as static images for those with slower Internet access. Users may also simply type in a ZIP Code and find the hardiness zone for that area.
Permaculture Media Blog
After years and years of scraping/shoveling/scrubbing chicken poop I now have a system where I don't scrape/shovel/scrub any chicken poop. After years and years of selling meat/eggs for just a hair more than I paid for the feed, I've almost eliminated feed costs. After years and years of not being able to take a few days away from the chickens, I now have a system where I can go more than a week.
Raising Chickens 2.0: No More Coop and Run!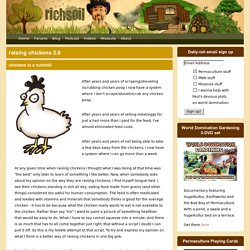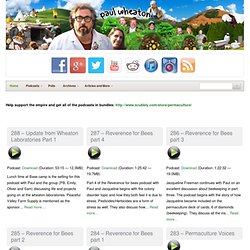 Podcast: Download (19.6MB) Paul, Emily Aaston & Tony Aiuppa discuss the video "Desert or Paradise", starring the mighty, the glorious, the amazing Sepp Holzer, which Paul got from Zak Weis in a trade for his 4 DVD set. Paul says he scheduled the… Read more… Podcast: Download (10.9MB)
permaculture blogs, podcasts and videos by paul wheaton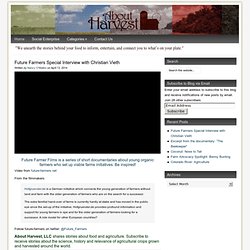 "Based off an old family recipe" About Harvest speaks with Julie Busha, owner of Slawsa, a unique "slaw-salsa" hybrid condiment. To coincide with the brand's national primetime television debut of ABC's hit show, "Shark Tank," November 15th will also mark National Slawsa Day. AH: Julie, will you please tell us about how and when Slawsa got its start? JB:Well it initially got its start back in 1998.
AboutHarvest.com A for profit social enterprise, all about food.
What to Plant Now: North Central And Rockies Gardening Region
Good Reading About Your Region Best Tomatoes for North Central and Rockies Region, January 2010 High and Dry Oregon Gardening, December 2001 Homesteading in Northern Minnesota, July 1973
Permies: goofballs that are nuts about permaculture
The wisest student learns from the originators of a body of knowledge because those who later follow in the founders' footsteps are not trailblazers of equivalent depth. This is especially true of the writings from many post WWII academics and professors who mainly write because they must publish . . . or perish. Even when the earliest works in a field contain errors because their authors lacked some bit of data or had a fact wrong, their books still contain enormous wisdom. If nothing else, study of older books lets us discover that the conditions that prevail today aren't the way things always were—whilst on some levels, some things hardly ever change at all. There are powerful forces on Earth obscuring the foundations of knowledge. That would be okay if there were better knowledge and wiser wisdoms coming on line to replace them.
Soil and Health Library