Forest Conservation
Map Data Map data ©2014 Google, INEGI Global Forest Watch (GFW) is a dynamic online forest monitoring and alert system that empowers people everywhere to better manage forests. We recommend visiting GFW using the latest version of Google Chrome, Mozilla Firefox, Apple Safari, or Internet Explorer.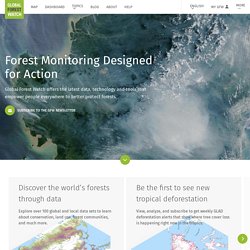 Jatun Sacha Foundation | Jatun Sacha Foundation Ecuador
Representatives of forest peoples, indigenous peoples, local communities, farmers, rubber tappers, rattan collectors, peatland dwellers, women, men and youth from Asia, Africa and Latin America, and supportive environmental, human rights and social non-governmental organisations, urge governments, international agencies and the international community to halt the production, trade and consumption of commodities derived from deforestation, land grabs and other violations of the rights of forest peoples;
FERN | tracking EU policies, focusing on forests
Rights and Resources Homepage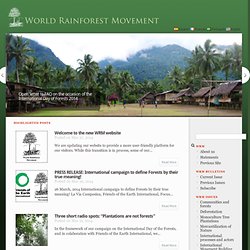 WRM English | World Rainforest Movement
Welcome to the new WRM website We are updating our website to provide a more user-friendly platform for our visitors. While this transition is in process, some of our... Read More
Salva la Selva
Wildlife & habitat | Issues
Humans share the Earth with a diverse range of animals and plants — and we all depend on each other for survival. Think of the salmon that carry nutrients from the ocean to the rivers and streams where they spawn. Eagles and bears that feed on the salmon carry these nutrients into the forest. The forests provide humans with numerous services and resources, from lumber for our homes to the oxygen we breathe. They are also important in our efforts to reduce global warming. Plants and soils store carbon, keeping it from the atmosphere, where it would contribute to climate change.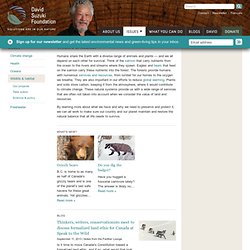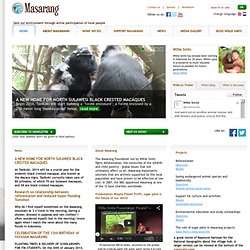 At Tasikoki, 2014 will be a crucial year for the endemic black crested macaque, also known as the Macaca nigra. Tasikoki currently takes care of 80 primates, of which 70 are Sulawesi macaques, and 38 are black crested macaques. Research on relationship between reforestation and reduced major flooding Tomohon Why do I find myself sometimes on the Masarang mountain at 3 o'clock in the morning, during a shower, dressed in pajamas and rain clothes? I often wondered myself, but in the morning I know again when I watch the news about the many floods in Indonesia. CELEBRATION OF THE 13th BIRTHDAY of YAYASAN MASARANG
Stichting Masarang | Willie Smits
Canopy - Home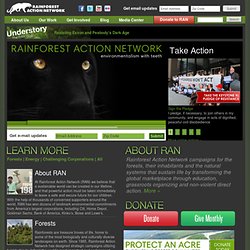 At Rainforest Action Network (RAN) we believe that a sustainable world can be created in our lifetime, and that powerful action must be taken immediately to leave a safe and secure future for our children. With the help of thousands of concerned supporters around the world, RAN has won dozens of landmark environmental commitments from America's largest corporations, including Citi, Home Depot, Goldman Sachs, Bank of America, Kinko's, Boise and Lowe's.
Front page | Global Canopy Programme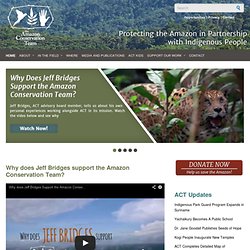 by: Mark J. Plotkin, Ph.D. "As you watch the NBA playoffs this spring, impress your friends with this fact: the idea for those Nikes worn by LeBron James and Kevin Durant was actually born in the rainforests of the northeast Amazon.
Salva la Selva (Rettet den Regenwald e.V.)
The Green Belt Movement | Home