Entertainment News
Vanity Fair. Splash Newswire. Splash News Wire - a new celebrity story every 15 minutes. 24/7.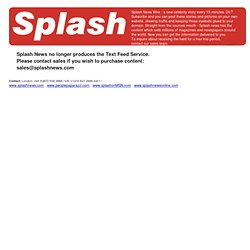 Subscribe and you can post these stories and pictures on your own website, drawing traffic and keeping those eyeballs glued to your domain. Straight from the sources mouth - Splash news has the content which sells millions of magazines and newspapers around the world. Now you can get the information delivered to you. TMZ. The National Enquirer. The Hollywood Reporter. E! Online. The Daily Swarm.
Deadline Hollywood. The Smoking Gun. Entertainment Weekly. Variety. Editor & Publisher ® People. X17. Radar Online. Access Hollywood. Billboard.com. Broadcasting & Cable.
---