Pédagogie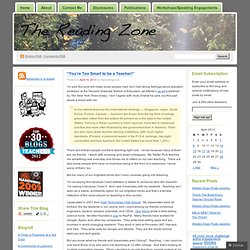 "You're Too Smart to be a Teacher!" | The Reading Zone
I'm sure this post will make some people mad, but I had strong feelings about assistant professor at the Harvard Graduate School of Education Jal Mehta's op-ed published by The New York Times today. I don't agree with most of what he said, but this part struck a chord with me: In the nations that lead the international rankings — Singapore, Japan, South Korea, Finland, Canada — teachers are drawn from the top third of college graduates, rather than the bottom 60 percent as is the case in the United States.
L'enseignement stratégique Définition tirée du document "Je remplace avec classe " Pour un e nseignement stratégique La pédagogie différenciée
Le cours magistral enrichi, pour un enseignement traditionnel plus interactif
Faut-il supprimer les cours magistraux, ou au contraire les considérer comme la plus parfaite des méthodes de transmission des savoirs ? Vieux débat jamais épuisé qui agite le monde de l'enseignement, surtout en cette ère des technologies de l'information et de la communication.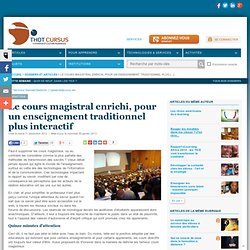 Antoine Prost: changeons l'école, en douceur
1. e-formation / e-learning — Éducnet
Time to Get Serious About Creativity in the Classroom
I always enjoy having art teachers in the groups of educators I work with. Their presence is good for me, and good for the group. They tend to be more conceptual in their thinking. They push back against any perceived technology-for-technology's-sake thinking, and they refuse to let go of the kinesthetic components of art -- the feel of stick charcoal or of a gum eraser.