ENGLAND
Home | British Newspaper Archive. Apprentices of Great Britain 1710-1774 | Findmypast.co.uk. The National Archives. Parish Registers. There are many websites offering online records, but the one that stands out above the rest is TheGenealogist.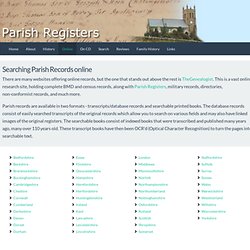 This is a vast online research site, holding complete BMD and census records, along with Parish Registers, military records, directories, non-conformist records, and much more. Parish records are available in two formats - transcripts/database records and searchable printed books. UK Online Parish Clerks. FreeCEN - Search. British-Genealogy.com is dedicated to British family history research. 1911 Census website. 1901 Census. Parish registers & Online Transcriptions Archive. Looking for a particular name?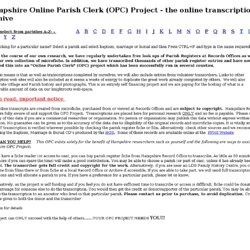 Select a parish and select baptism, marriage or burial and then Press CTRL+F and type in the name required What this means is that as well as transcriptions completed by ourselves, we will also include entries from volunteer transcribers. British-Genealogy.com is dedicated to British family history research. Uk Genealogy-links. England.
Many sets of records were kept for England and Wales together, so that the problems of locating them and using them are very similar in the two countries.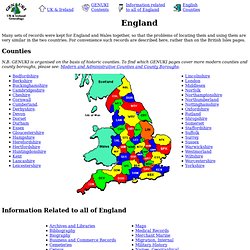 For convenience such records are described here, rather than on the British Isles pages. Counties N.B. GENUKI is organised on the basis of historic counties. Britsih Library. The National Archives. Genes Reunited. British History Online. A Vision of Britain through Time | Your national on-line library for local history | Maps, Statistics, Travel Writing and more. Electoral Roll - UK Electoral Roll Search - UK Electoral Register Search - Voters Roll Search - Electoral Roll UK - Electoral Role - UK Address Directory - UK Electoral Register - Voters Register - Search Voters Register - Voters Roll - Find a Person - El.
Select site. Thank you for bringing my family together.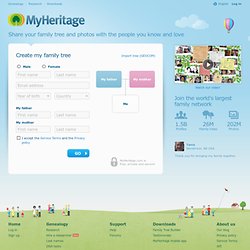 J. Haas Fort Collins, CO, USA We have been enjoying MyHeritage site and have come in contact with relatives I didn't know I had. England Genealogy - over 7,000 English Geneology Links. England Top Databases Search A collection of over 190 English databases of probate, census, directory and other databases, search all databases in one search Ancient Petitions, Henry III - James I - 13thC & 17thC Search and download over 14,000 images from the series of Ancient Petitions which draws together petitions addressed to the king, to the king and council, to the king and council in parliament, to the chancellor, and to certain other officers of state.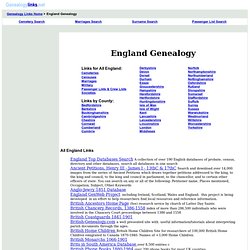 You can search on any or all of the following: Petitioner name, Places mentioned, Occupation, Subject, Other Keywords Anglo-Jewry 1851 Database England GenWeb Project including Ireland, Scotland, Wales and England. this project is being developed in an effort to help researchers find local resources and reference information. British Ancestors Home Page (fee) research sevice by church of Latter Day Saints. GENUKI: Sussex Genealogy. Counties in England.
To access the IGI Batch numbers for England click on the county of interest below: Note that there may some counties here that you don't recognise.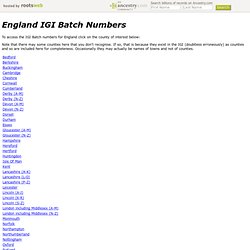 If so, that is because they exist in the IGI (doubtless erroneously) as counties and so are included here for completeness. Occasionally they may actually be names of towns and not of counties. You are visitor number - since 20:00 EST (North America) Friday 15th February, 2002 - Thank you. Great Britain Family Names. Find my past UK.
---