ENGLAND
Apprentices of Great Britain 1710-1774 | Findmypast.co.uk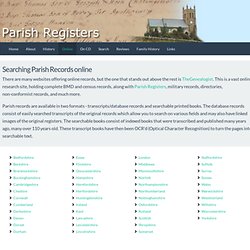 There are many websites offering online records, but the one that stands out above the rest is TheGenealogist. This is a vast online research site, holding complete BMD and census records, along with Parish Registers, military records, directories, non-conformist records, and much more. Parish records are available in two formats - transcripts/database records and searchable printed books.
Parish Registers
Everything here is FREE! If you are truly a family history researcher, it is not enough just to collect names to build a family tree. It is important to find out everything possible about your ancestors and put meat on the bones with information about where they lived, how they lived their lives, information about their occupations and what influenced their thinking and decision making. Real family history research - not just collecting names and dates. Always remember, it is not the number of branches on your family tree that matters, or even how far it goes back in time.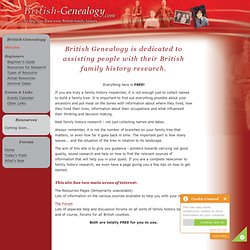 The 1911 census is a record of everyone who lived in England and Wales in 1911. It provides a unique snapshot of the lives of your ancestors. 1911census.co.uk brings this vast resource to you online, so that you can search the census simply and quickly to discover how your family lived in the past. 1911census.co.uk is the official census website, in association with The National Archives. You can now subscribe to the 1911 census (new window) on our sister website findmypast.co.uk .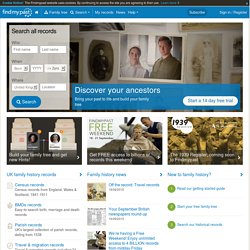 1901 Census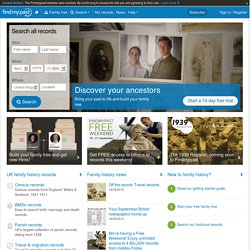 Search over 400 million people living in England and Wales between 1841-1901 and view images of the original documents. How does it work? Search the name and approximate birth year of the person you are looking for View transcribed details of your ancestors and the original census images Discover where your ancestors were living, who with and what they were up to between 1841-1901. Find out how we used to live... "I found out from the 1901 census that my ancestor used to be a steam engine whistle tester!"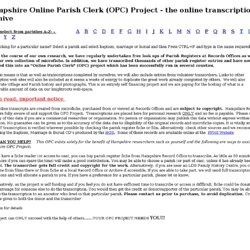 Looking for a particular name? Select a parish and select baptism, marriage or burial and then Press CTRL+F and type in the name required What this means is that as well as transcriptions completed by ourselves, we will also include entries from volunteer transcribers.
Parish registers & Online Transcriptions Archive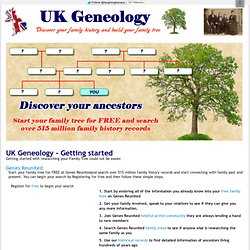 Getting started with researching your Family Tree could not be easier. Genes Reunited Start your family tree for FREE at Genes Reunitedand search over 515 million family history records and start connecting with family past and present.
Many sets of records were kept for England and Wales together, so that the problems of locating them and using them are very similar in the two countries. For convenience such records are described here, rather than on the British Isles pages. Counties N.B. GENUKI is organised on the basis of historic counties.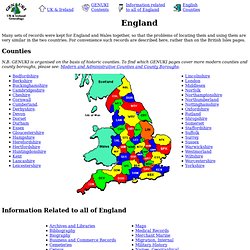 <ul id="menuns"><li class="mega"><span class="navstyle"><a href="/indexmenuonly.shtml#tabcatns">Catalogues</a></span></li><li class="mega"><span class="navstyle"><a href="/indexmenuonly.shtml#tabcollns">Collections</a></span></li><li class="mega"><span class="navstyle"><a href="/indexmenuonly.shtml#tabeveryonens"> Discover</a></span></li><li class="mega"><span class="navstyle"><a href="/indexmenuonly.shtml#tabservicesns"> Services</a></span></li><li class="mega"><span class="navstyle"><a href="/indexmenuonly.shtml#tabvisitingns"> Visiting</a></span></li><li class="mega"><span class="navstyle"><a href="/indexmenuonly.shtml#tababoutns">About</a></span></li><li class="mega"><span class="navstyle"><a href="/indexmenuonly.shtml#tabinfoforns"> Information for...</a></span></li></ul> Latest news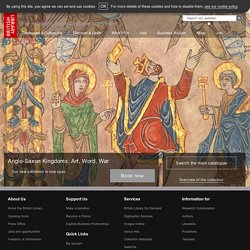 Genes Reunited
Primary sources: the texts of original documents, such as the Journals of the Houses of Commons and Lords, Acts and Ordinances of the Interregnum, and the Statutes of the Realm. Secondary texts: works by modern historians, such as the Victoria County History of the Counties of England, Fasti Ecclesiae Anglicanae, English Heritage's Survey of London, and Office Holders in Modern Britain. Guides and calendars: summaries of primary sources, prepared by modern editors, such as multiple series of the Calendars of State Papers, the Catalogue of Ancient Deeds, and the Letters and Papers of Henry VIII. Gazetteers and dictionaries: listings of places, property, goods and markets, such as Lewis's topographical dictionaries of England, Scotland and Wales, Harben's Dictionary of London, plus the Dictionary of Traded Goods.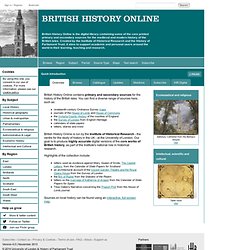 Electoral Roll - UK Electoral Roll Search - UK Electoral Register Search - Voters Roll Search - Electoral Roll UK - Electoral Role - UK Address Directory - UK Electoral Register - Voters Register - Search Voters Register - Voters Roll - Find a Person - El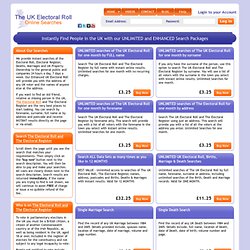 About Our Searches We provide instant searches of the Electoral Roll, Electoral Register, Deaths, Marriages and UK Property Ownership to the general public and companies 24 hours a day, 7 days a week. Our Enhanced UK Electoral Roll will provide you with the address of any UK voter and the names of anyone else at the address. If you want to find an old friend, relative or missing person in the UK, The Electoral Roll and The Electoral Register are the very best places to start looking. You can search by forename, surname, full name or by address and postcode and receive INSTANT results directly on the page or via email.
Thank you for bringing my family together. J. Haas Fort Collins, CO, USA We have been enjoying MyHeritage site and have come in contact with relatives I didn't know I had.
Select site
England Top Databases Search A collection of over 190 English databases of probate, census, directory and other databases, search all databases in one search Ancient Petitions, Henry III - James I - 13thC & 17thC Search and download over 14,000 images from the series of Ancient Petitions which draws together petitions addressed to the king, to the king and council, to the king and council in parliament, to the chancellor, and to certain other officers of state. You can search on any or all of the following: Petitioner name, Places mentioned, Occupation, Subject, Other Keywords Anglo-Jewry 1851 Database England GenWeb Project including Ireland, Scotland, Wales and England. this project is being developed in an effort to help researchers find local resources and reference information. British Ancestors Home Page (fee) research sevice by church of Latter Day Saints
GENUKI: Sussex Genealogy
Counties in England
To access the IGI Batch numbers for England click on the county of interest below: Note that there may some counties here that you don't recognise. If so, that is because they exist in the IGI (doubtless erroneously) as counties and so are included here for completeness. Occasionally they may actually be names of towns and not of counties. You are visitor number - since 20:00 EST (North America) Friday 15th February, 2002 - Thank you
Welcome to the Great Britain Family Names Profiling website which presents the findings of a project based at University College London (UCL) that is investigating the distribution of surnames in Great Britain, both current and historic. It allows users to search the databases that we have created, and to trace the geography and history of their family names. On each page of the website, you will find a Help link on the top-right corner which We hope will answer any questions you might have. For world family names maps, please visit worldnames.publicprofiler.org. Data Sources:
Find my past UK