RecruitingJobs
I Got Fired From Facebook. The Cities With The Most Computer Science Jobs. Can't Get a Job? Get a Microjob! Think Hiring Is Tough In The Valley? Now Europe Joins The Talent Wars. Despite some of the froth being blown off following the rocky Facebook IPO, it remains the case that talent and hiring are a big issue in the Valley.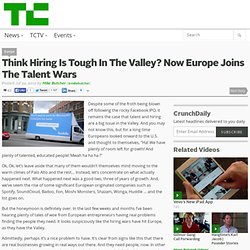 And you may not know this, but for a long time Europeans looked onward to the U.S. and thought to themselves, "Ha! We have plenty of room left for growth! And plenty of talented, educated people! Mwah ha ha ha !" 10 Tips for Job Seekers in the Digital Era. David Clarke is CEO and co-founder of BGT Partners, a 2010, 2011 and 2012 Ad Age Top 15 Best Places to Work in the U.S. honoree.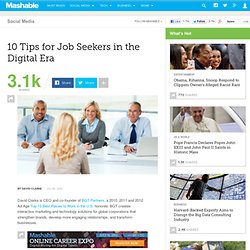 BGT creates interactive marketing and technology solutions for global corporations that strengthen brands, develop more engaging relationships, and transform businesses. What does it take to land your dream job? In this digital era, job candidates have a plethora of tools at their disposal to help them ace the interview, including advice websites, Facebook, Twitter, and LinkedIn.
How to Hire Your Best Intern Ever. 12 Ways to Optimize Your Resume for Applicant Tracking Systems. Mona Abdel-Halim is the co-founder of Resunate.com, a job application tool that tailors and optimizes your resume for a specific job.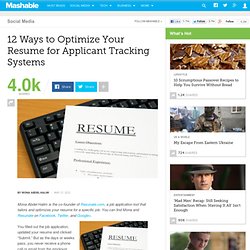 You can find Mona and Resunate on Facebook, Twitter, and Google+. You filled out the job application, updated your resume and clicked "Submit." But as the days or weeks pass, you never receive a phone call or email from the employer. What happened? Unbeknownst to many job seekers, a whopping 72% of resumes are never seen by human eyes. 1 Thing Every New Hire Should Get On Their First Day. 10 Jobs That Didn't Exist 10 Years Ago. Recruiting: 8 Qualities Your Best Employees Should Have. Great employees are reliable, dependable, proactive, diligent, great leaders and great followers... they possess a wide range of easily-defined—but hard to find—qualities.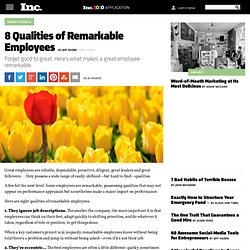 A few hit the next level. Some employees are remarkable, possessing qualities that may not appear on performance appraisals but nonetheless make a major impact on performance. Facebook Can Tell You If A Person Is Worth Hiring. The Pitfalls of Freelancing. Let's get one thing straight: Freelancing is not easy.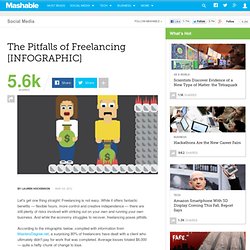 While it offers fantastic benefits — flexible hours, more control and creative independence — there are still plenty of risks involved with striking out on your own and running your own business. And while the economy struggles to recover, freelancing poses pitfalls. How To Hire a Great Developer [FLOW CHART] Thomas Edison once said that "genius" is 1% inspiration and 99% perspiration.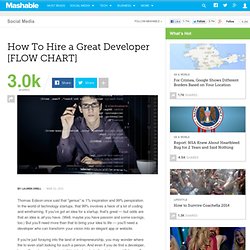 In the world of technology startups, that 99% involves a heck of a lot of coding and wireframing. If you've got an idea for a startup, that's great — but odds are that an idea is all you have. Top Executive Recruiters Agree There Are Only Three True Job Interview Questions. My eBay Summary. Best bets for jobs in 2012. 5 Things You Should Look For in a Community Manager. In honor of Community Manager Day, I thought it would fun and worthwhile to share some tips with employers looking for the perfect community manager for their business.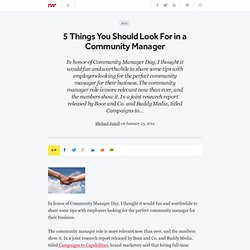 The community manager role is more relevant now than ever, and the numbers show it. In a joint research report released by Booz and Co. and Buddy Media, titled Campaigns to Capabilities, brand marketers said that hiring full-time employees is the number one investment they are making in social media. Furthermore, 63% of all social media teams have dedicated community managers, and 59% of social media teams plan to hire full-time community managers in the near future.
Why Companies are Terrible at Selecting, Retaining and Motivating Their Talent. How to Sort Googlers According to Myers Briggs. If you are a fan of Myers-Briggs, the psychological testing that is commonly used by many employers, then you'll like this infographic that looks at the entire Googleplex and segments them into the 16 different categories.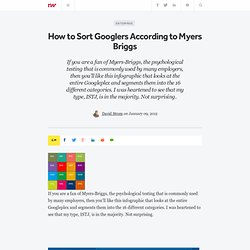 I was heartened to see that my type, ISTJ, is in the majority. Not surprising. The graphic comes via the folks at Resunate.com. Interns Are Latest Target in Battle for Tech Talent. Silicon Valley's talent wars are going younger.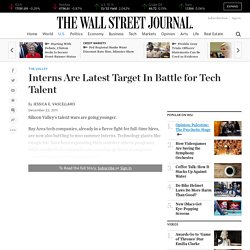 Bay Area tech companies, already in a fierce fight for full-time hires, are now also battling to woo summer interns. Technology giants like Google Inc. have been expanding their summer-intern programs, while smaller tech companies are ramping up theirs in response—sometimes even luring candidates away from college. Dropbox Inc. plans to hire 30 engineering interns for next summer, up from nine this year, says engineering manager Rian Hunter, who adds the company wants interns to comprise one-third of its engineering team. The San Francisco-based file-sharing company this year dispatched its entire engineering team to recruit at more than a dozen colleges, up from just five schools last year, schmoozing recruits over dinners and through technical talks on subjects like how Dropbox reduces the amount of memory its desktop client uses.
Peter Earl McCollough for The Wall Street Journal. A Few Tips For Developers On How To Get Hired By A Startup. Not everyone is cut out to work for a startup.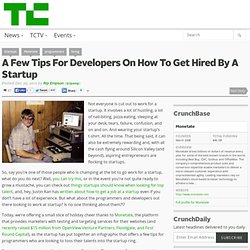 It involves a lot of hustling, a lot of nail-biting, pizza-eating, sleeping at your desk, tears, failure, confusion, and on and on. And wearing your startup's t-shirt. How a 140-Character Twitter Resume Could Land Your Next Job. Sean Weinberg is the COO and co-founder of RezScore, a free web application that reads, analyzes and grades resumes instantly. You can connect with Sean and the RezScore team on Facebook and Twitter. Brangelina, TomKat…. The Best Advice I've Ever Received About Hiring Talent. Can Facebook Get You a Job? [INFOGRAPHIC]
In answer to the question above, approximately 18,400,000 Americans say yes, they got their current job through Facebook. Though Zuck's platform ranks #1, Twitter and LinkedIn don't have shabby numbers either — 8 million and 10.2 million Americans, respectively, have gotten their jobs through social platforms. Judging from our Job Search Series, it should come as no surprise that being socially savvy pays off in the job hunt for two reasons — it helps you network, and it's a highly marketable strength in your skill set, given all the openings in the digital space.
Princeton Beats Out 13 Schools to Win Facebook's College Hackathon. Overcoming stiff competition from MIT and Waterloo, Princeton won this year's Facebook College Hackathon finals. Over the past few months, Facebook conducted run-off competitions at fourteen colleges across the United States and Canada, and this Friday held the finals at Facebook headquarters in Palo Alto. The Princeton team was the only one comprised mainly of women, and their winning project Color Me Bold allowed users to submit a photo of an outfit and receive instant, algorithmic fashion suggestions for how to improve its color scheme. Watch as we interview some of the top teams, play around on Facebook's famous Ripstick skateboards, and talk with the winners about whether they'll be turning their project into a startup. Are you out of this space? 'Tis the season to be searching. Has the fog lifted? Or are you still trying to fight your way back to motivation after a weekend of turkey-induced napping, holiday shopping and family visits?
If you claim the latter, I completely understand. Job searching requires a lot of dedication and self-control, especially during the holidays when distractions are plentiful. Perhaps you are wondering: "How can I stay focused on the hunt when the holidays are whirring around me? Chart: Who pays the most in Seattle for software engineers. Who is paying the most for computer geeks? Photo via Bigstock Steve Ballmer was right.
Mobile Recruiting Is on the Rise.
---