Embedded Programming
Home - GHI Electronics
Microsoft .NET Gadgeteer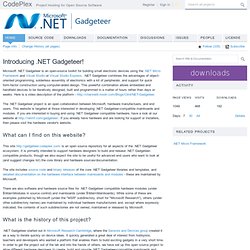 Microsoft .NET Gadgeteer is an open-source toolkit for building small electronic devices using the .NET Micro Framework and Visual Studio or Visual Studio Express. .NET Gadgeteer combines the advantages of object-oriented programming, solderless assembly of electronics with a kit of peripherals, and support for quick form-factor construction using computer-aided design. This powerful combination allows embedded and handheld devices to be iteratively designed, built and programmed in a matter of hours rather than days or weeks. Here is a video description of the platform - http://channel9.msdn.com/Blogs/Clint/NET-Gadgeteer. The .NET Gadgeteer project is an open collaboration between Microsoft, hardware manufactuers, and end users. This website is targeted at those interested in developing .NET Gadgeteer-compatible mainboards and modules.
.NET Micro Framework Platform SDK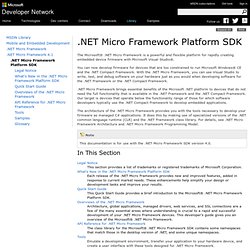 The Microsoft® .NET Micro Framework is a powerful and flexible platform for rapidly creating embedded device firmware with Microsoft Visual Studio®. You can now develop firmware for devices that are too constrained to run Microsoft Windows® CE and the .NET Compact Framework. With the .NET Micro Framework, you can use Visual Studio to write, test, and debug software on your hardware just as you would when developing software for the .NET Framework or the .NET Compact Framework.