Examples
Curriculum Disney Connected Learning provides educational curriculum in Science, Mathematics, Language Arts, Music, Social Studies, Art, Digital Play, and Preschool. Developed with educators from two of the nation's leading universities in the areas of Pre-K through 5th grade curriculum and educational technology development.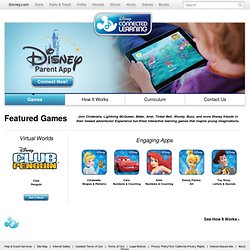 Disney Connected Learning | The Official Home Page for Disney Connected Learning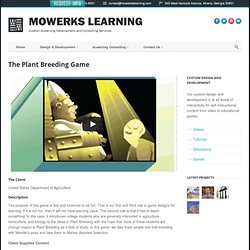 The Plant Breeding Game - MoWerks Learning
The Client United States Department of Agriculture Description The purpose of this game is first and foremost to be fun. That is our first and third rule in game designs for learning. If it is not fun, then it will not have learning value.
Minecraft is a game about breaking and placing blocks. At first, people built structures to protect against nocturnal monsters, but as the game grew players worked together to create wonderful, imaginative things. It can also be about adventuring with friends or watching the sun rise over a blocky ocean.
Simple, minutieux et sûr, Clean Master est l'application la plus téléchargée dans le monde pour optimiser la vitesse, libérer de la mémoire et assurer la sécurité des appareils Android.Sans égal dans l'amélioration des performances de l'appareil, la suppression des fichiers indésirable et spam, la protection contre les programmes malveillants, cheval de Troie et virus. Joignez-vous aux plus de 100 000 000 personnes qui ont déjà installé ce gestionnaire complet d'optimisation, Clean Master! Nous sommes là pour résoudre tous vos problèmes d'appareils Android, que ceux-ci soient à la traîne, manquent d'espace, ou qu'ils soient infectés par des programmes malveillants. Faits saillants de Clean Master - Optimiseur d'appareils Android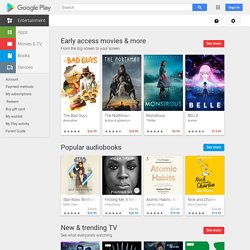 "Global Conflicts" is an award-winning educational game series used for teaching citizenship, geography, and media courses. The series allows students to explore and learn about different conflicts throughout the world and the underlying themes of democracy, human rights, globalization, terrorism, climate and poverty. The game series is easy to use for teachers and is developed with close attention to curriculum requirements and ease of use in classroom teaching. Let your students experience what they usually only read about....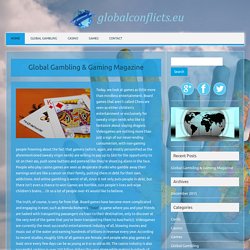 Build a Body
Welcome to Airy Labs! We Make Social Learning Games for Kids
Water Cooler Games
"Sex, Lies, and Video Games", feature-length profile in The Atlantic Monthly, November 2006 "Redefining the Power of the Gamer", The New York Times Arts Section, June 7, 2005 "A Female Sensibility", Newsweek, October 17, 2005, and October 3, 2005 international edition "When looks are no longer enough", The Economist, June 2006 Review blurb in Wired Magazine, November 2006 "Sometimes There Is a Free Lunch", Wired.com News, January 2006 "Coming Soon: Online Sex Games", Wired.com News, October 2005 TV interview on CBS 5 TV, San Francisco, November 2006 "Want drama? Enter virtual soap opera", AP story from June 2007 Featured online at USA Today, Business Week, MSNBC, International Business Times, International Herald Tribune, Forbes, Washington Post, Fox News Internet Game of the Month, Edge Magazine (UK), October 2005 "Type What You Feel", Games for Windows, May 2007 "Behind the Mask", GamesTM, August 2007 "You Must Play Façade, Now!"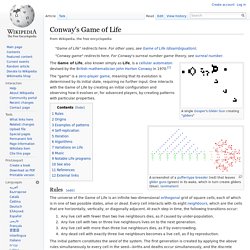 The Game of Life, also known simply as Life, is a cellular automaton devised by the British mathematician John Horton Conway in 1970.[1] The "game" is a zero-player game, meaning that its evolution is determined by its initial state, requiring no further input. One interacts with the Game of Life by creating an initial configuration and observing how it evolves. Rules[edit] The universe of the Game of Life is an infinite two-dimensional orthogonal grid of square cells, each of which is in one of two possible states, alive or dead.