Education
Get your Wikispaces Classroom now: the easiest way to manage your class. guest|Join|Help|Sign In Home Presentation Tools Collaborative Tools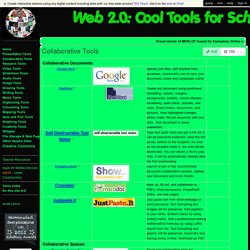 Edheads is an online educational resource that provides free science and math games and activities that promote critical thinking. Choose from Simple Machines, Virtual Knee Surgery or Stem Cell Heart Repair, among others. All activities meet state and national standards. We partner with corporations, universities, and school systems throughout the United States, which help us research, design, and test our activities every step of the way. Not only do teachers and students appreciate our free activities, Edheads has been recognized by almost every major award on the Web for our excellent educational content. So click the "Choose an Activity" tab at the top of the page to dive into an activity and let the fun and learning begin!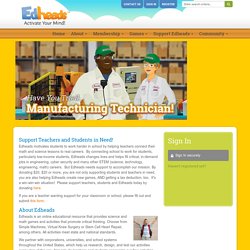 Would you dump a load of building supplies on a lot and tell a random person to "build a house"? Hopefully not! For the same reason, it is unwise to deposit an academic novel and some study guide questions on a student's desk and say, "read it." Student readers, like builders, need a foundation and a blueprint to be successful. Getting students to read academic novels can be difficult. Students usually lack interest in "school" books for three reasons:
Reading Lessons: 12 Ways to Scaffold Texts for Students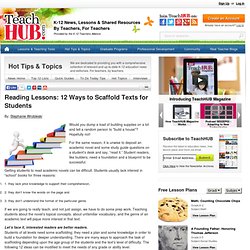 Home
Be Different It's like a few people sat around a table, steaming mad at their own opposing views on the direction of education, and said, "What's a good word that we can all hold our hands around?" The minute they spread the word around, it became the go-to word for evaluators and validators across the country. People began to set up stations all around their classroom with no rationale for their stations. Teachers sat down for hours of PD on the word "differentiation" where people heard that this word, vital for the 21st century classroom, ought to appear out of thin air with no concrete examples to follow. Some person who is equally as qualified in differentiation (meaning, not at all) with a clipboard might come in your room and rate your differentiation skills on a rubric created by one of your favorite validators, too.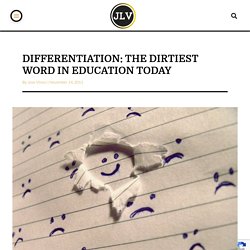 Differentiation: The Dirtiest Word In Education Today | The Jose Vilson
10 Inspiring Youtube Videos for Teachers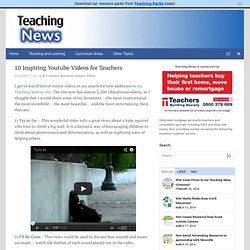 I get to watch lots of online videos in my search for new additions to my Teaching Videos site. The site now has almost 2,500 educational videos, so I thought that I would share some of my favourites… the most inspirational… the most incredible… the most beautiful… and the most entertaining. Here they are: 1) Try to Do – This wonderful video tells a great story about a baby squirrel who tries to climb a big wall. It is a fantastic way of encouraging children to think about perseverance and determination, as well as exploring ways of helping others.
It's that time of year again when I start posting year-end "The Best…." lists. Coincidentally, this one is also the eight-hundredth "The Best…" list I've published! You can see them all here. I figured it was appropriate to make number 800 one that is likely to be the most popular post that I've published since I've begun this blog — the annual one highlighting The Best Web 2.0 Applications For Education. As usual, in order to make this list, a site had to be: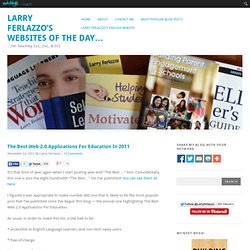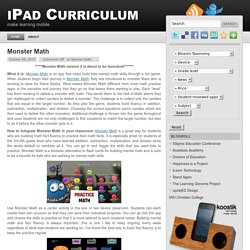 *** If you need the cliff notes version of this post, skip down to the Call to Action section! Last year I had a "hunch" about learning…specifically about curriculum. That hunch turned into a full fledged idea and a mission to do better for kids. Everywhere. Along the line I met some truly incredible people who taught me things I didn't know how to do before.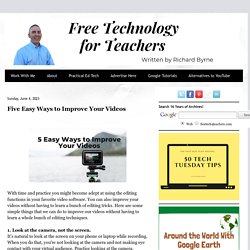 This is a guest post from Samantha Morra of EdTechTeacher.org, an advertiser on Free Technology for Teachers. Many of us using technology in the classroom find ourselves caught between two worlds: Apple and Google. Apple's iPad is a fantastic tool in the classroom which provides students with various opportunities to consume, create, and communicate. Similar to a swiss-army knife, it is only limited by how we choose to use it.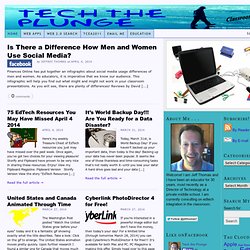 Tech the Plunge
What was Your First Tweet March 22, 2014 Yesterday I celebrated Twitter's eighth birthday. Since a day seems to short to celebrate birthdays anymore, here's one more Twitter present. Do you remember what your first tweet was?
New! Build word searches with WordSearchLabs.com My other projects: Testmoz | CrosswordLabs | Bingo Baker | Scuttle Words JeopardyLabs allows you to create a customized jeopardy template without PowerPoint.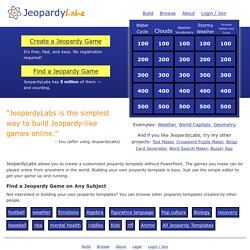 MIT Understanding Lasers and Fiberoptics full course by MIT Lasers are essential to an incredibly large number of applications.