Education
Blooms Taxonomy with Apps. After seeing the chart on of Bloom's Taxonomy on bloomsapps, I thought I could make a more thorough table.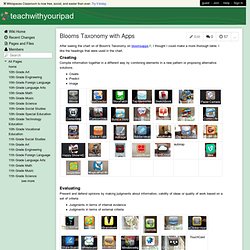 I like the headings that were used in the chart. Creating Compile information together in a different way by combining elements in a new pattern or proposing alternative solutions.CreatePredictImage. Collaborative Tools. Get your Wikispaces Classroom now: the easiest way to manage your class. guest Join | Help | Sign In cooltoolsforschools Home guest| Join | Help | Sign In.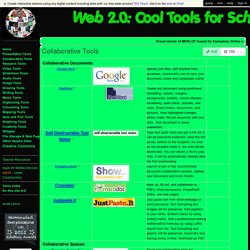 Edheads - Activate Your Mind! iPads in the Classroom. Reading Lessons: 12 Ways to Scaffold Texts for Students. Would you dump a load of building supplies on a lot and tell a random person to "build a house"?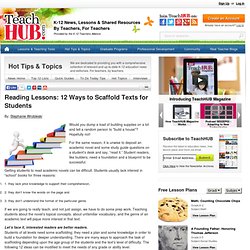 Hopefully not! For the same reason, it is unwise to deposit an academic novel and some study guide questions on a student's desk and say, "read it." Student readers, like builders, need a foundation and a blueprint to be successful. Getting students to read academic novels can be difficult. Students usually lack interest in "school" books for three reasons: Home. Differentiation: The Dirtiest Word In Education Today. Be Different It's like a few people sat around a table, steaming mad at their own opposing views on the direction of education, and said, "What's a good word that we can all hold our hands around?"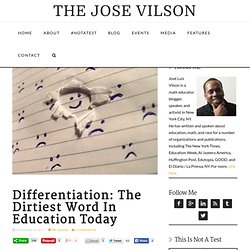 The minute they spread the word around, it became the go-to word for evaluators and validators across the country. People began to set up stations all around their classroom with no rationale for their stations. Teachers sat down for hours of PD on the word "differentiation" where people heard that this word, vital for the 21st century classroom, ought to appear out of thin air with no concrete examples to follow. 10 Inspiring Youtube Videos for Teachers. I get to watch lots of online videos in my search for new additions to my Teaching Videos site.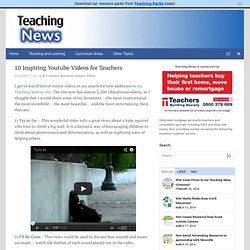 The site now has almost 2,500 educational videos, so I thought that I would share some of my favourites… the most inspirational… the most incredible… the most beautiful… and the most entertaining. Here they are: 1) Try to Do – This wonderful video tells a great story about a baby squirrel who tries to climb a big wall. It is a fantastic way of encouraging children to think about perseverance and determination, as well as exploring ways of helping others. The Best Web 2.0 Applications For Education In 2011.
It's that time of year again when I start posting year-end "The Best…." lists.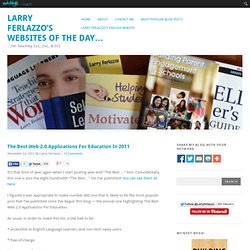 Coincidentally, this one is also the eight-hundredth "The Best…" list I've published! You can see them all here. I figured it was appropriate to make number 800 one that is likely to be the most popular post that I've published since I've begun this blog — the annual one highlighting The Best Web 2.0 Applications For Education. As usual, in order to make this list, a site had to be: iPad Curriculum. PowerPoint Lessons.
Free Technology for Teachers. Coursekit. Tech the Plunge. What was Your First Tweet March 22, 2014 Yesterday I celebrated Twitter's eighth birthday.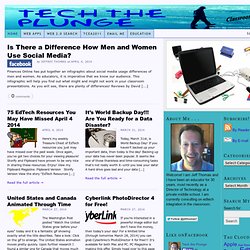 Since a day seems to short to celebrate birthdays anymore, here's one more Twitter present. Do you remember what your first tweet was? Teachers Homepage. JeopardyLabs - Online Jeopardy Template. EDU. Welcome : PBS TeacherLine. Flash cards, vocabulary memorization, and study games. PowerPoint Lessons.
---