Education 2.0
Rentrée scolaire: Un élève sur 5 utilise son smartphone pour tricher - High-Tech
Rentrée scolaire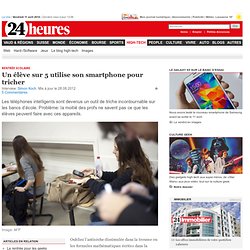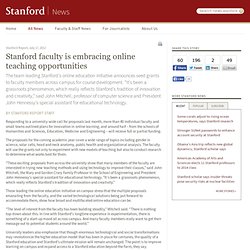 By Stanford Report staff
faculty is embracing online teaching opportunities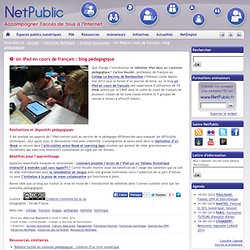 Que change l'introduction de tablettes iPad dans un contexte pédagogique ?
Un iPad en cours de français : blog pédagogique
Pendant que certains préfèrent pourrir le web et piéger leurs élèves, il reste des allumeurs de réverbères qui cherchent heureusement à élever leur élèves à la culture et au savoir historique en se saisissant des médias sociaux.
Piéger les élèves ou les former avec les médias sociaux? | Chronique no 132 | Lyonel Kaufmann blogue…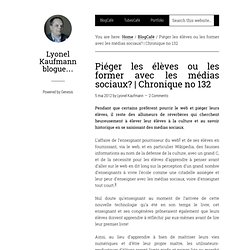 Coursera raises $16M for free online education for the masses
Two Stanford University professors and a dream to educate the world, that's what started Coursera .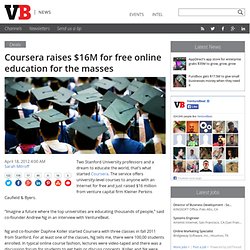 La gamification de l'enseignement produit des premiers résultats, notamment aux États-Unis.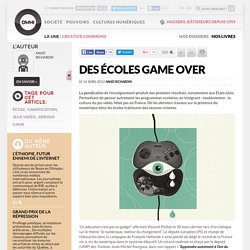 Début 2008, un élève s'est amusé à saboter le contenu de la page Wikipédia consacrée au livre Le Meilleur des mondes , d'Aldous Huxley.
SABOTAGE – Un élève réécrit une page Wikipédia pour ne pas être accusé de plagiat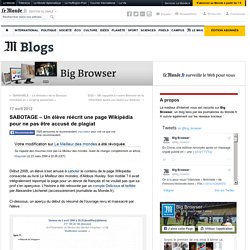 Clayton Christensen's New Book on the Disruption of Higher Education | InnovationManagement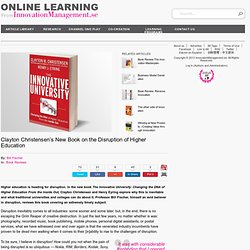 Disruption inevitably comes to all industries: some sooner and some later, but, in the end, there is no escaping the Grim Reaper of creative destruction.
Tablettes, téléphones portables, jeux vidéos, réseaux sociaux : autant d'éléments qui ont fait leur apparition dans les usages des élèves et, parfois, dans les salles de classe.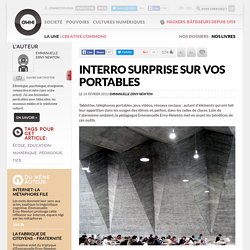 Le député socialiste Patrick Lebreton a interrogé fin novembre, dans une question écrite, le ministère de l'industrie, de l'énergie et l'économie numérique sur la politique numérique du gouvernement à l'égard des élèves, et plus particulièrement des étudiants.
Le gouvernement vante sa politique numérique destinée aux étudiants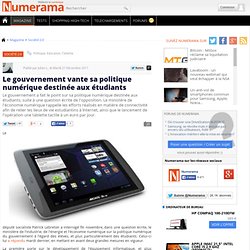 Comment le Royaume-Uni renouvelle son éducation aux sciences
Pour renouveler la façon d'enseigner les sciences, il existe plusieurs initiatives comme La main à la pâte .
post written by: Marc Email All education is self-education.
Twitter connaît un véritable succès dans la communauté éducative francophone.
Whether you're a new or seasoned Twitter user, you likely come across confusing hashtags that probably look like a bunch of nonsense.
Khan Academy Blends Its YouTube Approach With Classrooms
He can see that a girl sitting against the wall is zipping through geometry exercises; that a boy with long curls over his eyes is stuck on a lesson on long equations; and that another boy in the front row is getting a handle on probability.
I am Salman Khan founder of Khan Academy-AMA : IAmA
W3C Tutorial
MIT Announces Platform for Free Online Courses
Virtual and Artificial, but 58,000 Want Course
Stanford Free Classes – A review from a Stanford Student | Life in the Shell
Stanford Professors Daphne Koller & Andrew Ng Also Launching a Massive Online Learning Startup
Ségou Villages : La croisière d'Internet sur le fleuve Niger