Body language
Eight Ways to Spot Emotional Manipulation. 1) There is no use in trying to be honest with an emotional manipulator.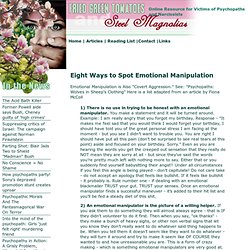 You make a statement and it will be turned around. Example: I am really angry that you forgot my birthday. Response - "It makes me feel sad that you would think I would forget your birthday, I should have told you of the great personal stress I am facing at the moment - but you see I didn't want to trouble you. You are right I should have put all this pain (don't be surprised to see real tears at this point) aside and focused on your birthday. How to Detect Lies - body language, reactions, speech patterns. Interesting Info -> Lying Index -> How to Detect Lies Become a Human Lie Detector (Part 1) Warning: sometimes ignorance is bliss.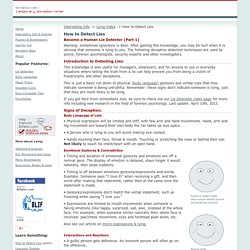 After gaining this knowledge, you may be hurt when it is obvious that someone is lying to you. How to Win Friends and Influence People by Dale Carnegie. What Does Your Body Language Say About You? How To Read Signs and... - StumbleUpon. Art by LaetitziaAs we all know, communication is essential in society.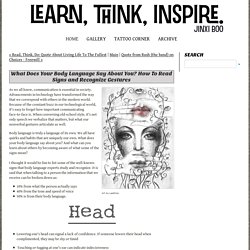 Advancements in technology have transformed the way that we correspond with others in the modern world. Because of the constant buzz in our technological world, it's easy to forget how important communicating face-to-face is.
---