Education, pedagogy, & edtech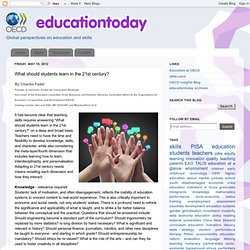 By Charles FadelFounder & chairman, Center for Curriculum Redesign Vice-chair of the Education committee of the Business and Industry Advisory Committee (BIAC) to the Organization for Economic Co-operation and Development (OECD)Visiting scholar, Harvard GSE, MIT ESG/IAP and Wharton/Penn CLO It has become clear that teaching skills requires answering "What should students learn in the 21st century?" on a deep and broad basis. Teachers need to have the time and flexibility to develop knowledge, skills, and character, while also considering the meta-layer/fourth dimension that includes learning how to learn, interdisciplinarity, and personalisation.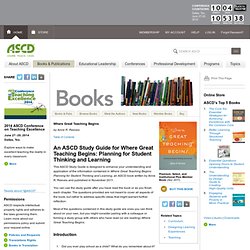 by Anne R. Reeves This ASCD Study Guide is designed to enhance your understanding and application of the information contained in Where Great Teaching Begins: Planning for Student Thinking and Learning, an ASCD book written by Anne R. Reeves and published in November 2011. You can use the study guide after you have read the book or as you finish each chapter.
An ASCD Study Guide for Where Great Teaching Begins: Planning for Student Thinking and Learning
5. Model Lesson / Music Videos - FETC Pre-Conference FIZZ 2012
A collection of rubrics for assessing portfolios, cooperative learning, research process/ report, PowerPoint, oral presentation, web page, blog, wiki, and other social media projects. Quick Links to Rubrics Social Media Project Rubrics Wiki Rubric Criteria for assessing individual and group Wiki contributions.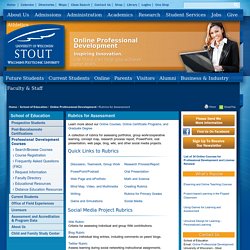 On this site you will find the manuscripts that record Charles Darwin's work as a practicing scientist. Whether you are a student or a researcher, our goal is to offer you digital access to the primary evidence for the birth and maturation of Darwin's attempts to explore and explain the natural world. In these documents, you can trace the development of Darwin as a thinker and you will meet Darwin as a keen-eyed collector, an inspired observer, and a determined experimenter. You will also find Darwin the shrewd reader, attuned to his cultural context, and the strategic writer, ever reconsidering and revising.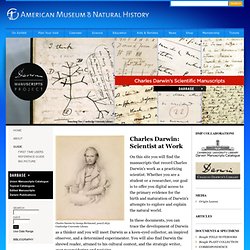 A list of Print-on-demand publishers, self-publishing/"Vanity presses" and other non-traditional publishers for librarians and authors. By Lara Seven Phillips, Pacific Collection Librarian, University of the South Pacific*, Suva, Fiji. This massive list of non-traditional book publishers has three main audiences: 1) authors (whether scholarly/tenure track academics or novelists) who don't want to publish with a disreputable publisher who will not edit or market their work 2) librarians who don't want to accidentally buy public domain reprints masquerading as new titles/editions or bogus "reference" works compiled from Wikipedia or free statistical sources 3) Bookbuyers who want to know if the appealing title they see listed on Amazon was traditionally published and edited, or was made available via "print on demand" (POD) services. We'll start with publishers that target authors.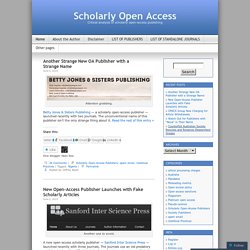 Scholarly Open Access
Visit a concept map of this tool kit I. Free, Libre, and Open-Source Software Overview The use of FLOSS allows students to become independent from costly software updates.
A Digital Learning Tool Kit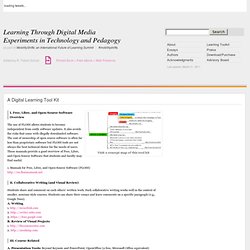 technology in ed? Pro / Con
Are you a teacher now or studying to become one in the future? Have you been looking for a handy list of digital apps that will help you organize your life inside and outside the classroom? Well, you have come to the right place. With the world around us becoming more technologically advanced every day, developers are creating apps designed specifically to make your life as an educator easier.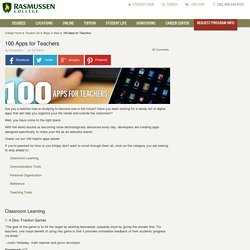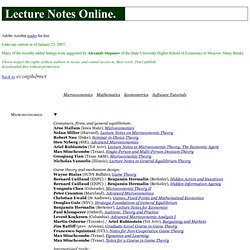 Mathematics for economists: Julio Dávila (Penn), Mathematics for Economic Theory Arne Hallam (Iowa State), Quantitative Methods in Economic Analysis John Hillas / Dmitriy Kvasov (Auckland), Foundations of Economic Analysis Michael Manove (Boston U), Mathematics for Micro Markus Möbius (Harvard), Mathematics for Economists Efe Ok (NYU), Real Analysis & Probability Theory with Economic Applications Martin Osborne (Toronto), Mathematical Methods for Economic Theory Guoqiang Tian (Texas A&M), Mathematical Economics Viatcheslav Vinogradov (Charles U), A Cook-Book of Mathematics
Lecture Notes Online
Best content in Diigo In Education
annotate web pages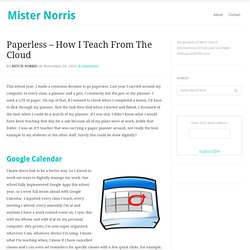 This school year, I made a conscious decision to go paperless. Last year I carried around my computer to every class, a planner and a pen. I constantly lost the pen or the planner. I used a LOT of paper.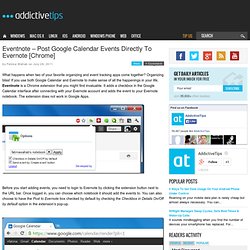 Eventnote – Post Google Calendar Events Directly To Evernote [Chrome]
What happens when two of your favorite organizing and event tracking apps come together? Organizing bliss! If you use both Google Calendar and Evernote to make sense of all the happenings in your life, Eventnote is a Chrome extension that you might find invaluable. It adds a checkbox in the Google Calendar interface after connecting with your Evernote account and adds the event to your Evernote notebook.
The Student Portfolio is the New Book: New Practices, Profession, and Scholarship
ePortfolios | Viewpoint The Student Portfolio is the New Book: New Practices, Profession, and Scholarship By Trent Batson, C. Edward Watson02/02/11
Welcome to ThinkBinder. The ThinkBinder site and service (collectively, "ThinkBinder," the "Site" or "the Service") are operated by ThinkBinder Inc. and its corporate affiliates (collectively, "us", "we" or "the Company"). 1. Terms By accessing or using the Service, you are agreeing to be bound by these Terms of Use (collectively, the "Terms"), all applicable laws and regulations, and agree that you are responsible for compliance with any applicable local laws. If you do not agree with any of the terms or any future Terms of Use, please immediately stop using the Service.
Saturday was a terrific day at EdCampMe. It was a great chance to hang with some friends and chat about meaningful ways to educate children. One of the questions that came up in a session I was in is something that I get asked a lot. "How do I manage my Google Docs with so many documents coming in from so many students?" Teachers love how easy it is to collaborate with their students, not having to worry about losing the file and all the other bonuses that using Docs brings, but tracking down assignments can be a nightmare.
BalancEdTech - Commenting
Commenting, Questioning, and More Not necessary Comments on grammar and spelling (ask questions if it confuses you, otherwise move on) Agree Comment on what you liked about the work or what you agree with:I liked ... because ...I agree with ...
Why Companies And Homeowners Hire Moving Service Providers Today, we can see that moving companies are not only hired by homeowners but also by companies as well. Actually, they only rely on these service providers for their relocation, transfer and moving out needs? What makes them different compared to other service providers?