Edemocrcacy
DoWire.Org - Democracies Online Newswire - E-Democracy, E-Government, and Politics Online - Hosted by Steven Clift, Ashoka Fellow
Steven Clift
Digital Democracy (digidemocracy) on Twitter
E-Democracy Resource Links from Steven Clift - E-Government, E-Politics, E-Voting Links and more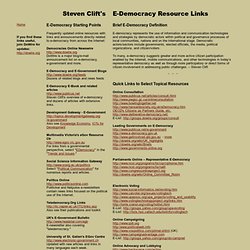 E-Democracy Starting Points Frequently updated online resources with links and announcements directly related to e-democracy from across the Internet: Democracies Online Newswire http://www.dowire.org DoWire is a major blog/e-mail announcement list on e-democracy, e-government and more. E-Democracy and E-Government Blogs http://www.dowire.org/feeds Dozens of related blogs and news feeds E-Democracy E-Book and related articles http://www.publicus.net Steven Clift's overview of e-democracy and dozens of articles with extensive links.
Marianne Escurat (E_Gouvernance) on Twitter
Global digital democracy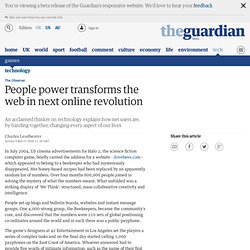 People power transforms the web in next online revolution | Technology | The Observer
In July 2004, US cinema advertisements for Halo 2, the science fiction computer game, briefly carried the address for a website - ilovebees.com - which appeared to belong to a beekeeper who had mysteriously disappeared. Her honey-based recipes had been replaced by an apparently random list of numbers. Over four months 600,000 people joined in solving the mystery of what the numbers meant. What unfolded was a striking display of 'We Think': structured, mass collaborative creativity and intelligence. People set up blogs and bulletin boards, websites and instant message groups. One 4,000-strong group, the Beekeepers, became the community's core, and discovered that the numbers were 210 sets of global positioning co-ordinates around the world and at each there was a public payphone.
P2P Governance Visualization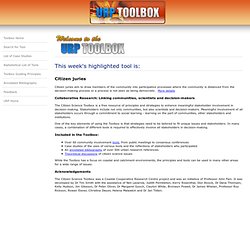 Citizen juries aim to draw members of the community into participative processes where the community is distanced from the decision-making process or a process is not seen as being democratic. More details
Citizen Science Toolbox
Resource Center » Best-of-the-Best Resources
What follows is NCDD director Sandy Heierbacher's biased opinion on what are some of the best books, guides and tools out there about dialogue, deliberation and public engagement.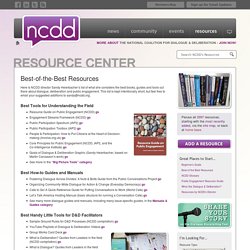 Paul Jorion is an anthropologist who blogs about economic and financial issues. In 2005, he was one of the first to predict the subprime crisis and subsequent recession. Today, in his new book, The Digital Civil War, he goes over the Wikileaks scandal and the political reactions that came with it. He shows a picture of extreme tension, a situation he describes as "pre-revolutionary."
"The internet is direct democracy."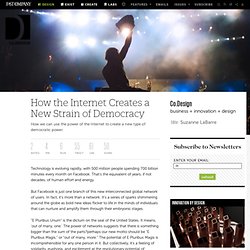 How the Internet Creates a New Strain of Democracy
Technology is evolving rapidly, with 500 million people spending 700 billion minutes every month on Facebook. That's the equivalent of years, if not decades, of human effort and energy.
Resources by type - Innovations in Self-governance
BitGov system of direct democracy through the use of sophisticated network topology.
BitGov
Correcting Democracy with Bitgov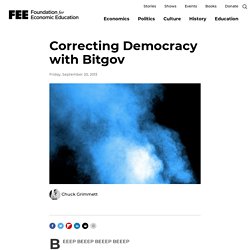 SEPTEMBER 20, 2013 by CHUCK GRIMMETT Your eyes pop open. It's your alarm clock. Grudgingly you roll over, turn it off, and rub your eyes.
I left Istanbul in mid-June to join a 10-week program in Silicon Valley to solve global grand challenges through technology. On the first day, futurist and director of engineering at Google, Ray Kurzweil, and futurist and CEO of X PRIZE foundation, Peter Diamandis, laid out our mission at Singularity University: Create a positive impact on a billion people in a decade and create disruptive innovation. The first thing that came to my mind were the demonstrations and police crackdowns I had just left behind in Turkey, and whether there was a way to disrupt this failed system of governance.
The Bitcoin of governance could be coming soon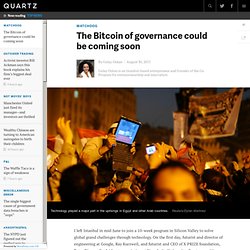 International Association for Public Participation
echo - L'agora globale (la démocratie revue et corrigée)
Future of E-Democracy - The 50 Year Plan - Speech by Steven Clift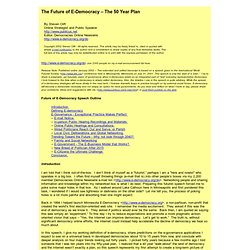 http://www.e-democracy.org/do- Join 2300 people on my e-mail announcement list here. Release Note: Published online January 2002 – This extended and edited transcript is based on a speech given to the international World Futurist Society <http://www.wfs.org> conference held in Minneapolis, Minnesota on July 31, 2001. This speech is only the start of a "plan." I try to share a pragmatic, yet futuristic vision of governance when e-democracy exists as an integrated part of "real" everyday representative democracy. I look forward to the time when e-democracy is simply called democracy. Also, the timeline I use in the speech is quite arbitrary.
Hyperarchy.com (hyperarchy) on Twitter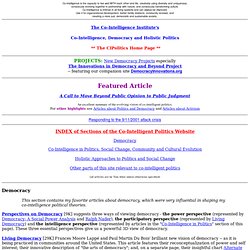 Co-intelligence is the capacity to live well WITH each other and life, creatively using diversity and uniqueness, consciously evolving together in partnership with nature, and consciously transforming culture. Co-intelligence is intrinsic in all living systems and can always be improved. Use it for organizational development, better family relations, community renewal, and creating a more just, democratic and sustainable society. The Co-Intelligence Institute's
Democracy and Holistic Politics
"The Wisdom of Crowds: Why the Many Are Smarter Than the Few and How Collective Wisdom Shapes Business, Economies, Societies and Nations", published in 2004, is a book by James Surowiecki. It discusses, often using anecdotes, that under certain conditions, crowds of people make better decisions than experts. In how far can we (mis)construe this as further proving the democratic doctrine?
Democracy And The Wisdom Of Crowds
Beyond democracy
Greetings! This wiki was part of Tufts University's new course on Digital Democracy taught by us (Joshua Goldstein and Patrick Meier) in the Spring of 2009. We hope you find this wiki helpful. Feel free to get in touch with us at any time. Course Description
digitaldemocracy / FrontPage
e-democratielocale.info - Les réseaux au service de la participation citoyenne
Accueil - Glasnost
E
Everyone gets as few or as many votes as they want. Nobody needs to be identified because there is no limit on how many votes each person can create. How could such a system work? Why wouldn't people just vote millions of times? They may, but that won't give them more influence.
BenRayfield: Anonymous Voting With No Limit On Votes Per Person
Write letters to your publicly elected federal, state, and local officials.
Dynamic Democracy | A better way to govern together.
Home | Constellation W
The first large-scale experimental research on the political influence of social networks finds that Facebook quadruples the power of get-out-the-vote messages. While the single-message study produced a moderately successful boost in turnout (a 2.2% increase in verified votes), the most important finding was that 80% of the study's impact came from "social contagion", users sharing messages with friends who would otherwise never have seen it. This is the first definitive proof that social networks, as opposed to television or radio, have uniquely powerful political benefits. While Facebook is unlikely return the United States to the 80 percent-plus voting rates of the 19th Century, this study is an attractive selling point to campaigns and causes looking for a way to maximize their impact for little cost or effort.
Important Study: Facebook Quadruples The Power Of Campaign Messages
United Voices - petitions sites
Kare Anderson: Insight From Massive Social Experiment Could Sway Voting, Spending and Other Behavior
Within minutes of taking questions, Karl Rove and Howard Dean had a largely well-informed audience deep in the weeds of their conflicting, complex facts last Monday night at our Marin Speakers Series. We watched enthralled, attempting to keep up with their swift verbal combat. This was a meatier discussion than we usually get via media coverage and the truthiness-packed saturation TV ads that are blanketing the battleground states. Our Bias Bond Us for Good and for Bad The topics they covered are innately complex, from health care to the fiscal cliff.
Can Open Government Be Gamed?
ICT4D Bibliography » Work » Casual Politics: From slacktivism to emergent movements and pattern recognition
passive opinion polling using twitter
Collaborative e-democracy
14. Collaborative democracy: the citizen's ability to collaborate effectively
Home | Center For Digital Democracy
#HackDemocracy
Delib - a digital democracy company
Global Democracy (GlobalDemocracy) on Twitter
Government 2.0