Ecumenics
School of International Service | American University | Washington, DC. Institute for Conflict Analysis and Resolution - George Mason University. INCORE : Home Page. Graduate ADR Programs. FPU Center for Peacemaking and Conflict Studies - Links to sites of interest. Links to sites of interest These links are provided for your convenience and should not be construed as an endorsement by Fresno Pacific University or the Center for Peacemaking and Conflict Studies of the content or views of the linked materials.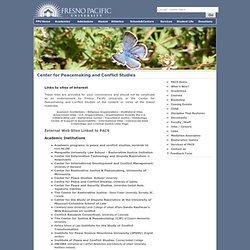 Academic Institutions | Religious Organizations | Multilateral SitesGovernment Sites | U.S. Organizations | Organizations Outside the U.S.Collaborative Law | Restorative Justice | Transitional Justice | VictimologyCircles of Support & Accountability | Informational Sites | Commercial SitesCriminology and Criminal Justice Links Page External Web Sites Linked to PACS. CRInfo - The Conflict Resolution Information Source. Carnegie Endowment for International Peace. Online Journals. These are web links to free online journals on peacebuilding, conflict prevention, conflict resolution, and related topics which are produced by sources not associated with the U.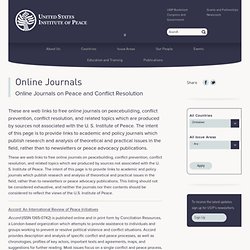 S. Institute of Peace. The Universal Declaration of Human Rights. Whereas recognition of the inherent dignity and of the equal and inalienable rights of all members of the human family is the foundation of freedom, justice and peace in the world, Whereas disregard and contempt for human rights have resulted in barbarous acts which have outraged the conscience of mankind, and the advent of a world in which human beings shall enjoy freedom of speech and belief and freedom from fear and want has been proclaimed as the highest aspiration of the common people, Whereas it is essential, if man is not to be compelled to have recourse, as a last resort, to rebellion against tyranny and oppression, that human rights should be protected by the rule of law, Whereas it is essential to promote the development of friendly relations between nations,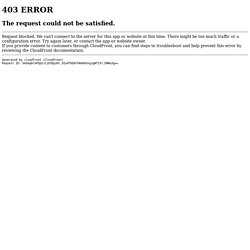 The Reflection Cafe: On Faith (Sacred and Secular: Religion and Politics Worldwide) Book Review by Os Guinness Religion is the key to history, Lord Acton wrote.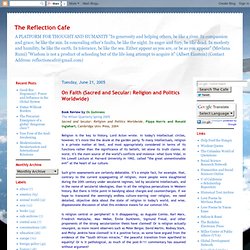 In today's intellectual circles, however, it's more like the skunk at the garden party. To many intellectuals, religion is a private matter at best, and most appropriately considered in terms of its functions rather than the significance of its beliefs, let alone its truth claims. At worst, it's the main source of the world's conflicts and violence—what Gore Vidal, in his Lowell Lecture at Harvard University in 1992, called "the great unmentionable evil" at the heart of our culture. .Such grim assessments are certainly debatable.
Peace Links. American Friends Service Committee The Asia-Pacific Peace Research Association (APPRA) Boston College Center for Human Rights and International Justice Canadian Centres for Teaching Peace.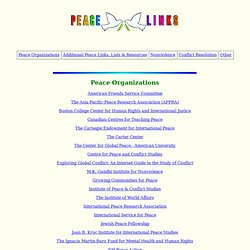 Peace & Conflict Review. Incommunion. John Kilcullen's Home Page. Peace and Conflict Studies. Editor-in-Chief: Ho-Won Jeong Editors: Charles Lerche, Sean Byrne Managing Editor: Charles Snare Senior Consulting Editor: Christopher Mitchell Consulting Editors: Hidemi Suganami, Surya Subedi Associate Editors: Karen Andrews, William Ayres Assistant Editors: Brenda Lindsay, Eleftherios Michael Editorial Assistant: Douglas Dang, Krishna Maddileti, Meredith Garrison Chadwick Alger, the Ohio State University, USA Jacob Bercovitch, University of Canterbury, New Zealand Morton Deutsch, Columbia University, USA Franklin Dukes, University of Virginia, USA Matthias Finger, Graduate Institute of Public Administration, Switzerland Ronald Fisher, American University, USA Linda Forcey, the State University of New York, Binghamton, USA Johan Galtung, TRANSCEND, Norway Vasu Gounden, University of Durban, South Africa Herbert Kelman, Harvard University, USA John Paul Lederach, East Mennonite University, USA Richard Little, University of Bristol, UK Neil MacFarlane, Oxford University, UK.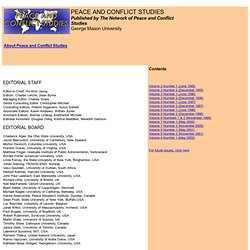 Flashpoints. FRONTLINE/WORLD . Rough Cut . Northern Ireland: Uneasy Peace . Background Facts and Related Links. Northern Ireland: A Profile Northern Ireland is the six counties that sit in the northeastern tip of the island of Ireland and it is ruled by Great Britain.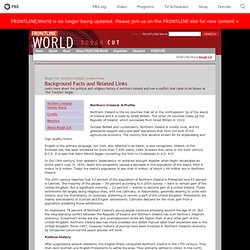 The other 26 counties make up the Republic of Ireland, which succeeded from Great Britain in 1922. Outside Belfast and Londonderry, Northern Ireland is mostly rural, and its grasslands support dairy and beef operations that form the bulk of the agricultural economy. The country first became known for its shipbuilding and high quality linens. MarcGopin.com Marc Gopin.com Conflict Resolution and Religious Peacemaking.
---