Doo it yourself...
Easy Love Notes. This weekend I taught a lesson at church that focused on how our attitude can affect the overall feeling in our home.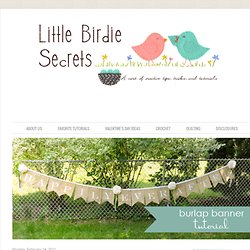 I encouraged the girls to leave little love notes for their parents and siblings to show love and appreciation and make their home a happy place. I wanted to give them each three cards to use, so I had to come up with about 24 cards. Yikes! Dirty hems diy: book clutch. « Dirty Hems – Personal, Fashion, DIY Blog. Our last "vintage school" post was a quick tutorial on the most basic of hand-sewing stitches, the backstitch.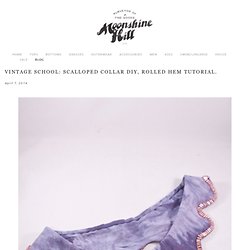 It's a good, all-purpose stitch for sewing seams when you don't have, or don't want to use, a sewing machine. I wanted to show y'all a great hem stitch for the next installment, another wonderful all-purpose stitch that can be used in all sorts of situations. Bra to Bustier Top. I've spotted bralets and bustiers - cropped and otherwise - all over Topshop, Urban Outfitters, etc.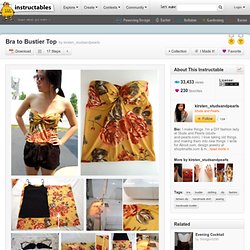 I never could find one that 1) fit me well and 2) was in a print I liked. So I set out to make my own, using a strapless bra. Wipe Off Weekly Menu Board. I am a meal planner.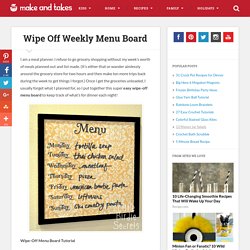 I refuse to go grocery shopping without my week's worth of meals planned out and list made. (It's either that or wander aimlessly around the grocery store for two hours and then make ten more trips back during the week to get things I forgot.) DIY Solar Lamp: Make Your Own Eco-Friendly Sun Jars | Designs &Ideas on... The principle is simple and seductively clever: solar lights that store energy during the day and release light at night.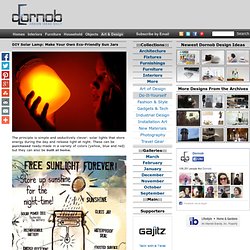 These can be purchased ready-made in a variety of colors (yellow, blue and red) but they can also be built at home. A simple, less-technical approach involves buying a conventional solar-powered yard lamp and then essentially harvesting it for key pieces to put in a jar. Make It Pretty Wednesdays: Organizational P-Inspiration! | Sippy Cup Mom! Crafts and DIY / Another idea for jewelry organizer. MADE: TUTORIAL: Heartbreaker Valentines. Who said valentines were only red and pink?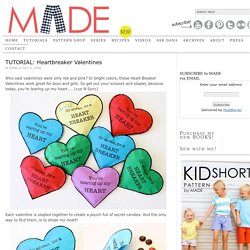 In bright colors, these Heart Breaker Valentines work great for boys and girls. So get out your scissors and stapler, because today, you're tearing up my heart….. (cue N Sync) Each valentine is stapled together to create a pouch full of secret candies. V and Co how to: jersey knit bracelet. I don't know what it is about this time of year that makes me just want to have my bare feet in the sand, be watching the sun setting into the ocean, and breathing in the warm salty air of the beach...as i get older, more and more i find myself missing that place i used to go to almost every.single.day. as a teen.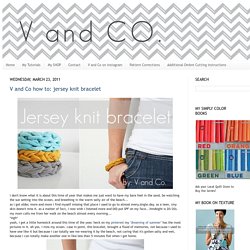 (my skin doesn't miss it. as a matter of fact, i now wish i listened more and DID put SPF on my face...hindsight is 20/20). my mom calls me from her walk on the beach almost every morning... *sigh*yeah, i get a little homesick around this time of the year. heck on my pinterest my "dreaming of summer" has the most pictures in it. ah yes. i miss my ocean. case in point. this bracelet, brought a flood of memories, not because i used to have one like it but because i can totally see me wearing it by the beach, not caring that it's gotten salty and wet, because i can totally make another one in like less than 5 minutes flat when i get home.
It's in the NEWS! Newspaper.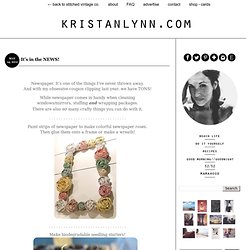 It's one of the things I've never thrown away. And with my obsessive coupon clipping last year..we have TONS! Head Scarf Tutorial. After many requests, I finally made a tutorial on how to tie a simple head scarf.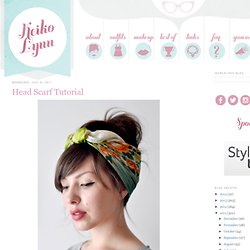 It's really, really easy. I did this without looking in the mirror, so that should tell you how easy it is. Let's get started! Start with a large, square scarf. I like my vintage silk scarves because they're soft and not bulky. Green...Easy Knit Produce Bag. Paper Flower Key Holder / Mark Montano. Difficulty Rating: Beginner Tags If you need a quick 'just because' gift for someone, this is it!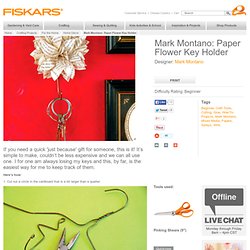 It's simple to make, couldn't be less expensive and we can all use one. Anthro-Inspired Mirror & Flamingo Toes - StumbleUpon. You all know we love a good Anthropologie knockoff around here – so a couple of days ago when I was browsing online I came across this mirror. Oh I definitely need that. Hold the presses – did that say $498??? Make It Pretty Wednesdays: Organizational P-Inspiration! | Sippy Cup Mom! A Beautiful Mess. Hey, friends! I'm here to share my new favorite happy hour recipe! It's fresh, herbal-y, and citrus-y. Mojitos were my first favorite cocktail, and I still love them, but finding new combinations is my current obsession. I'm thinking about planting an herb garden on my porch this weekend. Water Balloon Luminaries. A fun and easy project with a beautiful payoff. Learn how to make these Balloon Luminaries. You will need: High-Melt Paraffin Wax (IGI 1260)Party BalloonsDouble BoilerCookie Sheet.
You knew i was going to make one. They are all over pinterest.... (i still am not signed up for pinterest because i don't have time for one more thing but browsing is fun!) So we made one. Make A Purse From Vinyl Records. First I cut off the bottoms of the 2 records that make the outside of the purse. I put the oven on Broil and then put the record on a cookie sheet. As soon as the record flattened a tiny bit in the oven and was obviously softer, I took scissors and cut across the record until it got hard again.
I repeated this until the record was cut straight across. Then for the bottom of the purse, I cut across the record so that the label still shows, also so that it was at the widest point of the record. Embroidery Designs at Urban Threads - Projects - StumbleUpon. How to Choose Colors to Flatter Your Skin Tone. DIY Cartier-Esque Bracelet. Yarn Love | Family Chic. Make a Custom Pair of Tap Pants. Smoothielicious. Perfect Summer Bangle. Wall Art for Sienna's Room. Valentine craft for LMNOP blog | Mini-eco - StumbleUpon. Old Garage turned Mini Dream Home! | Stuff to Make in my Old Age - StumbleUpon. Most favorited all-time.
Craftgawker | look to inspire. eHow | How To Do Just About Everything! | How To Videos & Articles.
---