MUSIC BIZ
HIFIDELICS - New Music on Vinyl Records
Why Vinyl Is NOT Going To Save The Music Industry (And What Will) - Trust Me, I'm A Scientist
Vinyl sales have exploded over the past six years. They grew by 44% in 2010, 39% in 2011 and 19% in 2012. At first glance, this seems huge — Especially when you take into account that music sales in general have dropped over 60% from their peak. But here's the dirty little secret you probably haven't read so much about: Look more closely and you'll quickly realize that vinyl isn't so huge at all.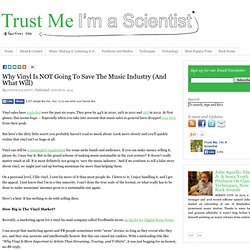 Sony Names Jason Spivak EVP of Worldwide Distribution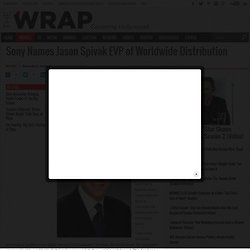 Spivak will push Sony in the digital direction and continue to explore cloud storage Sony Pictures Home Entertainment named Jason Spivak executive vice president of worldwide digital distribution, the company announced Thursday. Spivak, who was promoted from senior vice president and general manager of worldwide digital distribution, will continue to lead the team responsible for Sony's transactional digital business around the world. "Jason has overseen tremendous growth in our digital transactional business," his boss Jim Underwood, the executive vice president for worldwide digital and commercial strategy, said in a statement.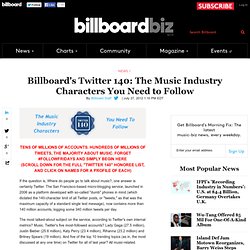 If the question is, Where do people go to talk about music?, one answer is certainly Twitter. The San Francisco-based micro-blogging service, launched in 2006 as a platform developed with so-called "dumb" phones in mind (which dictated the 140-character limit of all Twitter posts, or "tweets," as that was the maximum capacity of a standard single text message), now contains more than 140 million accounts, logging some 340 million tweets per day. The most talked-about subject on the service, according to Twitter's own internal metrics? Music. Twitter's five most-followed accounts?
s Twitter 140: The Music Industry Characters You Need to Follow
That the music industry has radically changed in the last decade is a serious understatement. Technology has altered everything from the creation of music to its distribution, upending retailers, studios and business models across the industry. But it's not all bad news. Music isn't dying so much as evolving, and the landscape is already beginning to look quite different. Not long ago, the professional music industry involved a complex but fixed set of players: artists, labels, managers, promoters and the like. Many of these roles have changed, but none have disappeared.
How Developers Are Shaping the Future of Music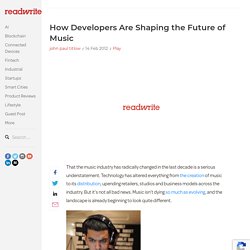 Billy Corgan SXSW 2012 Interview with Brian Solis Rocks Music Fans
Billy Corgan 2012 Interview with Alex Jones on corporate interests and societal changes
Things you can learn from the music business (as it falls apart) The first rule is so important, it's rule 0: 0. The new thing is never as good as the old thing, at least right now.Soon, the new thing will be better than the old thing will be. But if you wait until then, it's going to be too late. Feel free to wax nostalgic about the old thing, but don't fool yourself into believing it's going to be here forever.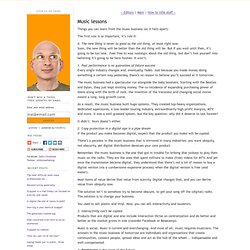 Music lessons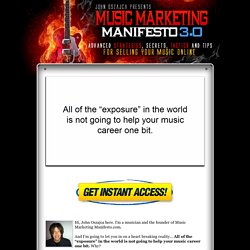 MAJOR LABEL ARTIST 'REVEALS SECRET STRATEGY' FOR SELLING MUSIC ONLINE!
Hi, John Oszajca here. I'm a musician and the founder of Music Marketing Manifesto.com. And I'm going to let you in on a heart breaking reality...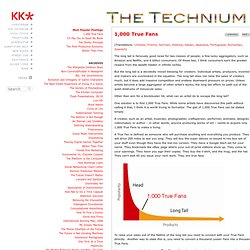 [Translations: Chinese, French, German, Hebrew, Italian, Japanese, Portuguese, Romanian, Spanish] The long tail is famously good news for two classes of people; a few lucky aggregators, such as Amazon and Netflix, and 6 billion consumers. Of those two, I think consumers earn the greater reward from the wealth hidden in infinite niches. But the long tail is a decidedly mixed blessing for creators. Individual artists, producers, inventors and makers are overlooked in the equation.
wahwah
Todd Rundgren on CNBC - Interview
Now that I work from home and don't commute as frequently, I have been listening to more music on my main computer. Not a lot, but for at least 5-15 hours per week. For the past few months — about 125 days since Spotify launched, actually — I have also used Spotify in addition to iTunes. Here are some of my observations of how Spotify has changed my music habits. When I know what I want to listen to, and/or plan to listen at a higher volume, I still try to listen to it in iTunes first.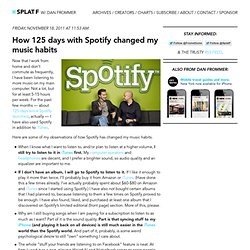 How 125 days with Spotify changed my music habits
New York startup Audiam Inc. has raised $2 million in Series A financing to "get people paid" for the use of their music on YouTube, according to its founder and CEO, serial music industry entrepreneur Jeff Price. Mr. Price, who earlier founded TuneCore Inc.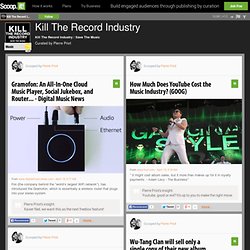 Kill The Record Industry
Cohen on Facebook's Music Strategy - Video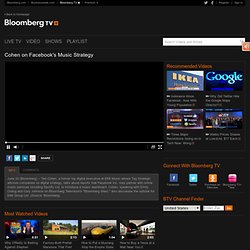 Loaded: 0% Progress: 0% Your next video will start in
David Heinemeier Hansson
I tweet from @dhh and email from david@heinemeierhansson.com. I write essays on this site and on the Signal vs Noise blog. Creator of Ruby on Rails Ruby on Rails is an open-source web framework that's optimized for programmer happiness and beautiful code. I created Rails in 2003 by extracting it from Basecamp and continue to lead the development.
TrueDIY Biz: 10 Copyright Questions Answered
PressPausePlay Sneak Peek #1 - Seth Godin
Jason Schmitt: Rethinking the Music Business
As the record industry started to dry up and die and the major labels were sort of crippled and starving -- it was a land grab. It was, "I just fired a third of my staff, and I am going to offer you half the money I would have last year. But I am going to give you a shittier deal on records, plus I want a piece of touring, merchandising, and publishing for which I have no infrastructure, I don't really know what I am doing, and I am probably just going to get in the way. But I deserve it because my business sucks." -- Matt Drouin, Manager of the band Metric Music may be between a musician, her guitar, and her fans: but when you introduce licensing, streaming audio, online campaigns, social media, the Cloud and many artists gravitating toward becoming their own label, you may need a four-wheel drive to plow through the congestion of left brain thought required to take the music to the end user.
Track your favourite artists and never miss them live. Track your favorite bands Tell us who you want to see live. Easily organize artists and concerts in one convenient place. Free personalized concert alerts Songkick emails you when your tracked bands come to your area.
mortimer.fas.harvard.edu/concerts_01oct2010.pdf
Rethink Music
RightsFlow - A licensing and royalty service provider
By David Goldman, staff writerFebruary 3, 2010: 9:52 AM ET NEWYORK (CNNMoney.com) -- If you watched the Grammy Awards Sunday night, it would appear all is well in the recording industry. But at the end of last year, the music business was worth half of what it was ten years ago and the decline doesn't look like it will be slowing anytime soon. Total revenue from U.S. music sales and licensing plunged to $6.3 billion in 2009, according to Forrester Research. In 1999, that revenue figure topped $14.6 billion.
Music's lost decade: Sales cut in half in 2000s - Feb. 2, 2010
Festival International de Musique Actuelle de Victoriaville
Music Conference - Rethink Music
ten-industry-leaders.pdf (application/pdf Object)
How Artists Can Profit From File Sharing
Music Sales in U.S. Fell 2.4% in 2010; Digital Music Accounts for 46% of Purchases
MIDEMBlog | Learn. Share. Inspire.
transmission: Global Summit 2011