MUSIC BIZ
HIFIDELICS - New Music on Vinyl Records
Why Vinyl Is NOT Going To Save The Music Industry (And What Will) - Trust Me, I'm A Scientist
Vinyl sales have exploded over the past six years. They grew by 44% in 2010, 39% in 2011 and 19% in 2012. At first glance, this seems huge — Especially when you take into account that music sales in general have dropped over 60% from their peak. But here's the dirty little secret you probably haven't read so much about: Look more closely and you'll quickly realize that vinyl isn't so huge at all. Vinyl can still be a meaningful supplement for some niche bands and audiences.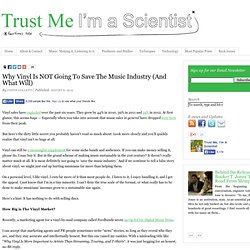 Vinyl LP Sales, 1993-2013
Sony Names Jason Spivak EVP of Worldwide Distribution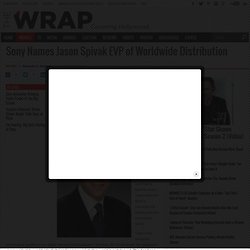 Sony Pictures Home Entertainment named Jason Spivak executive vice president of worldwide digital distribution, the company announced Thursday. Spivak, who was promoted from senior vice president and general manager of worldwide digital distribution, will continue to lead the team responsible for Sony's transactional digital business around the world. "Jason has overseen tremendous growth in our digital transactional business," his boss Jim Underwood, the executive vice president for worldwide digital and commercial strategy, said in a statement. "this has been done, in large part, by his forging strong partnerships with our customers and working with them to innovate and drive increased business in this area."
s Twitter 140: The Music Industry Characters You Need to Follow
The Economic Reality of Streaming for Musicians Ppt Presentation
That the music industry has radically changed in the last decade is a serious understatement. Technology has altered everything from the creation of music to its distribution , upending retailers, studios and business models across the industry. But it's not all bad news.
How Developers Are Shaping the Future of Music
Billy Corgan SXSW 2012 Interview with Brian Solis Rocks Music Fans
Billy Corgan 2012 Interview with Alex Jones on corporate interests and societal changes
Things you can learn from the music business (as it falls apart) The first rule is so important, it's rule 0: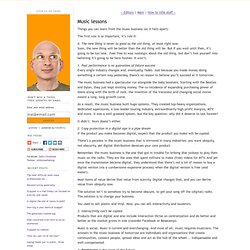 Music lessons
MAJOR LABEL ARTIST 'REVEALS SECRET STRATEGY' FOR SELLING MUSIC ONLINE!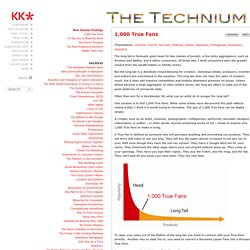 [Translations: Chinese , French , German , Hebrew , Italian , Japanese , Portuguese , Romanian , Spanish ] The long tail is famously good news for two classes of people; a few lucky aggregators, such as Amazon and Netflix, and 6 billion consumers.
wahwah
Todd Rundgren on CNBC - Interview
Now that I work from home and don't commute as frequently, I have been listening to more music on my main computer.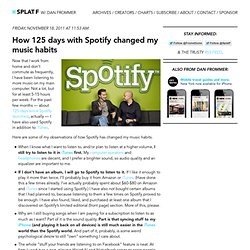 How 125 days with Spotify changed my music habits
Kill The Record Industry
Cohen on Facebook's Music Strategy - Video
David Heinemeier Hansson
TrueDIY Biz: 10 Copyright Questions Answered
PressPausePlay Sneak Peek #1 - Seth Godin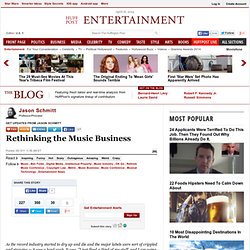 Jason Schmitt: Rethinking the Music Business
As the record industry started to dry up and die and the major labels were sort of crippled and starving -- it was a land grab. It was, "I just fired a third of my staff, and I am going to offer you half the money I would have last year.
mortimer.fas.harvard.edu/concerts_01oct2010.pdf
Rethink Music
RightsFlow - A licensing and royalty service provider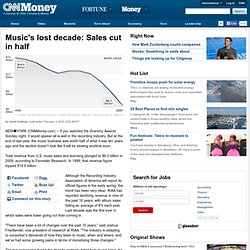 By David Goldman , staff writer February 3, 2010: 9:52 AM ET
Music's lost decade: Sales cut in half in 2000s - Feb. 2, 2010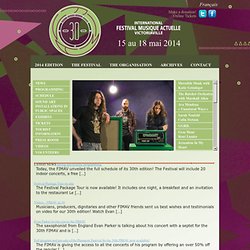 Festival International de Musique Actuelle de Victoriaville
A day to remember! A day to remember! All individual tickets, plus all passports and packages for the 29th FIMAV programming will be on sale [...]
Music Conference - Rethink Music
ten-industry-leaders.pdf (application/pdf Object)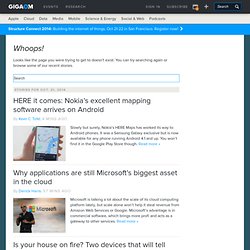 paidContent:UK - Mobile
Who's paying for what?
How Artists Can Profit From File Sharing
FACT: people download music for free. Sean Parker of Napster fame recently stated in an interview , "you look at the data, somewhere between 4 trillion and 10 trillion songs are illegally downloaded every year.
A top-selling digital song of 2010 was "California Gurls" by Katy Perry (4.4 million).
Music Sales in U.S. Fell 2.4% in 2010; Digital Music Accounts for 46% of Purchases
MIDEMBlog | Learn. Share. Inspire.
"I have been involved in Transmission events here and in China. If we're going to build a solid creative economy in BC, the Global Summit is a critical step in moving our sector towards creating original content and products, and ultimately self-sufficiency in digital content. I look forward to being a part of making Global Summit a success for 2014."
transmission: Global Summit 2011