Design Thinking
"Human centered design process using rapid prototyping and iterative approach to solve complex problems" Stanford Design Program movatweet Jan 8
To get you started...
Design thinking is a methodology for creative problem solving. You can use it to inform your own teaching practice, or you can teach it to your students as a framework for real-world projects. If you've tried design thinking in your school, please consider taking the survey below. Your responses help us continue to iterate our offerings. Thanks!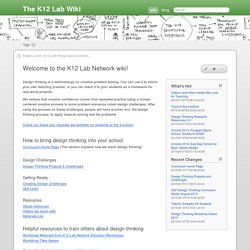 TEDxLondon - Ewan McIntosh
Much has been written about changing role of the teacher from "sage on the stage" to "guide on the side." Design thinking, which is a dynamic, creative and collaborative approach to problem solving, presents a unique model for educators who wish to facilitate from within the class, rather than impart knowledge to it. The Design Thinking Process While design thinking has its roots in the innovation/design sector, the process itself can be used anywhere. Indeed, it is a great tool for teaching 21st century skills, as participants must solve problems by finding and sorting through information, collaborating with others, and iterating their solutions based on real world, authentic experience and feedback. (It is also a great tool to develop and run a school, but that's a different post for a different day.)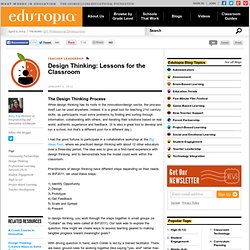 Posted by venessa miemis on Thursday, January 14, 2010 · 91 Comments If you're a businessperson or someone interested in understanding how to facilitate innovation, you've probably heard of "design thinking" by now.
What is Design Thinking, Really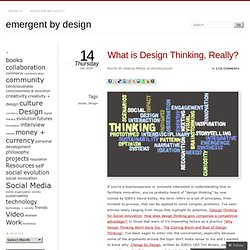 A child starting kindergarten this year will graduate into the third decade of the 21st century. It's our responsibility to provide our students with an education that will prepare them for a world with challenges and opportunities far beyond what we can imagine today. Here are ten things we have learned about the design thinking process and mindsets in the classroom.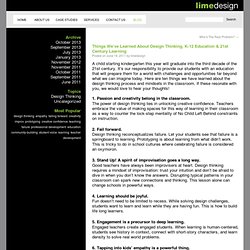 Things We've Learned About Design Thinking, K-12 Education & 21st Century Learning | Lime Design Associates