Curation Market
DST's Milner: Founders' Exit Is Cue For Investors' Exit - Venture Capital Dispatch. Curation. We largely invest in consumer web services with a large number of engaged users where the users create the content.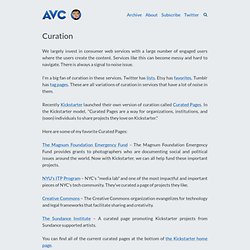 Services like this can become messy and hard to navigate. There is always a signal to noise issue. I'm a big fan of curation in these services. The Seven Needs of Real-Time Curators. I keep hearing people throw around the word "curation" at various conferences, most recently at SXSW.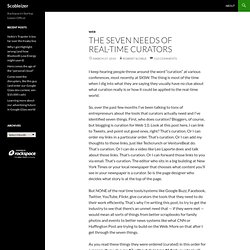 The thing is most of the time when I dig into what they are saying they usually have no clue about what curation really is or how it could be applied to the real-time world. So, over the past few months I've been talking to tons of entrepreneurs about the tools that curators actually need and I've identified seven things. Phildunn.amplify. Has Facebook's 'Like' killed off curators? Fark has been a longstanding aggregator of news site for more than a decade.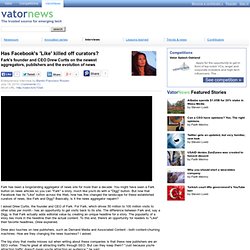 You might have seen a Fark button on news articles so you can "Fark" a story, much like you'd do with a "Digg" button. But now that Facebook has its "Like" button across the Web, how has this changed the landscape for these established curators of news, like Fark and Digg? Basically, is it the news aggregator napalm? I asked Drew Curtis, the founder and CEO of Fark. 4 Promising Curation Tools That Help Make Sense of the Web. Steven Rosenbaum is a curator, author, filmmaker and entrepreneur.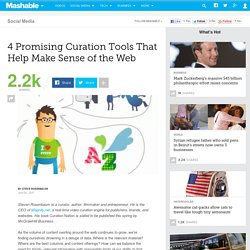 He is the CEO of Magnify.net, a real-time video curation engine for publishers, brands, and websites. His book Curation Nation is slated to be published this spring by McGrawHill Business. As the volume of content swirling around the web continues to grow, we're finding ourselves drowning in a deluge of data. Where is the relevant material? Where are the best columns and content offerings? 10 European Startups To Watch in 2011.
When you hear Silicon Valley discuss the European startup scene it's often negatively.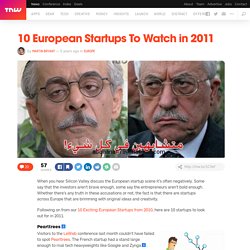 Some say that the investors aren't brave enough, some say the entrepreneurs aren't bold enough. Whether there's any truth in these accusations or not, the fact is that there are startups across Europe that are brimming with original ideas and creativity. Following on from our 10 Exciting European Startups from 2010, here are 10 startups to look out for in 2011. Pearltrees Visitors to the LeWeb conference last month couldn't have failed to spot Pearltrees. MySpace reposition on curation. The launch of the new MySpace begins today; it marks not only the release of a completely overhauled design, but the start of a fundamental shift in focus for what was once the world's preeminent social network.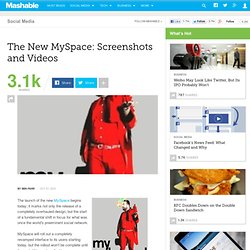 MySpace will roll out a completely revamped interface to its users starting today, but the rollout won't be complete until the end of November. And because so much has changed, we can't possibly cover every aspect of the new website and mobile experience in a single article. MySpace Logo Video. The New Myspace: An Introduction. The newborn of TC50 - 2010. Welcome - curated.by. Home. Wozaik, PearlTrees, Netvibes, Les Favoris… jusqu'où ira l'organi. Le web du contenu est en train de devenir une réalité.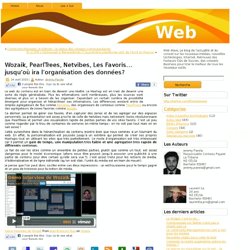 Le Mashup est en train de devenir une sorte de règle généralisée. Plus les informations sont nombreuses, plus les sources sont diverses et plus on a besoin de les organiser. Cependant un certain nombre de possibilité émergent pour organiser et hiérarchiser ses informations. Les différences existent entre de simples agrégateurs de flux comme Netvibes , des organiseurs de contenus comme PearlTrees ou encore des agrégateurs de zones favories comme Wozaik . Storify: Social Media Curation And Storytelling. Storify is a tool that allows users to 'create stories using social media'.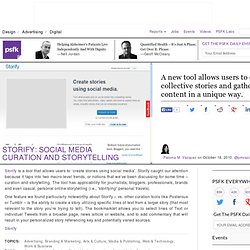 Storify caught our attention because it taps into two macro-level trends, or notions that we've been discussing for some time – curation and storytelling. The tool has applicability for journalists, bloggers, professionals, brands and even casual, personal online storytelling (i.e., "storifying" personal travels). One feature we found particularly noteworthy about Storify – vs. other curation tools like Posterous or Tumblr – is the ability to create a story utilizing specific lines of text from a larger story (that most relevant to the story you're trying to tell).
The bookmarklet allows you to select lines of Text or individual Tweets from a broader page, news article or website, and to add commentary that will result in your personalized story referencing key and potentially varied sources.
---