Photography
James Mollison - Photographer
Markéta Luskačová Born in Prague. Degree in sociology of culture at Charles University, Prague 1967, theses on traditional form of religion in Slovakia accompanied with photogrphs of pilgrims. 1967 - 1969 studied photography FAMU, Prague. Since 1968 freelance photographer. Narozena v Praze.
Markéta Luskačová > Photogallery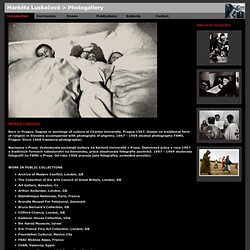 Bildgalleri
Fotografier
photography © Gert Jochems / RUS
WWW.AKAYISM.ORG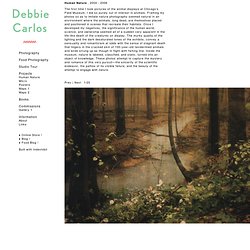 Human Nature , 2004 - 2006 The first time I took pictures of the animal displays at Chicago's Field Museum, I did so purely out of interest in animals. Framing my photos so as to imitate nature photography seemed natural in an environment where the animals, long dead, are themselves placed and positioned in scenes that recreate their habitats. Once I developed my negatives, the significance of the human world, science, and ownership seemed all of a sudden very apparent in the life-like death of the creatures on display.
Human Nature : Debbie Carlos
Ludi skelet | Komšija
Priča o gradu ispod grada | Komšija
Represented Photographers | Reportage by Getty Images
Represented Photographers Reportage 2013 Roundup Inside IranPhotos by Reportage by Getty Images A Generation Lost - Grannies & AIDS OrphansPhotographs by Jonathan Torgovnik Goodbye My ChechnyaPhotographs by Diana Markosian Bought & SoldPhotographs & Text by Katie Orlinsky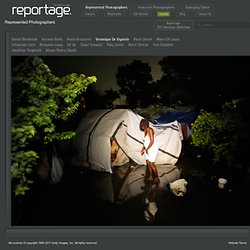 NAICA - GALERIA DE IMAGENES / IMAGE GALLERY
ROBERT FLYNT
廃虚
Suicides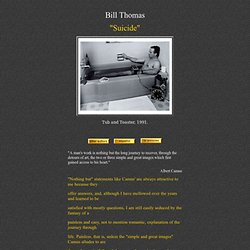 "Nothing but" statements like Camus' are always attractive to me because they offer answers, and, although I have mellowed over the years and learned to be satisfied with mostly questions, I am still easily seduced by the fantasy of a painless and easy, not to mention romantic, explanation of the journey through life.
vsevelova - User Profile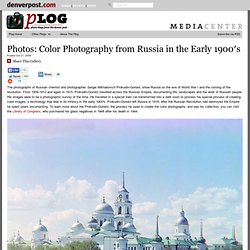 Posted Oct 21, 2009 Share This Gallery inShare58 The photographs of Russian chemist and photographer, Sergei Mikhailovich Prokudin-Gorskii, show Russia on the eve of World War I and the coming of the revolution. From 1909-1912 and again in 1915, Prokudin-Gorskii travelled across the Russian Empire, documenting life, landscapes and the work of Russain people. His images were to be a photographic survey of the time. He travelled in a special train car transformed into a dark room to process his special process of creating color images, a technology that was in its infancy in the early 1900′s.
http://www.astronautsuicides.com/
Photos and drawings, art and creative advertising
Ôîòîãðaôèè îò Stanislav
vsevelova
9 Surprisingly Beautiful Bunkers
ruins hiroshima OR nagasaki OR manhattan - Google Image Search
Urban Exploration - Google Images
Plasmatic Fire by Slim DJILALI
naomi nowak
【DEAR MORNING KYOTO】