Create video
Photos + text + music = video. picksome Feb 18
Vimention
Youtube Captioner - CaptionGenerator.com
Slideroll™ is a photo slideshow maker that you can use to create slide shows with your photos. Publish your slideshows on the internet, put them on Facebook, MySpace or YouTube, and e-mail them to friends. Try the Slideshow Creator Demo » Create Cool Slideshows from Your Photos Upload photos from your computer into our interactive drag-and-drop slide show creator.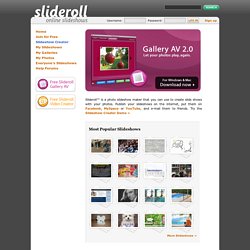 Glogster EDU is excited to announce that Glogster EDU Home is coming soon! EDU Home will bring all of the beloved features of EDU Premium, -its potential for creativity, fun, learning skills and sharing knowledge and ideas- into the home, with a product specially designed for homeschoolers, parents, care-givers and their children. Enjoy all the advantages of our school product in a smaller, more personal atmosphere, perfect for use in home instruction, or for creative, educational fun with kids. Leave us your Email Adress, and we'll let you know just as soon as it is available: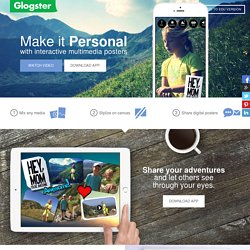 Create online Make movies in minutes from any web browser anywhere. Express your opinion Share a joke with friends Bring creative ideas to life Send unique invites or greetings Sign Up for your FREE account Create on your desktop Get more.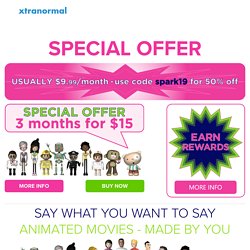 Today we're announcing a major update to SublimeVideo: New, Free and Unlimited SublimeVideo HTML5 Video Player We're thrilled to introduce a new, free and unlimited version of SublimeVideo. After the commercial launch of SublimeVideo earlier this year, and alongside today's introduction of great, cloud-powered new features, we're ready to shift gear and introduce something radical that we've wanted to do for a while: Give anyone a free, traffic unlimited, no-compromise version of SublimeVideo Player. Contributing to the web's transition to HTML5 Video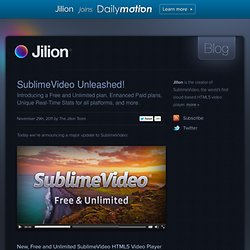 Blog - SublimeVideo Unleashed!