fucking awesome
Get flash to fully experience Pearltrees
i 7 Votes I found these cupcakes on a wonderful blog called Amy bites (go and visit—- her recipes are awesome and I envy her photography skills!) –and I just HAD to make them.
Share This Post: This recipe is so simple, so gorgeous, and so ungodly delicious that I simply couldn't keep it from you guys. I've been making it since forever . I know most of you are like myself and neither own nor have any plans to purchase an ice-cream maker. What's the point if you dust it off once every few years out of guilt? Nah, for this recipe all you need is a little elbow grease (or for my fellow lazy-asses, a stand mixer).
Jun 29 Not to sound full of myself, but I'm pretty sure this is the be all, end all of popsicle roundups. There's a little something for everyone: the foodies, the purists, the ones who prefer frozen yogurt, the ones who prefer a little alcohol, everyone. Tweny-five options to be exact.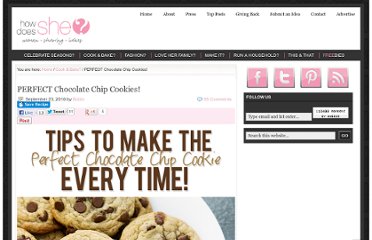 September 23, 2010 by Bobbi Okay, everyone… I've been schooled. I've learned a lesson in the how-to of the chocolately, ooey, gooey, deliciousness of making the perfect, and I mean PERFECT chocolate chip cookie. I used to own a cookie business, which worked out so well considering I ate most of the inventory, and over the years I have made it my mission to find the best chocolate chip cookie evah!
Smooth, creamy, decadent cheesecake studded with sweet morsels of cookie dough and bursts of mini chocolate chips? All atop a chocolatey, buttery crust? Garnished with sweetened whipped cream and more chocolate chips? Oh baby, sign me up for a cookie dough cheesecake IV. Immediately.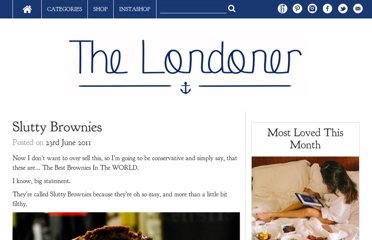 Now I don't want to over sell this, so I'm going to be conservative and simply say, that these are... The Best Brownies In The WORLD. I know, big statement. They're called Slutty Brownies because they're oh so easy, and more than a little bit filthy. They're best served warm from the oven, with good quality vanilla ice cream (devastatingly I didn't have any in the freezer this time, so I guess I'll just have to make them again). They take about 45mins to make, including baking time.