Health, Disease, Food, & Medicine
Posted by Heartmind _Featured_ , World News Friday, April 19th, 2013 Timon Singh | Inhabitat The UN recently outlined its development goals for 2030 at a conference in Olso , where Director General of the U.N. Industrial Development Organization Kandeh Yumkella stated that air pollution is a bigger killer than AIDS and malaria combined.
UN Says Air Pollution Kills More People Than AIDS and Malaria Combined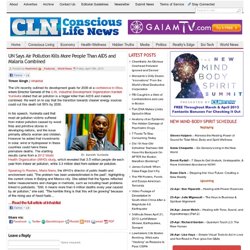 Harvard Study Confirms Fluoride Reduces Children's IQ
By Dr. Mercola A recently published Harvard University meta-analysis funded by the National Institutes of Health (NIH) has concluded that children who live in areas with highly fluoridated water have "significantly lower" IQ scores than those who live in low fluoride areas. In a 32-page report that can be downloaded free of charge from Environmental Health Perspectives, 1 the researchers said: "A recent report from the U.S. National Research Council (NRC 2006) 2 concluded that adverse effects of high fluoride concentrations in drinking water may be of concern and that additional research is warranted.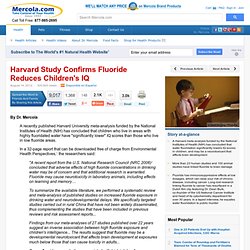 Straight Talk on MMS - Guest: Andreas Kalcker
1. A method of treating AIDS-afflicted humans comprising injecting a multitude of tetrasilver tetroxide molecular crystals into the bloodstream of the human subject. 2.
Method of curing AIDS with ... - Google Patents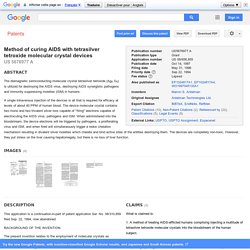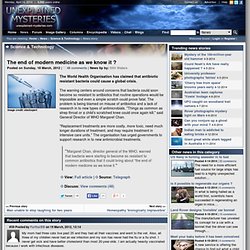 The World Health Organisation has claimed that antibiotic resistant bacteria could cause a global crisis. The warning centers around concerns that bacteria could soon become so resistant to antibiotics that routine operations would be impossible and even a simple scratch could prove fatal. The problem is being blamed on misuse of antibiotics and a lack of research in to new types of antimicrobials. "Things as common as strep throat or a child's scratched knee could once again kill," said General Director of WHO Margaret Chan. "Replacement treatments are more costly, more toxic, need much longer durations of treatment, and may require treatment in intensive care units." The organisation has urged governments to support research in to new antimicrobial treatments.
The end of modern medicine as we know it ?
Milk The Deadly Poison WATCH THIS!!!
Shocking Testimony About Vaccines !
Paul Harvey - If I Were The Devil (How To Destroy America)