Collaboration tools
How We'll Fund The Progressive Movement | Cognitive Policy Works. It is time to solve a fundamental problem that plagues progressives everywhere – the lack of seed money to get innovative projects off the ground and the absence of workable funding models to scale up the ongoing efforts to create systemic cultural, economic, and political change.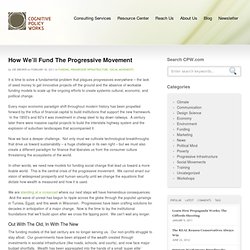 Every major economic paradigm shift throughout modern history has been propelled forward by the influx of financial capital to build institutions that support the new framework. In the 1850′s and 60′s it was investment in cheap steel to lay down railways. A century later there were massive capital projects to build the interstate highway system and the explosion of suburban landscapes that accompanied it. Now we face a deeper challenge. Not only must we cultivate technological breakthroughs that drive us toward sustainability – a huge challenge in its own right – but we must also create a different paradigm for finance that liberates us from the consumer culture threatening the ecosystems of the world. Virtual Community/Social Media Course by Howard Rheingold on Prezi. Group-Forming. Blog of Collective Intelligence. Mikogo: Free Remote Desktop, Web Conferencing & Online Meetings.
Free group forums, calendars, file sharing, admin tools & more | BigTent. Ning | Gründen Sie Ihr eigenes soziales Netzwerk. Communicate Hope: Using Games and Play to Improve Productivity - 42projects. Challenge: There is a stigma around the words "game" and "play" and resistance to view them as viable approaches to "work".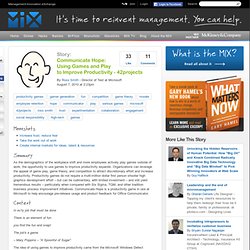 Language and traditional definitions get in the way. Many boomers do not believe "game" and "work" can co-exist. Fix: To overcome that, we are very rigorous in our data collection and documentation efforts. A "game master" role is filled for each game we deploy – a person who oversees the rules, player feedback, goal and task achievement, and fairness. We are trying to create a track record of success and learning. 4 Awesome Free Tools to Visualize & Analyze Twitter. The power of social networking analysis can not be understated.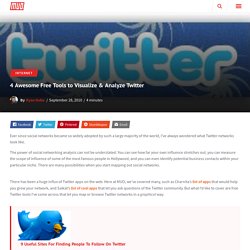 You can see how far your own influence stretches out, you can measure the scope of influence of some of the most famous people in Hollywood, and you can even identify potential business contacts within your particular niche. There are many possibilities when you start mapping out social networks. There has been a huge influx of Twitter apps on the web. Here at MUO, we've covered many, such as Charnita's list of apps that would help you grow your network, and Saikat's list of cool apps that let you ask questions of the Twitter community. Shout'em. ShoutEm is a spinoff of Five Minutes Ltd., a mobile development company with more than 35 employees and an extensive client list.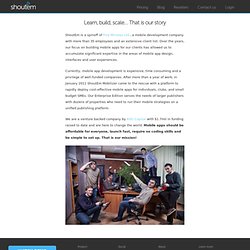 Over the years, our focus on building mobile apps for our clients has allowed us to accumulate significant expertise in the areas of mobile app design, interfaces and user experiences. Currently, mobile app development is expensive, time consuming and a privilege of well-funded companies. After more than a year of work, in January 2011 ShoutEm Mobilizer came to the rescue with a platform to rapidly deploy cost-effective mobile apps for individuals, clubs, and small budget SMEs. Free Online Whiteboard and Collaboration Tool - Scribblar.com. Alle anzeigen. Ushahidi :: Crowdsourcing Crisis Information (FOSS)
Rentalic.com. Edu 2.0: the free, easy way to teach and learn online. Phyles. The 10 Best Collaborative Web Tools for Business | Business Pund. This is a blog post by Drea Knufken.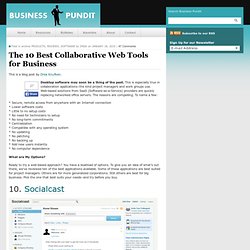 Desktop software may soon be a thing of the past. This is especially true in collaboration applications–the kind project managers and work groups use.
Collaboration tools - how to start a collaboration
Showing places » hallenprojekt.de | Neue Orte für neues Arbeiten. Kickstarter. Claroline . NET - Home. Intelligence collective. World Café. Think of All The People.
---