In English 2011
Global winds could explain record rains, tornadoes. Two talks at a scientific conference this week will propose a common root for an enormous deluge in western Tennessee in May 2010, and a historic outbreak of tornadoes centered on Alabama in April 2011.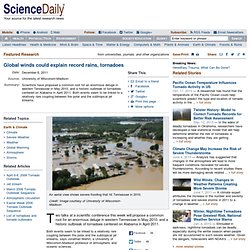 Both events seem to be linked to a relatively rare coupling between the polar and the subtropical jet streams, says Jonathan Martin, a University of Wisconsin-Madison professor of atmospheric and oceanic sciences. But the fascinating part is that the change originates in the western Pacific, about 9,000 miles away from the intense storms in the U.S. midsection, Martin says. The mechanism that causes the storms originates during spring or fall when organized complexes of tropical thunderstorms over Indonesia push the subtropical jet stream north, causing it to merge with the polar jet stream. The subtropical jet stream is a high-altitude band of wind that is normally located around 30 degrees north latitude.
Videos. Evoeco : Evolution articles, jobs and information. Environment. "For the global South, and especially Africa, environmental issues are not a luxury.
Arresting the world's warming and protecting and restoring our natural systems are issues of life and death for much of the world's population" 2004 Nobel Peace Laureate Wangari Maathai. National Oceanic and Atmospheric Administration. Center for Science in the Earth System. Welcome to the publications directory for the Climate Impacts Group.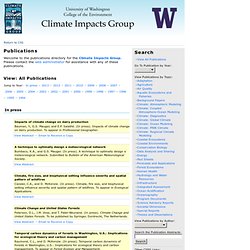 Please contact the web administrator for assistance with any of these publications. Jump to Year: In press In press Impacts of climate change on dairy production Bauman, Y., G.S. The Global Campaign for Climate Action : The Global Campaign for Climate Action. Top Climate News Brazil strips protections from 5.2 million hectares of land Brazil might be falling back into land use policies that sacrifice the long-term benefits of forests for the immediate gains of industry.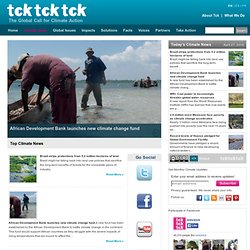 Read more » African Development Bank launches new climate change fund. Arctic Report Card. Climate Change: Vital Signs of the Planet. The Energy Risk Conspiracy. Environment news and global warming articles from New Scientist - New Scientist Environmen. Cookies on the New Scientist website close Our website uses cookies, which are small text files that are widely used in order to make websites work more effectively.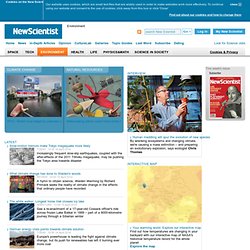 To continue using our website and consent to the use of cookies, click away from this box or click 'Close' Find out about our cookies and how to change them. Video. Atlas of Our Changing Environment.
---