ART 2.0
Pékin Underground (le documentaire)
Here it is, folks! Annika's very first how-to video. Enjoy!
How-To with Annika: How to Pick Up a Chicken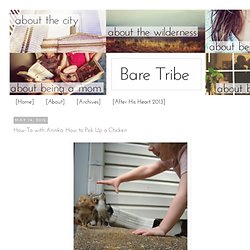 Live 2.0 on Vimeo
Cookie Monster covers "Call Me Maybe"
Jeremiah McDonald - Home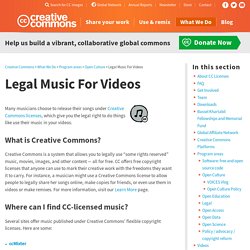 Many musicians choose to release their songs under Creative Commons licenses, which give you the legal right to do things like use their music in your videos. What is Creative Commons? Creative Commons is a new system, built upon current copyright law, that allows you to legally use "some rights reserved" music, movies, images, and other content — all for free.
Haïlé - Come Together (Cover)
STREET ART TAPE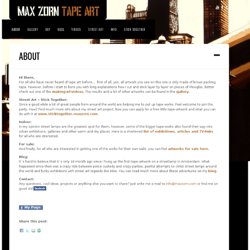 Hi there, For all who have never heard of tape art before… first of all, yes, all artwork you see on this site is only made of brown packing tape, however, before I start to bore you with long explanations how I cut and stick layer by layer on pieces of Plexiglas, better check out one of the making-of-videos . The results and a lot of other artworks can be found in the gallery . Street Art – Stick Together: Since a good while a lot of great people from around the world are helping me to put up tape-works.
Les plus belles larmes de la peinture…La représentation des larmes dans la peinture est un sujet empli d'émotions qui touche au cœur. Quelques artistes se sont intéressés à ce thème autant pour exprimer la tristesse que pour montrer leur virtuositéBeaucoup de femmes en pleurs, dans la peinture sont les fameuses vierges de douleur. Quelques larmes au coin des yeux ou sur la joue et tout est dit…
Les plus belles larmes de la peinture ~ ENIGM-ART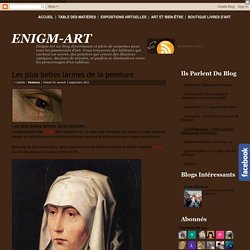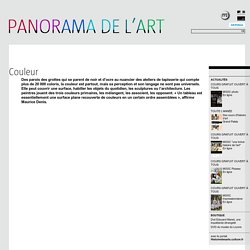 Page d'accueil [Accesskey '1'] Page aide [Accesskey '2'] Aller au contenu [Accesskey '3'] Recherche [Accesskey '4'] Couleur Des parois des grottes qui se parent de noir et d'ocre au nuancier des ateliers de tapisserie qui compte plus de 20 000 coloris, la couleur est partout, mais sa perception et son langage ne sont pas universels. Elle peut couvrir une surface, habiller les objets du quotidien, les sculptures ou l'architecture.
Couleur
CINEMA
God's Eye View on Vimeo
Cultura - Scarlett impone el Johanssoning - Ver vídeo online
reptoduction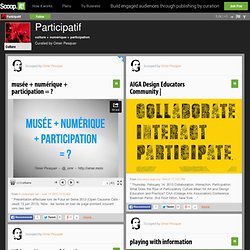 Participatif
"* The PCF -The Public Catalogue Fondation - was launched in 2003. It is a registered charity and is based in London. It has a network of researchers and photographers working across the country from the Channel Islands to Northern Ireland."
À l'occasion de sa quatrième édition, Spectaculaire proposait une journéee professionnelle aux exposants participants, le 23 septembre dernier. Omer Pesquer et moi-même avons été invités à intervenir au cours d'une matinée de conférences sur les nouveaux usages liés au numérique dans la culture. Je vous propose une restitution de notre intervention qui était une rapide introduction au web participatif dans les différents domaines de la culture, remaniée ici pour être adaptée au format blog. Le contenu de cette présentation est volontairement très pédagogique car il s'adresse à des publics peu ou pas au fait des dispositifs participatifs, donc je compte sur la compréhension des lecteurs initiés, qui ne découvriront pas forcément grand chose. Disclaimer : cet article a été rédigé avant que j'intègre le musée du quai Branly.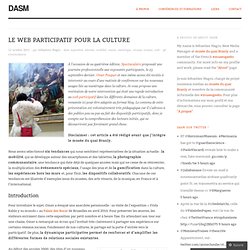 SARKO SALE GROS CON !
The man who lived on his bike
The Digger: A snow shoveling FPS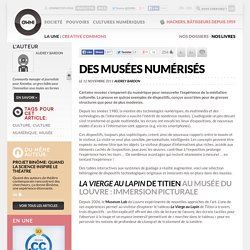 Certains musées s'emparent du numérique pour renouveler l'expérience de la médiation culturelle. La preuve en quinze exemples de dispositifs, conçus aussi bien pour de grosses structures que pour de plus modestes. Depuis les années 1980, la montée des technologies numériques, du multimédia et des technologies de l'information a suscité l'intérêt de nombreux musées. L'audioguide un peu désuet s'est transformé en guide multimédia, les écrans ont envahi les lieux d'expositions, de nouveaux modes d'accès à l'information sont apparus (e.g. via les smartphones).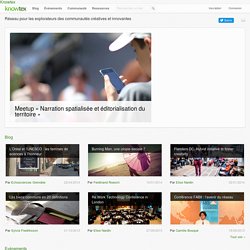 Knowtex Knowtex Connexion
le Jour le Plus Court : la 1er fête du court métrage
2011
ANAMORPHOSE
SLICED on Vimeo
PERCEPTION
Les répliques cultes de Films - Partie 1
Compilation de phrases et répliques cultes
VJ FRANCE
24 logiciels VJ's pour Mac
What's new? What is EffecTV? EffecTV is a real-time video effector. You can watch TV or video through amazing effectors. Effects (screenshots) ... new effect
EffecTV: Index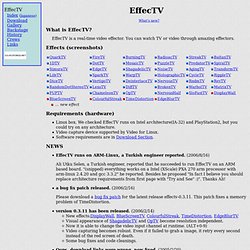 Charlie Mars recording mixes in GrandVJ