Cinema
Κατάλογος ελληνικών ταινιών 1906 έως σήμερα - Page 8
unnamed pearl
Classic Cinema Online - Home
Watch movies | Free movies to Watch
The Incredible Burt Wonderstone: When a street magician's stunts begins to make their show look stale, superstar magicians Burt Wonderstone and Anton Marvelton look to salvage on their act - and their friendship - by staging their own daring stunt. G.I. Joe: Retaliation: The G.I.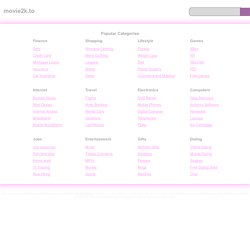 Watch movies online for free movie download at movie2k.to
Free Movies & Documentaries - Movies Found Online - Watch free streaming films online (incl. public domain)
Watch Documentaries Online. | Promote Documentary Films. Promote Consciousness. Promote Humanity | Online Film Festival
Cine Foundation International - Home
Home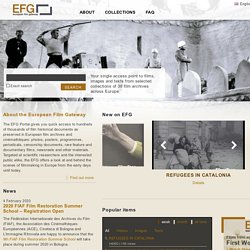 European Film Gateway
The EFG Portal gives you quick access to hundreds of thousands of film historical documents as preserved in European film archives and cinémathèques: photos, posters, programmes, periodicals, censorship documents, rare feature and documentary films, newsreels and other materials. Targeted at scientific researchers and the interested public alike, the EFG offers a look at and behind the scenes of filmmaking in Europe from the early days until today. Find out more
Europa Film Treasures, the treasures from European Film Archives
The Film Journal...Passionate and informed film criticism from an auteurist perspective.
Editor's Note: A brief leave of absence - by Rick Curnutte read>> Director Retrospective: Richard Fleischer Follow Him Quietly: Richard Fleischer and the Consideration of Metteurs-en-scène - by Zach Campbell read>> The Pan in Richard Fleischer's Early Crime Thrillers - by Michael E.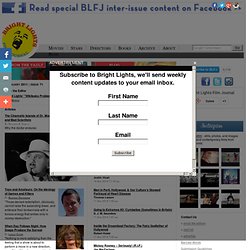 The Man in Grey (Leslie Arliss, 1943) | watch » One of the great Gainsborough melodramas, in the longer UK cut, on the always accommodating (if sometimes only temporarily) YouTube. Margaret Lockwood is as "wicked" here as she is in Wicked Lady.
February 2011 | Issue 71
affiches de cinema toutes époques, tous formats, décoration, elke sommer, films anciens ou récents, design, alain delon, photos d'actrices et acteurs, rita hayworth, dossiers de presse, memorabilias, synopsis.
Offscreen.com :: Volume 15, Issue 1 (Tarkovsky Redux) :: January 2011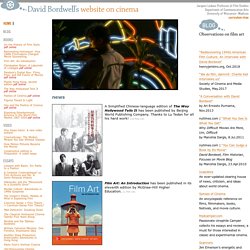 news A Chinese edition of Film History: An Introduction has been published by Peking University Press. The translator is Fan Bei. Thanks to Luo Jin and Zhou Bin as well!
davidbordwell.net : home
Unspoken Cinema
Εταιρεία παραγωγής για ταινίες μικρού μήκους
News
Senses of Cinema
Editorial, Issue 70 | March 2014 Welcome to Issue 70 of our journal Readers may find it odd at first to see Federico Fellini's name appear as an author on the content's page of our current issue – perhaps for no other reason than the fact the Italian director passed away in 1993, Key Moments in Australian Cinema
The Criterion Collection