China & foreign policy
New Visa Regulations to Take Effect in June | The World of Chinese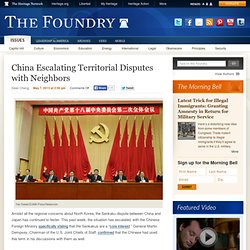 China Escalating Territorial Disputes with Neighbors
Yao Dawei/ZUMA Press/Newscom Amidst all the regional concerns about North Korea, the Senkaku dispute between China and Japan has continued to fester. This past week, the situation has escalated, with the Chinese Foreign Ministry specifically stating that the Senkakus are a "core interest."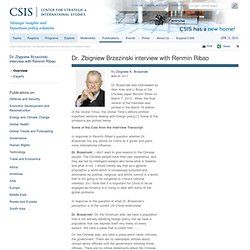 Dr. Zbigniew Brzezinski interview with Renmin Ribao
Dr. Brzezinski was interviewed by Wen Xian and Li Boya of the Chinese paper Renmin Ribao on March 7, 2013.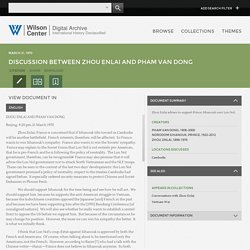 Wilson Center Digital Archive - Pale Moon
Zhou Enlai: France is concerned that if Sihanouk tilts toward us Cambodia will be another battlefield. French interests, therefore, will be affected. So France wants to win Sihanouk's sympathy.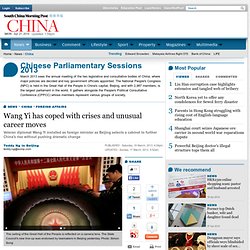 New foreign minister Wang Yi has not only established himself as a diplomat who can defuse a crisis, but also as an official able to cope with unusual career moves. Many observers in Taiwan and on the mainland were surprised in 2008 when Wang, then deputy foreign minister, was appointed head of the State Council's Taiwan Affairs Office.
Wang Yi has coped with crises and unusual career moves
20100405 - Bondiguel Kellner.pdf (Objet application/pdf)
La Chine et sa nouvelle posture diplomatico-militaire
Et alors, pas un mot sur le principe de non-ingérence ? :D by alcide Jan 2
"Dans l'impossibilité de procéder de manière uniforme à la modernisation de sa gigantesque armée, la Chine a opté pour une mise à niveau d'une partie de ses forces, 80 % d'entre elles restant encore équipées de matériels plutôt rustiques. " by alcide Jan 2
Logistique : " « Les régions militaires n'ont pas de vrais systèmes de communication qui les connectent, confie un spécialiste. Tout passe par Pékin et l'on imagine les problèmes de coordination que cela peut poser. » L'encadrement très politique de l'armée reste également un frein à la souplesse et à l'initiative tactique requises par le combat moderne. " by alcide Jan 2
China says talks are way forward on Iran nuclear issue
Wednesday, 23 March 2011 06:00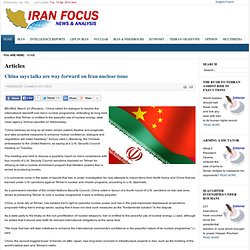 China to provide Rs 1.5 bln to Sri Lanka to construct auditorium
COLOMBO: China has pledged about 1.56 billion rupees in grant to construct a state-of-the-art auditorium complex at Sri Lanka's Military Academy. Visiting Chinese defence minister General Liang Guanglie pledged Yuan 75 million towards the project in the central district of Diyatalawa.
Google cède aux pressions de Pékin | www.rfi.fr
En mars dernier, le coup de sang de Google contre la censure chinoise avait fait beaucoup de bruit. Pour ne plus se plier aux exigences de Pékin, le groupe américain avait fait rediriger automatiquement les utilisateurs chinois vers son site de Hong Kong, un moteur de recherche non censuré. Mais la République populaire menace de retirer à Google sa licence d'exploitation dont l'échéance arrive à la fin du mois. Pour poursuivre ses activités dans le pays, le géant de l'Internet fait donc marche arrière.
Chinese think tank also serves as spy arm
When Vice President Joseph R.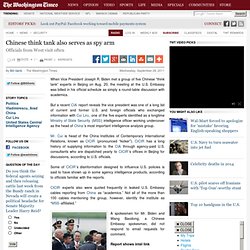 Why did China acquiesce to UN resolution1973
Sino-Norwegian relations: time for Beijing to move on | Sinocentric
Something fishy in Sino-Norwegian trade relations | Sinocentric
Seoul Arrests Alleged N. Korean Spy
The official, Hwang Jang-yop, 87, was found dead in his bathtub here 10 days ago. News reports said that the authorities had concluded that he had died a day earlier after suffering heart failure while bathing, and then inhaling water. He lived under 24-hour government security, but still locked himself in every day for safety, so his body was not found for half a day, the reports said.
China Brief - The Jamestown Foundation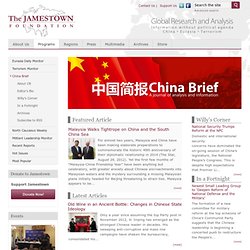 Efforts to Strengthen Sino-Mongolian Relations in Fall 2013
Linda Jakobson (JakobsonLinda) sur Twitter
M. Taylor Fravel | International Security, China, and East Asia