China & foreign policy
New Visa Regulations to Take Effect in June | The World of Chinese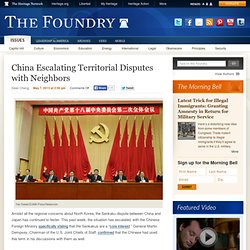 China Escalating Territorial Disputes with Neighbors
Yao Dawei/ZUMA Press/Newscom Amidst all the regional concerns about North Korea, the Senkaku dispute between China and Japan has continued to fester. This past week, the situation has escalated, with the Chinese Foreign Ministry specifically stating that the Senkakus are a "core interest."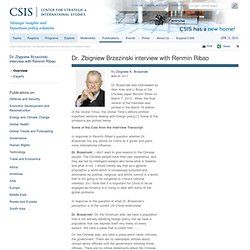 Dr. Zbigniew Brzezinski interview with Renmin Ribao
Dr. Brzezinski was interviewed by Wen Xian and Li Boya of the Chinese paper Renmin Ribao on March 7, 2013. When the final version of the interview was printed in the March 19 edition of the Global Times, the Global Time's editors omitted important sections dealing with foreign policy.[1] Some of the omissions are printed below. Some of the Cuts from the Interview Transcript In response to Renmin Ribao's question whether Dr. Brzezinski has any advice for China as it grows and gains more international influence: Dr.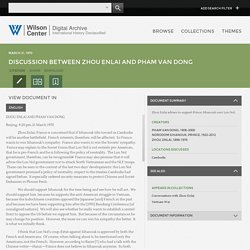 Wilson Center Digital Archive - Pale Moon
Zhou Enlai: France is concerned that if Sihanouk tilts toward us Cambodia will be another battlefield. French interests, therefore, will be affected. So France wants to win Sihanouk's sympathy.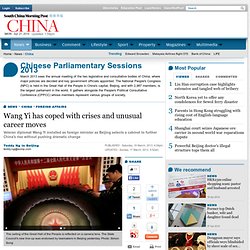 New foreign minister Wang Yi has not only established himself as a diplomat who can defuse a crisis, but also as an official able to cope with unusual career moves. Many observers in Taiwan and on the mainland were surprised in 2008 when Wang, then deputy foreign minister, was appointed head of the State Council's Taiwan Affairs Office. The move, the first time someone with extensive foreign policy experience had been put in charge of Taiwan affairs, triggered concerns in Japan that better communication between the Taiwan Affairs Office and the foreign ministry was aimed at undermining the relationship between Tokyo and Taipei. Wang had previously served as ambassador to Japan. Some pundits said the move reflected Beijing's increased willingness to accommodate Taiwan's desire for a greater international presence, a complicated issue for Beijing.
Wang Yi has coped with crises and unusual career moves
20100405 - Bondiguel Kellner.pdf (Objet application/pdf)
La Chine et sa nouvelle posture diplomatico-militaire
China says talks are way forward on Iran nuclear issue
Wednesday, 23 March 2011 06:00 BEIJING, March 23 (Reuters) - China called for dialogue to resolve the international standoff over Iran's nuclear programme, reiterating its long-held position that Tehran is entitled to the peaceful use of nuclear energy, state news agency Xinhua reported on Wednesday. "China believes as long as all sides remain patient, flexible and pragmatic and take proactive measures to enhance mutual confidence, dialogue and negotiation will make headway," Xinhua cited Li Baodong, the Chinese ambassador to the United Nations, as saying at a U.N. Security Council meeting on Tuesday. The meeting was held to discuss a quarterly report on Iran's compliance with four rounds of U.N.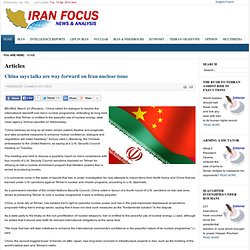 China to provide Rs 1.5 bln to Sri Lanka to construct auditorium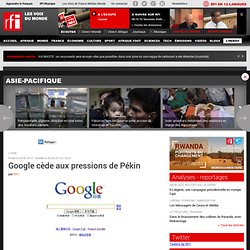 Google cède aux pressions de Pékin | www.rfi.fr
Le groupe américain Google ne redirigera plus les internautes chinois vers son portail de Hong Kong, qui n'est pas soumis aux mêmes lois sur la censure. La licence d'exploitation de Google en Chine expire mercredi 30 juin 2010 et Google souhaite apaiser les tensions avec Pékin pour préserver ses activités dans le pays. En mars dernier, le coup de sang de Google contre la censure chinoise avait fait beaucoup de bruit. Pour ne plus se plier aux exigences de Pékin, le groupe américain avait fait rediriger automatiquement les utilisateurs chinois vers son site de Hong Kong, un moteur de recherche non censuré. Mais la République populaire menace de retirer à Google sa licence d'exploitation dont l'échéance arrive à la fin du mois.
Chinese think tank also serves as spy arm
When Vice President Joseph R. Biden met a group of five Chinese "think tank" experts in Beijing on Aug. 20, the meeting at the U.S. Embassy was billed in his official schedule as simply a round-table discussion with academics. But a recent CIA report reveals the vice president was one of a long list of current and former U.S. and foreign officials who exchanged information with Cui Liru, one of the five experts identified as a longtime Ministry of State Security (MSS) intelligence officer working undercover as the head of China's most important intelligence-analysis group.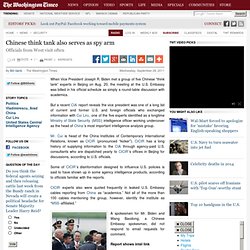 Why did China acquiesce to UN resolution1973
Sino-Norwegian relations: time for Beijing to move on | Sinocentric
Something fishy in Sino-Norwegian trade relations | Sinocentric
Seoul Arrests Alleged N. Korean Spy
China Brief - The Jamestown Foundation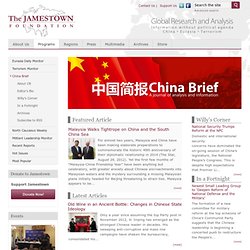 Old Wine in an Ancient Bottle: Changes in Chinese State Ideology March 20, 2014 Only a year since assuming the top Party post in November 2012, Xi Jinping has emerged as the strongest Chinese leader in decades. His sweeping anti-corruption and mass line campaigns have shaken the bureaucracy, consolidated his... Category: China Brief, Home Page, China and the Asia-Pacific, China, Domestic/Social, Elite
Linda Jakobson (JakobsonLinda) sur Twitter
M. Taylor Fravel | International Security, China, and East Asia