Body scanner
At the Airport - Scanner or Pat-Down?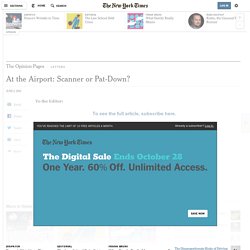 To the Editor:
Lawmakers Move to Eject Nude Scanners From New York Airports | Threat Level | Wired.com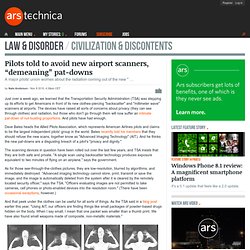 Just over a week ago, we learned that the Transportation Security Administration (TSA) was stepping up its efforts to get Americans in front of its new clothes-piercing "backscatter" and "millimeter wave" scanners at airports. The devices have raised all sorts of concerns about privacy (they can see through clothes) and radiation, but those who don't go through them will now suffer an intimate pat-down of nut-busting proportions . And pilots have had enough.
Pilots told to avoid new airport scanners, "demeaning" pat-downs
Privacy group sues TSA over scanners Homeland Security chief meets with travel industry group Pilots and passengers are unhappy with security measures Some groups urge people not to fly or to opt for pat-downs
Growing backlash against TSA body scanners, pat-downs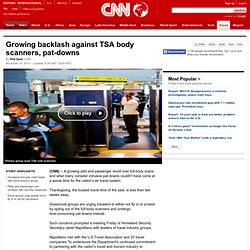 Germany:Body Scanner useless
Airline Passenger Sues TSA
by Steve Ragan - Jan 10 2011, 06:00 Vodafone investigated by Australian Privacy Commissioner The Australian Privacy Commissioner will be investigating Vodafone after reports of a data breach hit the Australian media this weekend.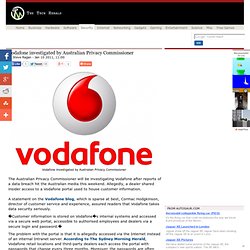 Vodafone investigated by Australian Privacy Commissioner
Judge blocks release of body scanner images
House Committee Asks Professor to Censor Facebook Remarks - Digits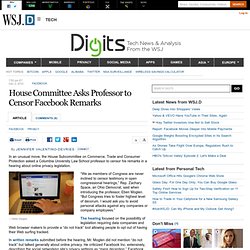 By Jennifer Valentino-DeVries In an unusual move, the House Subcommittee on Commerce, Trade and Consumer Protection asked a Columbia University Law School professor to censor his remarks in a hearing about online privacy legislation. Getty Images
Members of Congress Exempt From TSA AIT Full Body Scanners
TSA: Despite objections, all passengers must be screened
Anger at invasive airport screenings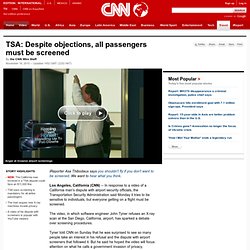 privacy expectations in Airport screenings
compilation of all stories
tp://www.wired.com/threatlevel/2010/11/scan-ban/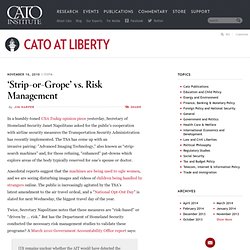 In a humbly-toned USA Today opinion piece yesterday, Secretary of Homeland Security Janet Napolitano asked for the public's cooperation with airline security measures the Transportation Security Administration has recently implemented.
'Strip-or-Grope' vs. Risk Management
Nude model or groping victim?
(Credit: Jonathan Corbett/YouTube Screenshot; Chris Matyszczyk/CNET)
Court to TSA: Hey, what about your nude scanners | Technically Incorrect
scanner tested in Germany
Controversial "naked" body scanners currently being tested at Hamburg's airport are constantly malfunctioning due to folds in passengers' clothing, broadcaster NDR reported on Tuesday.
'Naked' scanners fooled by creased clothing
airport incidents pat down
scanned images saved retrieved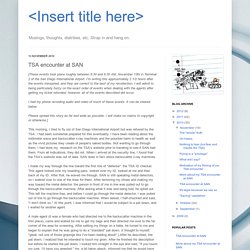 [These events took place roughly between 5:30 and 6:30 AM, November 13th in Terminal 2 of the San Diego International Airport. I'm writing this approximately 2 1/2 hours after the events transpired, and they are correct to the best of my recollection.
Opinion
Two months ago, Homeland Security Secretary Janet Napolitano announced that the federal stimulus legislation would pay for the purchase of hundreds of controversial full-body scanners. "Through the Recovery Act, we are able to continue our accelerated deployment of enhanced technology as part of our layered approach to security at airports nationwide," Napolitano said at the time.
Growing Backlash Against TSA's 'Naked Strip Searches' - Tech Talk
Everything you need to know about the security takeover and why airport oppression is already being rolled out on the streets
TSA Groping Out Of Control
pilot to avoid airport scanners
TSA employee arrested for assault aft
With all the fuss over full body scanners in airports, I did not expect this. According to The Smoking Gun, an airport security officer has been arrested after assaulting a co-worker.
TSA to remove controversial X-ray scanners
TSA demands testicular fondling as an alternative to naked scanners
The Atlantic 's Jeffrey Goldberg has been experimenting with declining the whole-body TSA scanners at US airports -- and now things have gotten more intimate. The TSA has initiated a new, more humiliating pat-down procedure for people who refuse to show screeners their genitals on the naked scanners -- one that involves testicular cupping:
By Mail Foreign Service UPDATED: 16:03 GMT, 29 October 2010
Airport security check so invasive it will 'become a moral issue'
I'm willing to assume the position
World's Pilots Reject Naked Body Scanners Over Radiation Danger, Privacy Breach
Body Scanner Incident Report
TSA Changes Pat-Down Procedure at Airports
Body scanners unveiled at JFK Airport; Homeland Security Sect. Janet Napolitano doesn't volunteer
Life under digits ? IPrivacy4IT ? Clarinette's blog
Feds admit storing checkpoint body scan images | Privacy Inc.
Airport incidents with body scanners