Beauty
Home Spa Recipe Treatments - Natural Beauty Recipes at WomansDay. Who says you have to spend a fortune on pricey organic beauty products to reap the benefits of nature's best ingredients?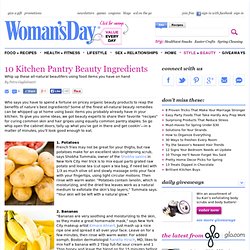 Some of the finest all-natural beauty remedies can be whipped up at home using basic items you probably already have in your kitchen. To give you some ideas, we got beauty experts to share their favorite "recipes" for curing common skin and hair gripes using equally common pantry staples. So go whip open the cabinet doors, tally up what you've got in there and get cookin'—in a matter of minutes, you'll look good enough to eat. Natural Beauty Remedies - DIY Beauty. Want to banish undereye circles in the blink of an eye?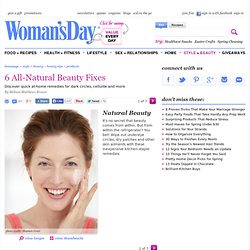 Pass the parsley. It's rich in vitamin K, a nutrient that, when applied topically, reduces blood flow to the eye area—a key factor in the formation of circles, says Kansas City, Missouri—based dermatologist Audrey Kunin, MD, founder of DERMAdoctor. "Over time, the fatty layer of skin under your eyes thins out, which, in turn, makes underlying blood vessels more visible," she explains. 5 Relaxing, Rejuvenating Bath Recipes - Perfect Alternatives to Bubbles. So, by now you've probably come to terms with bubble baths not necessarily being the healthiest , most nourishing alternative for your skin.
C'est la vie, crunchy people. C'est la vie. Life goes on, and in much more luxurious, relaxing ways. Here are your 5 ideas to turn your bathtime into a grown-up spa fit for a queen. Banish Blemishes, Fight Flaky Skin and 8 Other Ways to Get Gorgeous Skin This Summer! A Splendid Assemblage. DIY Lengthening Mascara. There are oodles of haircare products available.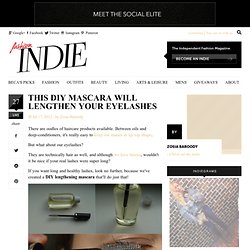 Between oils and deep-conditioners, it's really easy to keep our manes in tip top shape. But what about our eyelashes? They are technically hair as well, and although we love falsies, wouldn't it be nice if your real lashes were super long? If you want long and healthy lashes, look no further, because we've created a DIY lengthening mascara that'll do just that! Secrets learned at makeup artist school.
You could say that I have a love/hate relationship with makeup.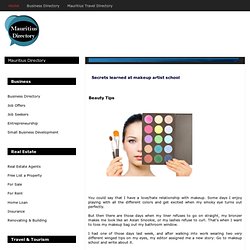 Some days I enjoy playing with all the different colors and get excited when my smoky eye turns out perfectly. But then there are those days when my liner refuses to go on straight, my bronzer makes me look like an Asian Snookie, or my lashes refuse to curl. That's when I want to toss my makeup bag out my bathroom window. I had one of those days last week, and after walking into work wearing two very different winged tips on my eyes, my editor assigned me a new story: Go to makeup school and write about it. Want to see the best techniques I picked up without spending the thousands of dollars (and crazy amount of time) it takes to go to makeup school yourself?
Homemade Face Mask Recipe - Homemade Facial Masks. 10 of the Best Drug Store Beauty Buys. I have an apology to make: I used to be one of those girls behind the makeup counter of a big, fancy department store selling you over-priced beauty products.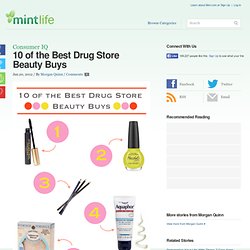 While I won't say which brand I worked for, I can tell you that my uniform consisted of all black and way too much makeup. Hey, it was the 90's, after all. How to Make Your Own Beauty Products from Scratch | Diy on GOOD. Let's keep things simple this week.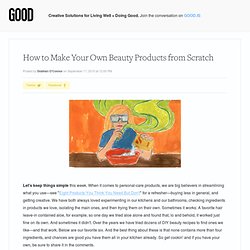 When it comes to personal-care products, we are big believers in streamlining what you use—see "Eight Products You Think You Need But Don't" for a refresher—buying less in general, and getting creative. We have both always loved experimenting in our kitchens and our bathrooms, checking ingredients in products we love, isolating the main ones, and then trying them on their own.
Sometimes it works: A favorite hair leave-in contained aloe, for example, so one day we tried aloe alone and found that, lo and behold, it worked just fine on its own. And sometimes it didn't. Over the years we have tried dozens of DIY beauty recipes to find ones we like—and that work. » 6 super-weird beauty tricks that work wonders The Beauty Gypsy. Shave and Save on Women's Razors -- Savings Experiment.
Experts show you how to cut back on the costs of women's razors.
Women's razors can come with a variety of features -- multiple blades, gel strips, etc. -- many of which also increase their cost. Every woman is looking for a close, comfortable shave, but which products offer the best blades for your buck? These days, drugstore shelves are lined with various models that come with extra conveniences and added moisture strips, but the truth is, almost all razors do the exact same thing. Gift Ideas for Poor Creative Souls (21) Posted by: Cathy on Oct 06, 2012 Tagged in: Untagged I saw this idea a few times on the Martha Stewart site and I would really like to make these as stocking stuffers this Christmas.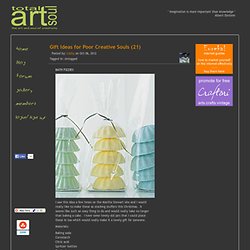 Exposed muscle halloween makeup. It is the first week of October!!!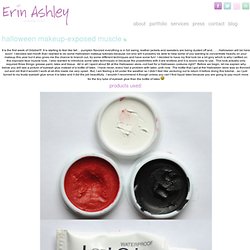 It is starting to feel like fall… pumpkin flavored everything is in full swing, leather jackets and sweaters are being dusted off and…….Halloween will be here soon! I decided last month that I wanted to do some Halloween makeup tutorials because not only will it possibly be able to help some of you wanting to concentrate heavily on your makeup this year but it also gives me the chance to branch out, try some different techniques and have some fun! I decided to have my first look be a bit gory which is why I settled on this exposed face muscle look.
8 Easy Home Remedies for Acne - Skin and Beauty Center. The ingredients to clear acne may be as close as your kitchen cabinet. Homemade acne treatments include facial masks made from lemon juice, cucumber, and honey. You might be surprised to find that you already have several acne treatments right in your own home — and in your kitchen of all places. DIY beauty treatments you can make in your own kitchen | Makeover. Most girly girls dream of a collection of lotions and potions with fancy French labels, but a trip to the produce aisle can be a super natural way to treat your skin free from scary science lab ingredients. Equally exciting, making your own sugar scrub is a heck of a lot easier on your wallet than buying one. Most of these beauty recipes below are cheap, cheap, cheap, but the question is: would you be up for smearing banana on your face or bathing in egg whites? 1. Prime Venom - Lip Plumper with a Matte Finish.
Plump, prime and condition your lips with DuWop's newest addition, Prime Venom. DuWop has created the first matte finish plumping balm infused with the now famous Lip Venom formula. Prime Venom is a satin matte lip balm that leaves your lips supple and conditioned while acting as a primer to help lipsticks go on smoother and last longer. Now you can have the venom tingle and plumping even when you don't want the shine. 5 Natural Ways to Remove Blackheads. You know how, if your pants fall down just a little tiny bit when you're leaning over and a millimeter of your crack shows?
A MILLIMETER? Everyone can see that. Everyone sees it. Even the men in the space station. How to Get Rid of Acne: 16 steps (with pictures) Treating at HomeTreating at a Dermatologist's or SpaTreating Acne with Lifestyle Changes Edited by Troy, Tom Viren, Ben Rubenstein, Alison King and 258 others Most people find themselves suffering from an acne outbreak at some point, whether it's due to hormones or stress. Contrary to popular belief, pimples don't necessarily mean your skin is dirty or unclean — in fact, over-cleansing can irritate your skin even more.
Homemade Hair Treatments - At Home DIY Hair Treatments. A NEW TWIST. Acne Treatment | X Out™ Acne Wash-In Treatment. Homemade Tips — Organic Makeup and Skin Care. "One Good Thing" by Jillee: Homemade Coconut Milk and Coconut Milk SHAMPOO (Revised) How to Grow Your Hair | hiphopsideproject - StumbleUpon. YOU ASKED FOR IT… - StumbleUpon. - StumbleUpon. 18 Cult-Classic Beauty Products. How to Get Pale Skin: 15 steps. 9 essentials to building a makeup kit. | Becoming Beautiful. Wax On, Wax Off - Homemade Hair Removal part 1 - StumbleUpon. DIY Makeup-Organizing Magnetic Board. Manicure Mondays - Essie LuxeEffects & Fab Fatale. Makeup Savvy: Dazzle Dust Nail Tutorial - StumbleUpon. D.I.Y. Curls // How To Rag Roll Your Hair - A Beautiful Mess - StumbleUpon. Hair Bow Inspiration - StumbleUpon. Sea of Shoes: HAIR HOW-TO - StumbleUpon. Tag Archive for &wedding hairstyles& - The Beauty Department: Your daily dose of pretty. - StumbleUpon.
PRIM + PROPER - StumbleUpon. How to Make Your Own Beauty Products from Scratch - Health - GOOD - StumbleUpon. All Natural Homemade Skincare Recipes &Face Masks | Awakened Aesthetic - StumbleUpon. The PolishAholic: Couple more splatter manis! Vitamin HB | Luscious Lip Scrub! & huda beauty - StumbleUpon. - StumbleUpon. Home Made Pore strips - without gelatin or eggs | LUUUX - StumbleUpon. Summer Hair Braid Trends - StumbleUpon. Out of the ordinary Beauty Tips that work | Cher Cabula's Mindbox. Homemade Acne Masks.Natural Homemade Beauty Recipes. How to Use Honey to Remove Whiteheads. How to Apply Liquid Eyeliner - How to Apply Red Lipstick at WomansDay.com - Womans Day - StumbleUpon. Cult of Pretty - A Cult Beauty Products Blog. What Guys Secretly Think of Your Hair and Makeup - Cosmopolitan - StumbleUpon. Fun Friday - Bandanas - asuyeta [ah-soo-yeh-tah] clothes &accessories. handmade with love. - StumbleUpon.
Design Crush & Tipped Out - StumbleUpon. GUEST POST - thebeautydepartment.com - StumbleUpon.
---
em.. Dec 3 2012

This is a fabulous pearltree you have here

pdk117 Aug 7 2012

I am greatful and flattered to b part of the team
---