Banque d'images
50 banques d'images gratuites (et légales)... Si vous aimez le design et que vous pratiquez votre passion dans le plus strict respect des lois, alors les banques d'images gratuites, ça doit vous connaitre.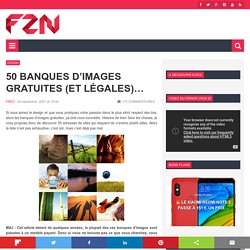 Histoire de bien faire les choses, je vous propose donc de découvrir 50 adresses de sites qui risquent de s'avérer plutôt utiles. Alors la liste n'est pas exhaustive, c'est sûr, mais c'est déjà pas mal. MAJ : Cet article datant de quelques années, la plupart des ces banques d'images sont passées à un modèle payant. Free photos for infinite ambitions | free photos for infinite ambitions.
BIPS : banque d'images pédagogiques à télécharger gratuitement. OpenClipArt. Download Free Vector Files: Silhouettes, Outlines, Cutouts, Shapes. Freebies. Welcome to the Freebies Page.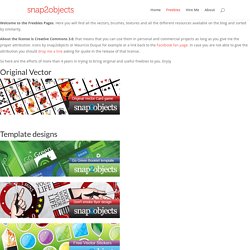 Here you will find all the vectors, brushes, textures and all the different resources available on the blog and sorted by similarity. About the license is Creative Commons 3.0, that means that you can use them in personal and commercial projects as long as you give me the proper attribution. Icons by snap2objects or Mauricio Duque for example or a link back to the Facebook fan page. In case you are not able to give the attribution you should drop me a line asking for quote in the release of that license.
Dezignus.com - vector,icons,brushes,textures, wallpapers,anime,girls,tutorials. Free Vector Art - Download Free Vector Art Graphics at Vecteezy! Médiathéque Ecoemballages. The Commons. Free Vectors, Free Vector Art, Vector Graphics - Vectorportal. Images libres de droit. Looking for free images?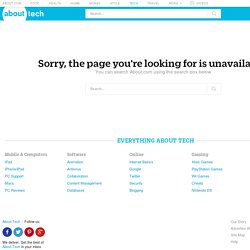 Here are thirty sites where you can find completely free images, available for use on your blog or web site. All of these sites offer royalty free images for your use (be sure to check each site for specific guidelines that they request you follow in order to use their images). 1. MorgueFile MorgueFile is a fantastic resource for free images; hundreds of free high resolution digital stock photographs and reference images for either corporate or public use.
Portail Images Vectorielles. Banque de liens vers des sites de photos gratuites, libres de droit, logothèques, sites de didacticiels etc. Les images que vous trouverez sur Internet (via google par exemple) sont en résolution écran (72 dpi), ce qui est insuffisant pour une imprimante.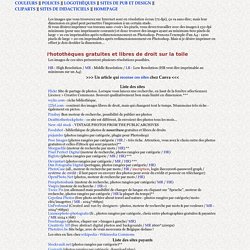 Si vous désirez imprimer vos travaux sans «voir» les pixels, vous devez travailler avec des images à 150 dpi minimum (pour votre imprimante) ou trouver des images ayant au minimum 600 pixels de large = 10 cm imprimables après redimensionnement en Photoshop. Prenons l'exemple d'un A4 : 1200 pixels de large = 20 cm imprimables après redimensionnement en Photoshop. Photothèques gratuites et libres de droit sur la toile Les images de ces sites présentent plusieurs résolutions possibles.
7 Image Search Tools That Will Change Your Life. By Maria Popova What martinis have to do with reverse art lookup and obscure German calendars from the 1990′s.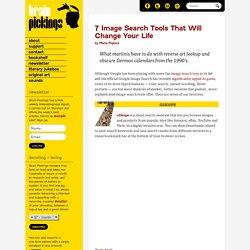 Although Google has been playing with some fun image search toys in its lab and the official Google Image Search has recently significantly upped its game, some of its most hyped features — color search, instant scrolling, hover preview — are but mere shadows of sleeker, better versions that geekier, more sophisticated image search tools offer. Here are seven of our favorites. oSkope is a visual search assistant that lets you browse images and products from popular sites like Amazon, eBay, YouTube and Flickr in a highly intuitive way. Pearltrees videos. 2TdA.jpg (Image JPEG, 898x850 pixels) - Redimensionnée (94. WorldImages. L'Institut des Images. Maurice Agulhon, Collège de France Ersilia Alessandrone Perona, Istituto piemontese per la Storia della Resistenza e della contemporanea, Turin, Italie Fabrice d'Almeida, Institut d'histoire du temps présent, Paris, France Anne-Claude Ambroise-Rendu, Université Paris X, France Antoine de Baecque, historien, France Pierre Barboza, Université Paris XIII, France.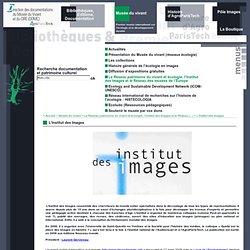 Galerie de pilllpat (agence eureka)
Multicolr Search Lab - Idée Inc. Qwiki. Agence photo de la Réunion des musées nationaux RMN - Banque d'images d'art, reproductions de tableaux, photothèque. Free Images - Free Stock Photos, free background images, royalty. Images libres de droit. Réunion des musées nationaux RMN. The leading free stock photography site. Images pour l'école. Coccinelle communePhoto Pierre Kessler, mai 2011 Coordination Mathias Treffot Les documents qui vous sont proposés ici sont regroupés en séries thématiques cohérentes, comportant habituellement de 12 à 48 photos.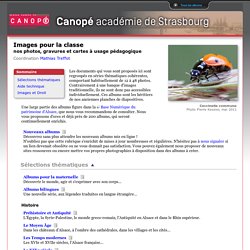 Contrairement à une banque d'images traditionnelle, ils ne sont donc pas accessibles individuellement. Ces albums sont les héritiers de nos anciennes planches de diapositives. Bibliothèque numérique mondiale. Bnf. Catalogue des albums photo. Education et image(s) FreePhotoSites.
---