Astronomy
Coordinates : 12 h 36 m 49.4 s , +62° 12′ 58″ The Hubble Deep Field The Hubble Deep Field (HDF) is an image of a small region in the constellation Ursa Major , constructed from a series of observations by the Hubble Space Telescope . It covers an area 2.5 arcminutes across, about one 24-millionth of the whole sky, which is equivalent in angular size to a 65 mm tennis ball at a distance of 100 metres.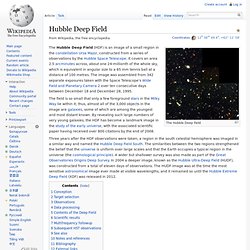 Hubble Deep Field
Astronomers / Cosmologists
Outer space
The boundaries between the Earth's surface and outer space, at the Kármán line , 100 km (62 mi) and exosphere at 690 km (430 mi). Not to scale. Outer space , or simply space , is the void that exists between celestial bodies , including the Earth . It is not completely empty, but consists of a hard vacuum containing a low density of particles: predominantly a plasma of hydrogen and helium , as well as electromagnetic radiation , magnetic fields , and neutrinos . Observations have now recently proven that it also contains dark matter and dark energy .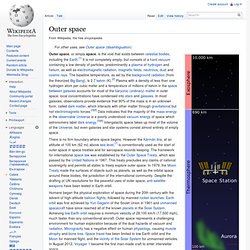 99942 Apophis ( pron.: / ə ˈ p ɒ f ɪ s / , previously known by its provisional designation 2004 MN 4 ) is a near-Earth asteroid that caused a brief period of concern in December 2004 because initial observations indicated a probability of up to 2.7% that it would strike the Earth in 2029. Additional observations provided improved predictions that eliminated the possibility of an impact on Earth or the Moon in 2029. However, a possibility remained that during the 2029 close encounter with Earth, Apophis would pass through a gravitational keyhole , a small region no more than about 800 m (half a mile) wide, [ 7 ] that would set up a future impact on April 13, 2036. This possibility kept the asteroid at Level 1 on the Torino impact hazard scale until August 2006, when the probability that Apophis would pass through the keyhole was determined to be very small.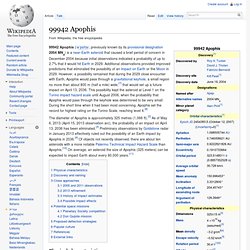 99942 Apophis
The Arecibo Observatory is a radio telescope in the municipality of Arecibo , Puerto Rico . This observatory is operated by SRI International , USRA and UMET , under cooperative agreement with the National Science Foundation . [ 2 ] [ 3 ] This observatory is also called the National Astronomy and Ionosphere Center , although "NAIC" refers to both the observatory and the staff that operates it. [ 4 ] The observatory's 1,000 ft (305 m) radio telescope is the world's largest single-aperture telescope.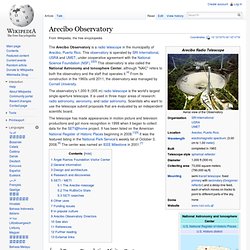 Arecibo Observatory
NASA
Coordinates : Vision mission for an interstellar precursor spacecraft by NASA. The National Aeronautics and Space Administration ( NASA ) is the agency of the United States government that is responsible for the nation's civilian space program and for aeronautics and aerospace research.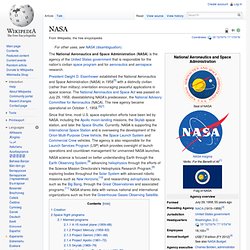 The Truth - Why Nasa Has Never Returned To The Moon Part 1