ARTISTS
La mort du fossoyeur ("The death of the gravedigger") by Carlos Schwabe is a visual compendium of symbolist motifs. Death and angels , pristine snow, and the dramatic poses of the characters all express symbolist longings for transfiguration "anywhere, out of the world." Symbolism was a late nineteenth-century art movement of French , Russian and Belgian origin in poetry and other arts. In literature, the style had its beginnings with the publication Les Fleurs du mal ( The Flowers of Evil , 1857) by Charles Baudelaire .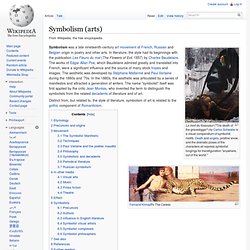 Children's literature
A mother reads to her children, depicted by Jessie Willcox Smith in a cover illustration of a volume of fairy tales written in the mid to late 19th century. Children's literature or juvenile literature includes stories, books, and poems that are enjoyed by and targeted primarily towards children. Modern children's literature is classified in different ways—by genre or by the intended age of the reader.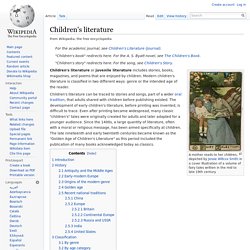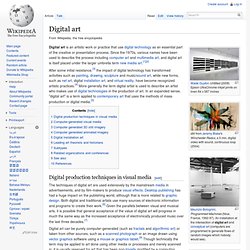 Digital art
Wade Guyton Untitled (2008) Epson UltraChrome inkjet prints on linen 84 x 587 inches Maurizio Bolognini , Programmed Machines (Nice, France, 1992-97). An installation at the intersection of digital art and conceptual art (computers are programmed to generate flows of random images which nobody would see).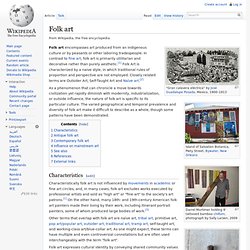 Darrel Mortimer holding 8' tattooed bamboo chillum; photograph by Sally Larsen, 2009 Detail of 17th century calendar stick carved with national coat of arms, a common motif in Norwegian folk art. Folk art encompasses art produced from an indigenous culture or by peasants or other laboring tradespeople. In contrast to fine art , folk art is primarily utilitarian and decorative rather than purely aesthetic. [ 1 ] Folk Art is characterized by a naive style, in which traditional rules of proportion and perspective are not employed. Closely related terms are Outsider Art, Self-Taught Art and Naïve art . [ 2 ]
Folk art
The Italian Renaissance was the earliest manifestation of the general European Renaissance , a period of great cultural change and achievement that began in Italy during the 14th century and lasted until the 16th century, marking the transition between Medieval and Early Modern Europe . The term Renaissance is in essence a modern one that came into currency in the 19th century, in the work of historians such as Jules Michelet and Jacob Burckhardt . Although the origins of a movement that was confined largely to the literate culture of intellectual endeavor and patronage can be traced to the earlier part of the 14th century, many aspects of Italian culture and society remained largely Medieval; the Renaissance did not come into full swing until the end of the century.
Italian Renaissance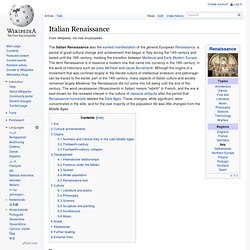 In art history , High Renaissance , is the period denoting the apogee of the visual arts in the Italian Renaissance . The High Renaissance period is traditionally taken to begin in the 1490s, with Leonardo's fresco of the Last Supper in Milan and the death of Lorenzo de' Medici in Florence , and to have ended in 1527 with the sacking of Rome by the troops of Charles V . This term was first used in German (Hochrenaissance) in the early nineteenth century, and has its origins in the "High Style" of painting and sculpture described by Johann Joachim Winckelmann . [ 1 ] Over the last twenty years, use of the term has been frequently criticized by academic art historians for oversimplifying artistic developments, ignoring historical context, and focusing only on a few iconic works. [ 2 ]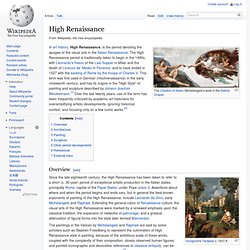 High Renaissance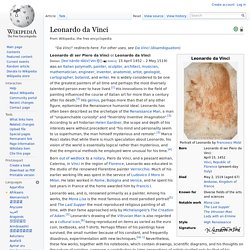 Signature of Leonardo da Vinci Leonardo di ser Piero da Vinci ( Italian pronunciation: [leoˈnardo da ˈvintʃi] pronunciation ) (April 15, 1452 – May 2, 1519, Old Style ) was an Italian Renaissance polymath : painter, sculptor, architect, musician, mathematician, engineer, inventor, anatomist, geologist, cartographer , botanist , and writer.
File:Última Cena - Da Vinci 5.jpg
Michelangelo
Michelangelo di Lodovico Buonarroti Simoni [ 1 ] (6 March 1475 – 18 February 1564), commonly known as Michelangelo ( Italian pronunciation: [mikeˈlandʒelo] ), was an Italian Renaissance sculptor, painter, architect, poet, and engineer who exerted an unparalleled influence on the development of Western art . [ 2 ] Despite making few forays beyond the arts, his versatility in the disciplines he took up was of such a high order that he is often considered a contender for the title of the archetypal Renaissance man , along with fellow Italian Leonardo da Vinci .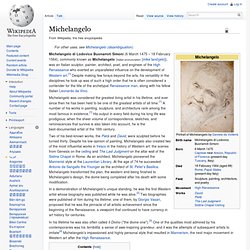 Raffaello Sanzio da Urbino [ 2 ] (April 6 or March 28, 1483 – April 6, 1520 [ 3 ] ), better known simply as Raphael , was an Italian painter and architect of the High Renaissance . His work is admired for its clarity of form and ease of composition and for its visual achievement of the Neoplatonic ideal of human grandeur. Together with Michelangelo and Leonardo da Vinci , he forms the traditional trinity of great masters of that period. [ 4 ] Raphael was enormously productive, running an unusually large workshop, and despite his death at 37, a large body of his work remains.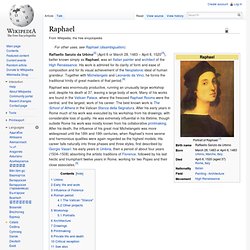 Raphael
Robert Delaunay , 1912-1913, Le Premier Disque, 134 cm, 52.7 inches, Private collection. Abstract art uses a visual language of form, color and line to create a composition which may exist with a degree of independence from visual references in the world. [ 1 ] Western art had been, from the Renaissance up to the middle of the 19th century, underpinned by the logic of perspective and an attempt to reproduce an illusion of visible reality. The arts of cultures other than the European had become accessible and showed alternative ways of describing visual experience to the artist. By the end of the 19th century many artists felt a need to create a new kind of art which would encompass the fundamental changes taking place in technology, science and philosophy. The sources from which individual artists drew their theoretical arguments were diverse, and reflected the social and intellectual preoccupations in all areas of Western culture at that time. [ 2 ]
Abstract art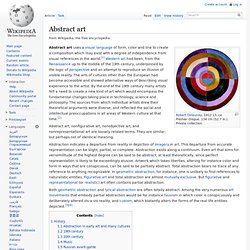 Romanticism (or the Romantic era / Period ) was an artistic, literary, and intellectual movement that originated in Europe toward the end of the 18th century and in most areas was at its peak in the approximate period from 1800 to 1850. Partly a reaction to the Industrial Revolution , [ 1 ] it was also a revolt against aristocratic social and political norms of the Age of Enlightenment and a reaction against the scientific rationalization of nature. [ 2 ] It was embodied most strongly in the visual arts, music, and literature, but had a major impact on historiography, [ 3 ] education [ 4 ] and the natural sciences . [ 5 ] Its effect on politics was considerable and complex; while for much of the peak Romantic period it was associated with liberalism and radicalism, in the long term its effect on the growth of nationalism was probably more significant.
Art of Europe
The art of Europe encompasses the history of visual art in Europe . European prehistoric art started as mobile rock, and cave painting art, and was characteristic of the period between the Paleolithic and the Iron Age . [ 1 ] Written histories of European art often begin with the art of the Ancient Middle East , and the Ancient Aegean civilisations , dating from the 3rd millennium BC . Parallel with these significant cultures, art of one form or another existed all over Europe, wherever there were people, leaving signs such as carvings, decorated artifacts and huge standing stones. However a consistent pattern of artistic development within Europe becomes clear only with the art of Ancient Greece , adopted and transformed by Rome and carried; with the Empire, across much of Europe , North Africa and the Middle East . [ citation needed ]
Post-Impressionism
Post-Impressionism (also spelled Postimpressionism [ 1 ] ) is the term coined by the British artist and art critic Roger Fry in 1910 to describe the development of French art since Manet . Fry used the term when he organized the 1910 exhibition Manet and the Post-Impressionists . Post-Impressionists extended Impressionism while rejecting its limitations: they continued using vivid colours, thick application of paint, distinctive brush strokes, and real-life subject matter, but they were more inclined to emphasize geometric forms, to distort form for expressive effect, and to use unnatural or arbitrary colour. [ edit ] Overview The Post-Impressionists were dissatisfied with the triviality of subject matter and the loss of structure in Impressionist paintings, though they did not agree on the way forward. Georges Seurat and his followers concerned themselves with Pointillism , the systematic use of tiny dots of colour.
Expressionism was a modernist movement , initially in poetry and painting, originating in Germany at the beginning of the 20th century. Its typical trait is to present the world solely from a subjective perspective, distorting it radically for emotional effect in order to evoke moods or ideas. [ 1 ] [ 2 ] Expressionist artists sought to express meaning [ 3 ] or emotional experience rather than physical reality. [ 3 ] [ 4 ] Expressionism was developed as an avant-garde style before the First World War. It remained popular during the Weimar Republic , [ 1 ] particularly in Berlin.
Impressionism is a 19th-century art movement that originated with a group of Paris-based artists. Their independent exhibitions brought them to prominence during the 1870s and 1880s, in spite of harsh opposition from the conventional art community in France. The name of the style derives from the title of a Claude Monet work, Impression, soleil levant ( Impression, Sunrise ), which provoked the critic Louis Leroy to coin the term in a satirical review published in the Parisian newspaper Le Charivari . Impressionist painting characteristics include relatively small, thin, yet visible brush strokes, open composition , emphasis on accurate depiction of light in its changing qualities (often accentuating the effects of the passage of time), ordinary subject matter, inclusion of movement as a crucial element of human perception and experience, and unusual visual angles.
Classicism
Art history
Edwardian era
Great Scans of Great Art
History painting
Precisionism
Spanish Renaissance