Artists/inspiration
Renée Nault.com. Nonesuch Garden - Handmade Designer Plush Dolls by Megan Baehr. Megan Baehr. Rapture series on the Behance Network. The pursuit of release or transcendence occur most purely within the seemingly opposing natures of religion and 'sin'.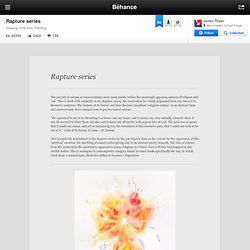 This is dealt with explicitly in my Rapture series, the inspiration for which originated from my interest in Bernini's sculpture 'The Ecstasy of St.Teresa' and how Bernini visualised 'religious ecstasy' in an abstract form and inadvertently drew comparisons to psycho-sexual release: "He appeared to me to be thrusting it at times into my heart, and to pierce my very entrails; when he drew it out, he seemed to draw them out also, and to leave me all on fire with a great love of God. Mr.Oblivious Cartoons, Comics, Animation and Illustration! Mobile.
Ray Caesar - Home Page. Home. Marguerite Sauvage. Rachel Laundon Art. Art. At a very young age Misha wanted to move to Japan and live in the shadow of Mt.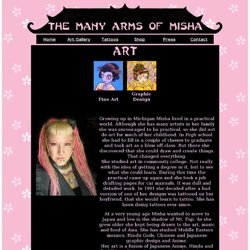 Fuji. As she grew older she kept being drawn to the art, music and food of Asia. She has studied Middle Eastern mosaics, Hindu Gods, Chinese and Japanese graphic design and Anime. Her art is a fusion of Japanese Anime, Hindu and Buddhist religious imagery and traditional tattoo design. Her favorite subjects to paint are mermaids, pin-ups, geishas, and monsters; preferable a mix of at least two of them at once. Bethany Bond—Photographic Artist. Sylvia Ji. A u d r e y * k a w a s a k i.
---