ART
Art cyclopedia: The Fine Art Search Engine. General Fine Art Links. Geocoded ArtDatabase of hundreds of famous landscape paintings, geocoded and integrated with Google Maps and Bing Maps.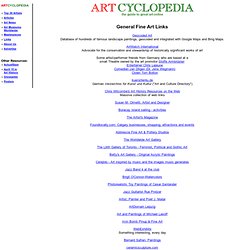 ArtWatch InternationalAdvocate for the conservation and stewardship of historically significant works of art Some artist/performer friends from Germany who are based at asmall Theatre owned by the art promotor Stoffe Armbrüster: Entertainer Chris Lejeune Comedian Jan Ditgen (Dr. Jens Wegmann) Clown Tom Bolton kuenstler4u.deGerman Verzeichnis für Kunst und Kultur ("Art and Culture Directory") Arts. Enluminures : base de données. Musée historique de l'environnement urbain | Accueil général du musée. Agence photographique - Histoire - Arts - Culture - Bienvenue chez akg-images Paris. Canaletto. Home - Classic Art Paintings. Collections > Moteur Collections.
Gallica digital library - Over a million books and documents accessible for free. Réunion des musées nationaux. Agence photo de la Réunion des musées nationaux RMN - Banque d'images d'art, reproductions de tableaux, photothèque. Hokusai, Fugaku hyakkei (100 views of Mt. Fuji) Edition details: volume I & II: Publisher: Eirakuya Toshiro First published: 1834-35 This impression: 2nd edition; c. 1860 (Forrer: II-A / advertisement: F-44) Size: hanshibon (c. 23 x 16 cms / 9" x 6 1/8"), ea. vol.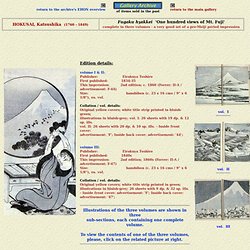 Collation / vol. details: Original yellow covers; white title strip printed in bluish-green; illustrations in bluish-grey; vol. I: 26 sheets with 19 dp. & 12 sp. ills. vol. II: 26 sheets with 20 dp. & 10 sp. ills. - Inside front cover: advertisement: 'F'; Inside back cover: advertisement: '44'; Site personnel de Jean-Pierre Dalbéra. Urbascope | Base de données de photos géolocalisées.
---