Arduino
I've finally received my Raspberry Pi, and I've immediately gotten to work transferring the speech recognition system I used for the robotic arm to the pi. Due to its small size and low power requirements, the Raspberry Pi is an excellent platform for the Julius open-source speech recognition system. This opens up almost limitless possibilities for voice command applications.
Speech Recognition using the Raspberry Pi | aO(N²)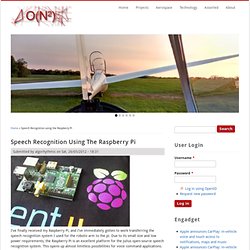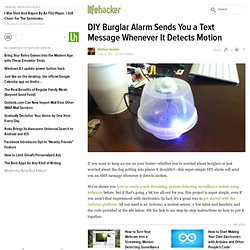 If you want to keep an eye on your home—whether you're worried about burglars or just worried about the dog getting into places it shouldn't—this super simple DIY alarm will send you an SMS message whenever it detects motion. We've shown you how to create a web streaming, motion-detecting surveillance system using webcams before, but if that's going a bit too all-out for you, this project is super simple, even if you aren't that experienced with electronics. In fact, it's a great way to get started with the Arduino platform . All you need is an Arduino, a motion sensor, a few wires and headers, and the code provided at the site below. Hit the link to see step-by-step instructions on how to put it together.
DIY Burglar Alarm Sends You a Text Message Whenever It Detects Motion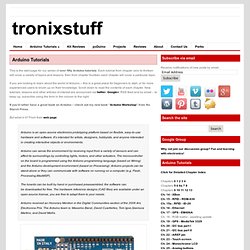 This is the start page for my series of over fifty Arduino tutorials . Each tutorial from chapter zero to thirteen will cover a variety of topics and lessons, then from chapter fourteen each chapter will cover a particular topic. If you are looking to learn about the world of Arduino – this is a great place for beginners to start, or for more experienced users to brush up on their knowledge. Scroll down to read the contents of each chapter. New tutorials, lessons and other articles of interest are announced via twitter , Google+ , RSS feed and by email – to keep up, subscribe using the form in the column to the right.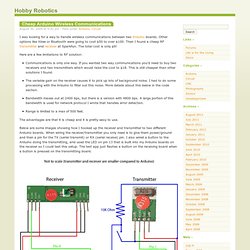 I was looking for a way to handle wireless communications between two Arduino boards. Other options like Xbee or Bluetooth were going to cost $50 to over $100. Then I found a cheap RF transmitter and receiver at Sparkfun. The total cost is only $9! Here are a few limitations to RF solution:
16x32 RGB LED matrix panel ID: 420 - $79.95 : Adafruit Industries
Bring a little bit of Times Square into your home with this 16 x 32 RGB LED matrix panel. These panels are normally used to make video walls, here in New York we see them on the sides of busses and bus stops, to display animations or short video clips. We thought they looked really cool so we picked up a few boxes of them from a factory. They have 512 bright RGB LEDs arranged in a 16x32 grid on the front.
The Wiring i/o board is a small, cheap standalone computer with many connection capabilities. It can be easily programmed in a variant of the Processing language, with a similar programming environment. The board can control all kinds of sensors and actuators.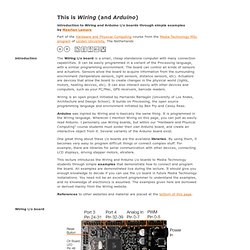 This is Wiring (and Arduino)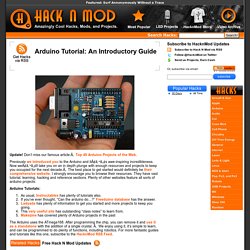 Update! Don't miss our famous article: Top 40 Arduino Projects of the Web . Previously we introduced you to the Arduino and it's awe-inspiring incredibleness. Now we'll take you on an in depth plunge with enough resources and projects to keep you occupied for the next decade. The best place to get started would definitely be their comprehensive website . I strongly encourage you to browse their resources.
Arduino Tutorial: An Introductory Guide
The Arduino meets Processing project intends to make it as easy as possible for anyone to explore the world of physical computing. All you need is an Arduino board as well as the Arduino and Processing software, which you can download on their project websites. On this website we explain how to:
arduino meets processing - PUSHBUTTON
Arduino is a tool for the design and development of embedded computer systems, consisting of a simple open hardware design for a single-board microcontroller, with embedded I/O support and a standard programming language. An Arduino is programmed using the Wiring language, which is essentially C++ with a few simplifications. The Processing programming language is often used to interface a computer with an Arduino, often to create unorthodox interfaces.[wikipedia]
Arduino Cheat Sheet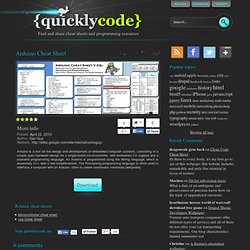 playground - ManualsAndCurriculum
Manuals and curriculum provide cohesive coverage of Arduino in general, or of specific applications of Arduino in particular.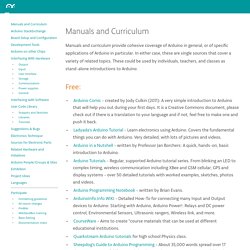 Spooky Projects is a set of four 3-hour classes in October 2006 hosted by Machine Project and taught by Tod E. Kurt. It is an introduction to microcontroller programming and interfacing with the real world using the Arduino physical computing platform.
Bionic Arduino is a set of four 3-hour classes in November 2007 hosted by Machine Project and taught by Tod E. Kurt. It is an introduction to microcontroller programming and interfacing with the real world using the Arduino physical computing platform. It focuses on building new physical senses and making motion with the building blocks of robotics, using Arduino as a platform.
AIRKinect 2.1: OpenNI on windows | as3NUI
It's been a few busy weeks, as you might have seen in our dev-branch on github . We've just finalized the 2.1 release of AIRKinect, with the big new feature being OpenNI support on the windows platform. We've worked on merging the native code base of both windows and osx to one project.