Architecture
We often show ingenious ways of hiding the bed . French architects Emmanuel Combarel Dominique Marrec offer a new one: turn it into a sculptural element, in this case a box hanging from the ceiling. Watch Video: World's Greenest Homes From the other side, it is a short step up from the existing mezzanine. Nice idea if you have the ceiling height.
A long time ago something existed that was not defined by name or
20 Tree House Pictures: Play-Club Plans to Big-Kid Houses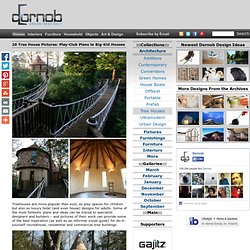 Treehouses are more popular than ever, as play spaces for children but also as luxury hotel (and even house) designs for adults. Some of the most fantastic plans and ideas can be traced to specialist designers and builders – and pictures of their work can provide some of the best inspiration (as well as an informal visual guide) for do-it-yourself recreational, residential and commercial tree buildings. Blue Forest is one such company, but far from the only one. Their specialty seems to lie somewhere between playful little fantasy structures and big educational spaces for children engaged in wildlife observation, forest ecology and related nature-oriented pursuits.
Staircases can be so much more than just a means of getting to the next floor. A staircase can be a work of art, a conversation piece, a place to meditate, or a historical marker. Floating on a Wall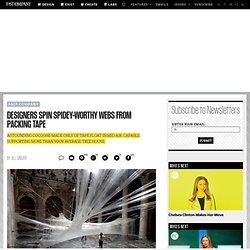 Packing tape has gotten MacGyver out of many a jam, but he never managed to make an entire home out of the stuff. So he could probably learn something from Viennese/Croatian design collective For Use/Numen. The team uses nothing but packing tape to create huge, self-supporting cocoons that visitors could climb inside and explore.