twitter
Get flash to fully experience Pearltrees
Eric Sheninger, the principal of New Milford High School, has tapped out more than 12,000 tweets since he joined Twitter — or about 13 a day.
7.8K Flares Twitter 3.6K Facebook 348 Google+ 95 Pin It Share 71 71 LinkedIn 607 in Share 607 7.8K Flares ×
There's eleventy-billion Twitter apps, tools and services all vying for your attention.
Cette année, j'ai eu la chance de rencontrer beaucoup d'enseignants qui innovaient, qui marchaient en dehors des clous de la tradition ou du vécu habituel des classes. Or, il est un thème dans mon métier sur lequel je n'ai jamais trouvé de solution satisfaisante, celui de l'évaluation.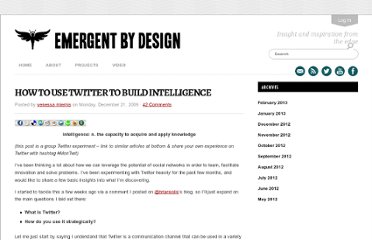 Posted by venessa miemis on Monday, December 21, 2009 · 42 Comments