Agriculture aquaponique/hydroponique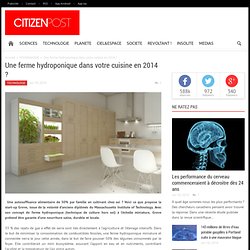 Une ferme hydroponique dans votre cuisine en 2014 ?
Une autosuffisance alimentaire de 50% par famille en cultivant chez soi ? Voici ce que propose la start-up Grove, issue de la volonté d'anciens diplômés du Massachusetts Institute of Technology. Avec son concept de ferme hydroponique (technique de culture hors sol) à l'échelle miniature, Grove prétend être garante d'une nourriture saine, durable et locale. 33 % des rejets de gaz à effet de serre sont liés directement à l'agriculture et l'élevage intensifs.
Un article de Ékopédia, l'encyclopédie pratique. L'hydroponie ou culture hydroponique (ou agriculture hors-sol), du grec πονος (ponos, "le travail" ou "l'effort") et ὕδωρ (hudōr, "l'eau"), consiste à utiliser un substrat neutre et inerte (sable, pouzzolane, billes d'argile, laine de roche, par exemple) pour cultiver des plantes hors sol. Une solution riche en sels minéraux et nutriments irrigue régulièrement ce substrat. 50 à 200 euro de matériel et vous produisez toute la nourriture dont vous avez besoin pour vous et votre famille. Cette technique est beaucoup utilisée en horticulture et pour certaines cultures maraîchères sous serre. Il existe également des techniques parallèles : l' aéroponie (nutriments vaporisés) et sa variante l' ultraponie (nutriments apportés par un brumisateur à ultrasons).
Hydroponie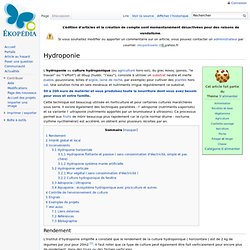 AgroParisTech présente jusqu'au 2 mars au Salon de l'agriculture (Pavillon 4, allée C, stand 134), une série d'animation autour du thème « Agriculture urbaine et société ». Le sujet peut paraître décalé dans le cadre de « la plus grande ferme de France », évènement tout à la gloire de la ruralité. Pourtant, les projets d'agriculture urbaine se multiplient, notamment en France.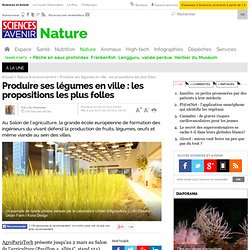 Produire ses légumes en ville : les propositions les plus folles
AGRICULTURE - Une ferme dans un vieux bunker? Yes sir! Et en plein cœur de Londres en plus. 430 mètres de tunnels, 33 de profondeur, c'est sous le quartier de Clapham que ce projet aussi excitant que loufoque est en train de voir le jour, façon de parler. Pour l'instant, seule une salle du complexe est expérimentée mais, à terme, ce sont bien 2,5 hectares de surface qui pourraient être exploités expliquait le Guardian le 30 janvier.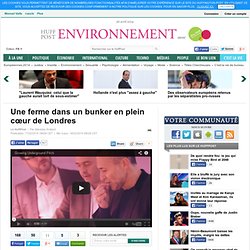 Une ferme dans un bunker en plein cœur de Londres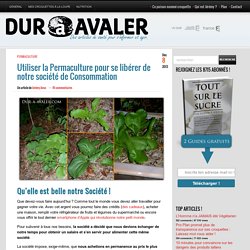 déc82013 Qu'elle est belle notre Société ! Que devez-vous faire aujourd'hui ? Comme tout le monde vous devez aller travailler pour gagner votre vie. Avec cet argent vous pourrez faire des crédits (des cadeaux), acheter une maison, remplir votre réfrigérateur de fruits et légumes du supermarché ou encore vous offrir le tout dernier smartphone d'Apple qui révolutionne notre petit monde. Pour subvenir à tous nos besoins, la société a décidé que nous devions échanger de notre temps pour obtenir un salaire et s'en servir pour alimenter cette même société.
▶ Le potager en permaculture partie 1
Le maraîchage en Permaculture est viable économiquement
La ferme du Bec Hellouin, en association avec une unité de recherche SADAPT de l'INRA, ont publié ce mois-ci une étude qui conclue à la viabilité du maraîchage en permaculture sur 1000 mètres carrés. "Même une année médiocre, avec des personnes sans grande expérience en maraîchage, il y a moyen de dégager un revenu de l'ordre du SMIC". C'est assez remarquable car l'idée généralement diffusée est qu'un agriculteur a au moins besoin d'un hectare pour vivre du maraîchage bio, soit au moins 10 fois plus que dans l'expérience proposée au Bec Hellouin! Un résultat majeur pour l'avenir de l'agriculture urbaine et péri-urbaine.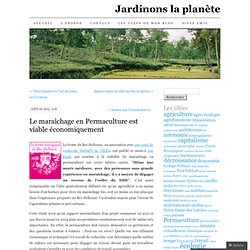 www.fermedubec.com/ecocentre/Etude maraîchage permaculturel - Rapport intermédiaire 2013.pdf
PodPonics, an Atlanta based company, is all set to make locally grown food really local. The company aims to change the way "locally grown food stuffs" are produced & that new way calls for the use of old & used shipping containers. PodPonics aims to use shipping containers to grow food items.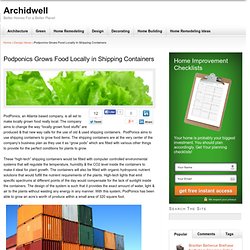 Podponics Grows Food Locally in Shipping Containers
Hydroponic Wine Bottle Wall Garden at Student Bar
Text 2 Notes The Aquaponics team saw three aquaponic systems that could be possibly incorporated into the systems at ECHS and ECMS. We met David, who led us around. We took notes and gained more ideas. We have to figure out how exactly aquaponic systems work. Next weekend there is an aquaponic workshop where we plan to go and discuss how to build a proper and efficient system.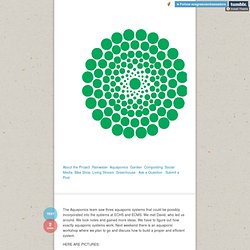 (The Aquaponics team saw three aquaponic systems...)
Rencontre avec Flemming Funch, un pionnier de la culture aquaponique en France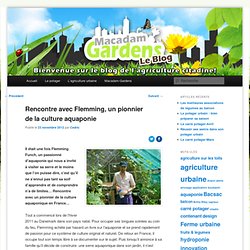 91 Flares Twitter 2 Facebook 89 http://www.facebook.com/plugins/like.php?href=https%3A%2F%2Fwww.facebook.com%2FMacadamGardens&width=450&height=65&colorscheme=light&layout=box_count&action=like&show_faces=true&send=false 91 Flares × Il était une fois Flemming Funch, un passionné d'aquaponie qui nous a invité à visiter sa serre et le moins que l'on puisse dire, c'est qu'il ne s'ennui pas tant sa soif d'apprendre et de comprendre n'a de limites… Rencontre avec un pionnier de la culture aquaponique en France… Tout a commencé lors de l'hiver 2011 au Danemark dans son pays natal. Pour occuper ses longues soirées au coin du feu, Flemming achète par hasard un livre sur l'aquaponie et se prend rapidement de passion pour ce système de culture original et naturel.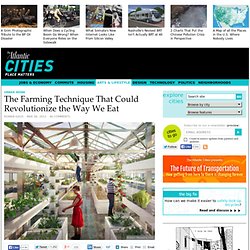 On an early June morning in 2010, I stood outside the Aquaponics research facility at the University of Applied Sciences, perched on a green hilltop in Wädenswil, Switzerland, 20 minutes outside Zurich. The lab director, Andreas Graber, had finally given in to my persistent calls requesting a visit. Graber, Switzerland's most prolific aquaponics researcher, had been publishing on the subject for eight years — a long time in this young field. Graber greeted me, and we stepped inside. The lab, bright and humid under its greenhouse roof, contained a few round fish basins, each about 6 feet wide.
The Farming Technique That Could Revolutionize the Way We Eat - Roman Gaus
Philip Houiellebecq's Auxano is a Hydroponic Indoor Herb and Vegetable Grower For City Dwellers
If you're good around the kitchen, or just like delicious gourmet food, you might find the Auxano Vegetable and Herb Grower to be a great asset. This window mounted product, designed by Philip Houiellebecq, uses current hydroponics technology to enable urban dwellers to grow their own green produce. Eco-friendly and suitable for the smallest of spaces, Auxano is a revolutionary addition to the wide array of home and garden appliances. Growing plants takes time and dedication. It requires balanced watering, enough sunlight and nutrients, not to mention space capacity. Auxano Vegetable and Herb Grower is compact, requires no soil or electricity, and explains Houiellebecq, uses the natural resource commonly ignored in many apartments: sunlight.
Introduction to Shelfponics | Garden Pool
A simple 3D animation to show relative size and layout of the bookshelf aquaponic vertical growing unit. Here is the complete shelfponics system. Click the image to see full size. Here is a picture of the space we decided to add vertical growing. The yellow bucket is where we placed the bookshelf system.
Winnipeg&RegionGreenMap
Sustainable Features: Hydroponically grown crops have to be very profitable per square foot to offset the expense of the necessary lighting, heating and mechanical systems. Growing Prospects is currently experimenting with multi-level growing in order to increase production within the constrictions of their current floor area. Growing Prospects currently occupies 3,000 square feet of growing area and an additional 3,000 square feet for office space and training use. By developing an old parking area into an urban agricultural centre and training ground, underdeveloped inner city real estate becomes sustainable. Hydroponics equipment that is normally destined for landfill, is provided through Winnipeg Police Service drug seizures.
Plants that go crazy in Aquaponics | Ecofilms
From left and clockwise, nasturtiums. cucumbers, papaya and tomatoes all grow well in aquaponics We all have our favorites. Plants that defy normal growth and even gravity and just take off like a rocket in an aquaponics system. They crowd out other plants and just keep refusing to stop growing. They either take off up into the heavens or spill over the sides and tumble onto the ground and trip you over as you walk past.
How To Build Your Own Aquaponic System Fish for Aquaponics Back to Aquaponics The IBC (Intermediate Bulk Container) tote can be made into a nice, starter Aquaponic system. Used totes are common in agricultural/industrial areas.
Aquaponics
Permaculture un jardin urbain et un système aquaponique
Is This the Future of Farming? - Sarah Rich
L'aquaponie au lycée agricole du Robert, en Martinique
Farm for the Future
Manual for HOME HYDROPONIC UNIT
Vegetables in the Sky; Startup to Bring Year-Round Hydroponic Production to Urban Rooftops
With Retirement on Horizon, Ohio Couple Launches Aquaponic Business
Hydroponics News, Videos, Reviews and Gossip - Gizmodo
Teens Win $50,000 with Hydroponics
Hydroponic Urban Ag Startup Seeks to Create Scalable, Sustainable and Affordable Model to Feed Cities
Riverpark Farm
Cafeponics: bathtub aquaponics system for a Darwin cafe « Milkwood: homesteading skills for city & country
Urban Hydroponic Vehicle Delivers Fresh Food and Water
L'aquaponie, pour une agriculture urbaine durable ?
Redworms and Vertical Farming - Why does it ... | Vertical Gardenin...
L'innovation et le sens des affaires Définir la première année de l'Alabama basée Haute Farm Tech