Agriculture aquaponique/hydroponique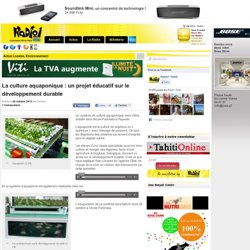 La culture aquaponique : un projet éducatif sur le développement durable | Radio1 Tahiti
Aquaponie © DR
▶ Le potager en permaculture partie 1
Le maraîchage en Permaculture est viable économiquement
La ferme du Bec Hellouin, en association avec une unité de recherche SADAPT de l'INRA , ont publié ce mois-ci une étude qui conclue à la viabilité du maraîchage en permaculture sur 1000 mètres carrés. " Même une année médiocre, avec des personnes sans grande expérience en maraîchage, il y a moyen de dégager un revenu de l'ordre du SMIC ".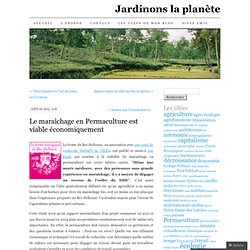 www.fermedubec.com/ecocentre/Etude maraîchage permaculturel - Rapport intermédiaire 2013.pdf
PodPonics, an Atlanta based company, is all set to make locally grown food really local. The company aims to change the way "locally grown food stuffs" are produced & that new way calls for the use of old & used shipping containers. PodPonics aims to use shipping containers to grow food items.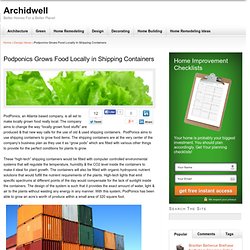 Podponics Grows Food Locally in Shipping Containers
Hydroponic Wine Bottle Wall Garden at Student Bar
(The Aquaponics team saw three aquaponic systems...)
Rencontre avec Flemming Funch, un pionnier de la culture aquaponique en France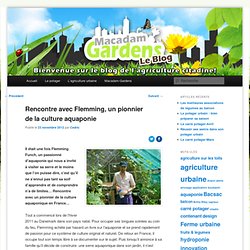 Il était une fois Flemming Funch, un passionné d'aquaponie qui nous a invité à visiter sa serre et le moins que l'on puisse dire, c'est qu'il ne s'ennui pas tant sa soif d'apprendre et de comprendre n'a de limites… Rencontre avec un pionnier de la culture aquaponique en France…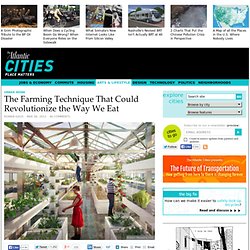 On an early June morning in 2010, I stood outside the Aquaponics research facility at the University of Applied Sciences, perched on a green hilltop in Wädenswil, Switzerland, 20 minutes outside Zurich.
The Farming Technique That Could Revolutionize the Way We Eat - Roman Gaus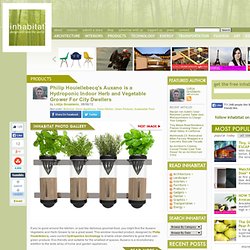 Philip Houiellebecq's Auxano is a Hydroponic Indoor Herb and Vegetable Grower For City Dwellers
Share on Tumblr Email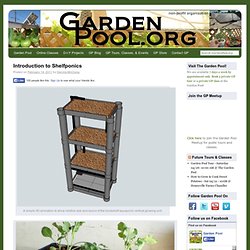 Introduction to Shelfponics | Garden Pool
A simple 3D animation to show relative size and layout of the bookshelf aquaponic vertical growing unit.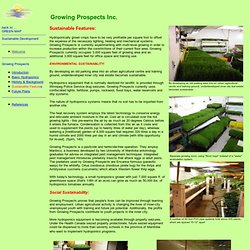 Winnipeg&RegionGreenMap
Sustainable Features: Hydroponically grown crops have to be very profitable per square foot to offset the expense of the necessary lighting, heating and mechanical systems.
Plants that go crazy in Aquaponics | Ecofilms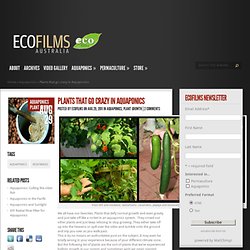 From left and clockwise, nasturtiums. cucumbers, papaya and tomatoes all grow well in aquaponics
How To Build Your Own Aquaponic System
Aquaponics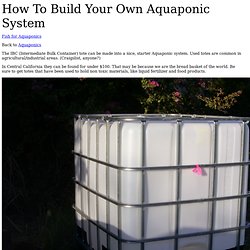 Permaculture un jardin urbain et un système aquaponique
ATLANTA -- It's easy to miss the Podponics headquarters on Ponce de Leon Avenue. We breezed right by before company co-founder Dan Backhaus came out to the curb to wave us in. To look at their setup--six rust-colored, graffitied shipping containers tucked between a Cactus Car Wash franchise and a halfway house--you'd never suspect this was one of Atlanta's flourishing young startups. But behind the padlocked doors, an urban farming operation is in full swing. When Backhaus founded Podponics in 2010 with Matt Liotta, the pair had no previous experience with food or farming.
Is This the Future of Farming? - Sarah Rich
L'aquaponie au lycée agricole du Robert, en Martinique
This is one of our great perks! Our woodblock print with our logo.
Farm for the Future
Manual for HOME HYDROPONIC UNIT
Manual for Introduction: The HOME HYDROPONIC UNIT enables persons to produce their own food.
December 10, 2012 | Noelle Swan Although the Swartz family has been farming for three generations, Joe Swartz's Sky Vegetables in Amherst is very different from the typical farm of his father and grandfather.
Vegetables in the Sky; Startup to Bring Year-Round Hydroponic Production to Urban Rooftops
December 7, 2012 | Missy Smith
With Retirement on Horizon, Ohio Couple Launches Aquaponic Business
Hydroponics News, Videos, Reviews and Gossip - Gizmodo
Teens Win $50,000 with Hydroponics
Hydroponic Urban Ag Startup Seeks to Create Scalable, Sustainable and Affordable Model to Feed Cities
Riverpark Farm
Cafeponics: bathtub aquaponics system for a Darwin cafe « Milkwood: homesteading skills for city & country
Urban Hydroponic Vehicle Delivers Fresh Food and Water
Accroître la sécurité alimentaire dans les collectivités éloignées à travers «aquaponique» | JEUNESSE LEADER MAGAZINE> Océanie EDITION
L'aquaponie, pour une agriculture urbaine durable ?
Un jardin potager... à l'intérieur de ma maison
Redworms and Vertical Farming - Why does it ... | Vertical Gardenin...
L'innovation et le sens des affaires Définir la première année de l'Alabama basée Haute Farm Tech